Unless you've been living in a cave, you will know that images and video are all
the rage online. Brands are trying to carve out their space — mostly still via their owned (and controlled) media. However, more often than not, brands are finding that the ideal Return on Investment (ROI) isn't following as quickly as they might like. Brands keep hoping (and paying) for the "viral hit." But, by applying processes, hiring big name agencies and seeking to 'game' the system, brand marketers are generally getting disappointing results. Because of the endemic mistrust of brands and corporations — and marketers, in general — consumers naturally swerve away from content that is overtly corporate or salesy. Click To Tweet Influencers and co-generated content is increasingly becoming the preferred route for brands. But, the path is littered with rubbish.
For the sake of limiting the scope, in this post, I have focused on working with Instagram Influencers, a road a little less traveled than Facebook and YouTube.
To identify influencers on Instagram…
A naive approach to try to identify influencers might start with a Google Search of Influencers (on Instagram, for example). Tools and platforms abound, either specialized for a specific network or generalized for a host of social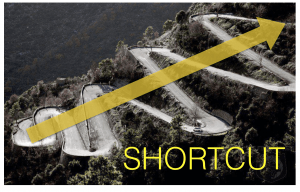 networks. In the past, there were just a few names that were making headway (and earning a livelihood) in managing online influencers (Klout, Kred, PeerIndex…). Since 2010, the space has been mushrooming. These new platforms are more-or-less technology-centric, with varying degrees of human intervention. From a brand perspective (still), the more automated the process, the more attractive it appears. Yet, influencer marketing is in its infancy and the marketer's tendency to look for shortcuts may well penalize their efforts. The reality is that influencer marketing is founded on personal relationships. Click To Tweet
A non-comprehensive list of tools for identifying and managing Instagram influencers looks like:
Upfluence.com – Generalist (with a declared database of 5 million influencers)
Speakr – Generalist (7 big buckets of influencers)
Instabrand – Generalist (7 social network platforms supported)
Influicity (database of 3 million influencers)
Pulse Advertising – very agency positioning
Snapfluence (not just SnapChat, but Vine, Instagram, Youtube and Facebook…)
Takumi (specific to Instagram – identify influencers starting at 1000 followers)
Whalar (specific to Instagram)
InfluencerDB (specific to Instagram)
Grin (specific to Instagram) [added May 2017!]
These platforms boast a variety of benefits, ranging between number of platforms, size of influencer database, global reach, current clients, case studies, etc. Invariably, these platforms suggest that their's is the best. The truth is that success in influencer marketing is anything but a systematized process. To treat an influencer as a number is a dangerous mindset. Click To Tweet
A review of InfluencerDB
I was given the chance to explore the premium version of the relatively new InfluencerDB platform, which is solely dedicated to Instagram (today). Based out of Germany, InfluencerDB provides a slew of data on Instagram users with a minimum of 15,000 followers and attributes each a proprietary influencer score. These accounts are bucketed into 6 broad categories (fashion, beauty, sports&fitness, food, lifestyle, and travel).
Of the 723K accounts on file, there are roughly 250 accounts with a score of 100, ranging from 47,000 (@ToungeMuscle) to 87 million followers (@SelenaGomez). Meanwhile, the account @KarimBenzema (a French football player) with 13.6 million followers has a score of 99. It's a little hard to reconcile. Just as with Klout, having a single score is clearly not enough.
Here are some of the analyses that InfluencerDB provide:
Average likes per post
Follower growth
Ratio of followers to followees
Comments per post
Media value of posts
Earned versus owned media value
In the case of @KarimBenzema, he has a rather paltry 2.2% average likes per post over the last four weeks, while ToungeMuscle has a 51.4% like ratio. Some accounts are even better, with ratios well in excess of 100%, demonstrating not only an engaged community, but a community of communities that continue to get traction and earn "shares." But, of course, as the number of followers rises, so the ratio is bound to fall.
The graphics that InfluencerDB provide are reasonably clean and clear. In this primary graphic (below for the account of Emilia Clarke, score 100), you see the sum of the media value for her posts over the last 4 weeks and the spread between owned and earned media. Clearly, per InfluencerDB's calculations, the earned component is very healthy (and on a good trend).
Juxtaposing the graph above with the one below, one can start to make out a profile for Emilia's activities and community. As her following grows (black line above), the like per follower (the orange line below) has predictably shrunken.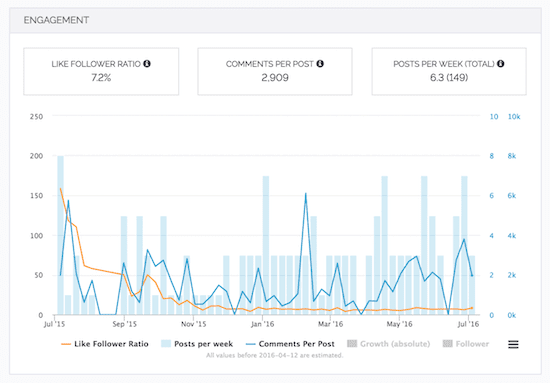 The challenge is that zeroing on the 'right' influencers — purely from a numerical standpoint — will inevitably take a good deal of time, even with an influencer platform. For InfluencerDB, there are some rudimentary filters for language and geographic location. But then, one must do a manual review of the type of content these accounts are posting and the types of comments their posts elicit. This will take a good deal more human intervention. However, the hardest work is actually approaching and aligning with the selected influencer(s). Just to identify the influencer is entirely murky without an aid (such as an InfluencerDB), but the true challenge — where a brand will make or break its influencer marketing — is in making sure that the individual influencer and his/her community are going to benefit from the brand's association. And this cannot be done with a platform.
As I suggested at the outset of this post:
Influencer marketing requires a dose of technology, but relies exclusively on human intelligence to succeed.
Click To Tweet
Finding the influencer, engaging with him/her and then creating a long-term and mutually beneficial relationship is really a thousand details. If a picture on Instagram is worth a 1,000 words, it probably takes many more words and actions to woo an influencer and his/her community.
Your thoughts and reactions are welcome!
*Disclaimer: Traackr has been a sponsor of my podcast.