The EMPATHY THAT COUNTS 2023 White Paper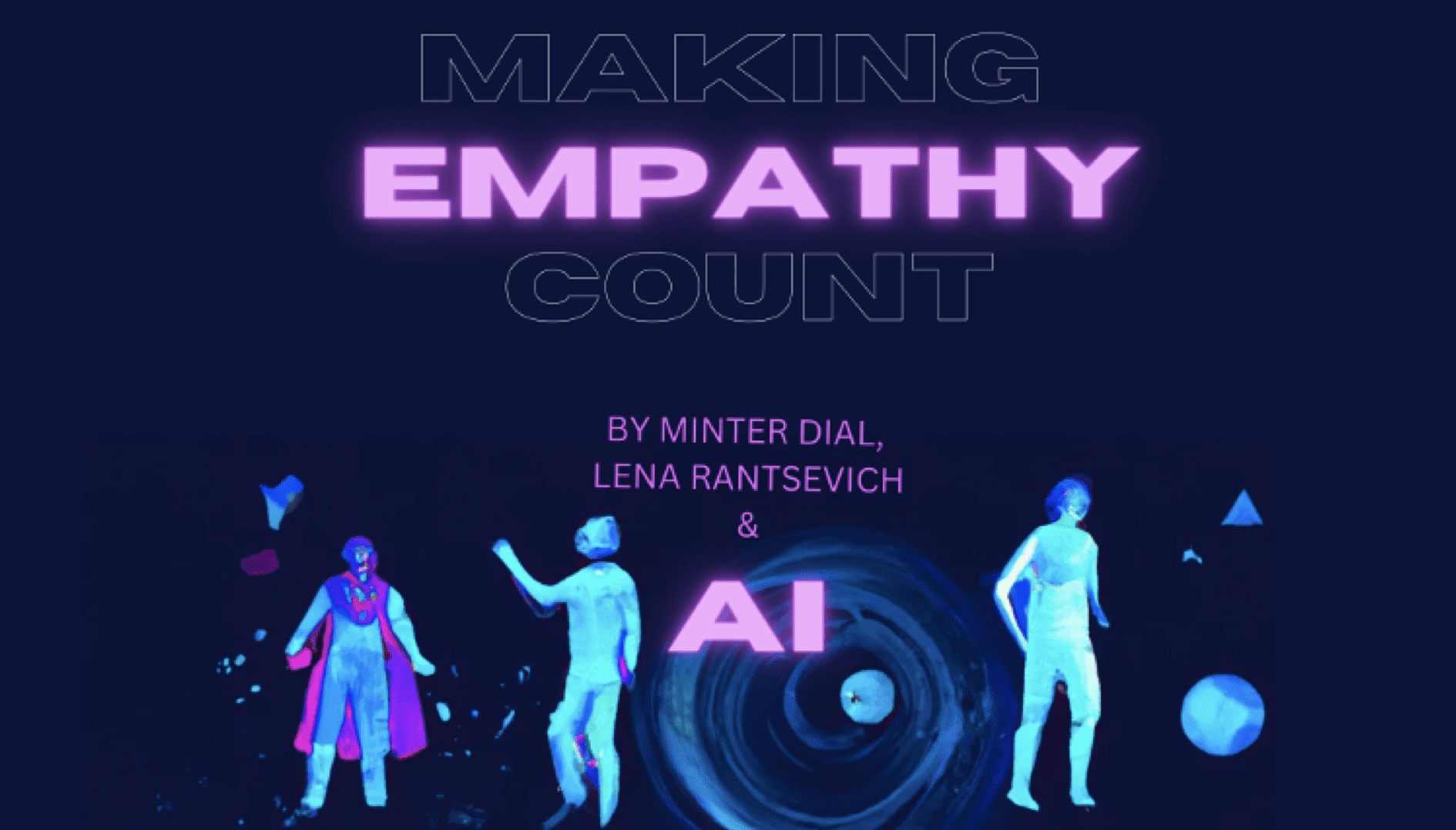 This white paper, with lead authors Minter Dial (speaker and author) and Lena Rantsevich (founder of Reputy.io), was written using the outputs of an immersive session held in London UK, on July 4, 2023, featuring 25 contributors from a wide array of backgrounds, including business owners, scientists, investors, psychologists, anthropologists, business coaches, Web3 and AI experts, startup founders and artists. We looked at assessing empathy in the workplace from a diversity of viewpoints and existing theories to explore how we can make empathy count in the business environment. This work was sponsored by Businessolver, in partnership with Chêne Bleu winery, and hosted by Sandbox Workspace. If you have any questions, comments, or requests, please use this form here where you can also sign up for further information.
EXECUTIVE SUMMARY
The purpose of this white paper is to look at the relevance of empathy in the workplace, explore how to evaluate and measure it, and investigate how better to match candidates with companies. With a complex business outlook, rising mental health conditions and difficulties in recruiting, retaining and motivating talent, the team that contributed to the writing of this white paper saw empathy as a key quality for business leaders. 
The road to evaluating and measuring empathy, as well as building an empathic culture, is paved with challenges, starting with the actual definition of empathy. Even among the participants of the workshop, we saw how varied is the understanding of empathy. Measuring empathy to compare with a norm (which is not defined) and checking the progress appears to be complicated, as there is neither a common taxonomy, nor recommended techniques. Empathy is a very special trait and there are typically two parties involved: the one emitting empathy and the other receiving it. In this exchange', there are bound to be different scales and ways of evaluating empathy. For executives looking to infuse empathy into the business or to use artificial intelligence in a more empathic manner, there is a balance to strike between purpose and culture with effectiveness and profitability. For businesses wishing to create a more empathic culture, it behoves HR to hire people who fit with the business' culture and intentions. 
This paper will look at some of the key questions and practical tools that surround the idea of intentionally making your business culture – and any AI used to support your efforts – more empathic. This paper wishes to set out the strategic issues and challenges involved with making empathy count. 
In the hopes of inspiring more work on this front, the authors will continue to explore ways to evaluate, measure and encode empathy in the most appropriate manner. The authors are actively seeking individuals who would like to contribute to this effort.
To get the full white paper (30-page PDF), please fill in the form below!
LEAD AUTHORS, SPONSOR & PARTNERS
About the lead authors of this white paper:
Lena Rantsevich – Lena is a future-curious venture architect building products with a greater purpose. Founder and CEO of Reputy.io, the new CV standard helping people reveal and grow their core skills, evidence them and land better jobs, find partners, attract investment or choose the most suitable career strategy. A serial founder in hospitality, events, consultancy and Web3 space, Head of Samsung Electronics in Belarus for 8 years, awarded as the youngest Business Person of the Year. Ex-CMO in large Ukrainian companies and a strategy advisor for 70+ brands. TEDx Youth speaker about thriving environment. Find out more about Lena Rantsevich here. 
Minter Dial – Minter is an international professional speaker, elevator and a multiple award-winning author. Minter's core career stint of 16 years was spent as a top executive at L'Oréal, where he was a member of the worldwide Executive Committee for the Professional Products Division (PPD), in charge of Digital, Education, the Eco-Salon and Business Development. Previously, he was MD of L'Oréal PPD Canada and MD Worldwide for Redken. He's the author of the WWII biography and documentary film (The Last Ring Home, 2016) and three award-winning business books, Futureproof (FT Press 2017), You Lead (Kogan Page 2021), both of which won heralded Business Book Awards, and Heartificial Empathy, 2nd edition (2023). He has a weekly podcast, Minter Dialogue, and is currently working on a new book, that was published serially online over 79 weeks: Dialogos, Fostering More Meaningful Conversations via Substack https://minter.substack.com. Find out more about Minter Dial here.
Core Sponsor:
BUSINESSOLVER
Businessolver was the primary sponsor of this event. A US-based company, Businessolver delivers results through innovative technology, steadfast leadership, an empathetic culture, and independent roadmap. Delivering delight to impact the way individuals interact with their benefits? That requires people. People who every day recognize that every line of data, every line of code in our technology represents a person, a person who deserves to be delighted. It's technology powered by people; and that's tech with heart. They publish an annual state of workplace empathy study that is a reference in the world of empathy at work. Download your free copy here.
Partners:
CHENE BLEU WINERY 
Founded and run by Nicole Rolet, the Chêne Bleu Winery single-estate "couture" wines are rooted in 500 years of local history, but integrate the most forward-thinking qualitative approaches, as we seek to create wines of exception and distinction, with full respect for nature. Find out more and order your Chêne Bleu wine here.
REPUTY
Founded by Lena Rantsevich, Reputy is the new CV standard with validated human skills on a mission to unlock global talent and bring fairness to the Future of Work. Reputy provides hard proof of human skills via real-life experience. See more here.
SANDBOX
Sandbox is a flexible workspace for startups. Charlie Gallienne-Schmidt, the Founder, and his team take unused buildings and make them feel wanted once more with sustainability and affordability at the core. Workspaces in London Bridge, Borough and City are local hubs for entrepreneurs, SMEs and charities looking for high quality workspace at a fraction of the price with no compromise on quality.