Futureproof, How To Get Your Business Ready For The Next Disruption

4.7 / 5.0 rating with over 70 reviews on Amazon and Goodreads

Futureproof is available on Amazon and other fine retailers:
* Find your AMAZON country store here: 🇦🇺 Australia, 🇧🇷 Brazil, 🇨🇦 Canada, 🇫🇷 France, 🇩🇪 Germany DE, 🇮🇳 India (Kindle), 🇮🇹 Italy, 🇯🇵 Japan, 🇲🇽 Mexico, 🇪🇸 Spain, 🇬🇧 UK, 🇺🇸 US
Now available in Chinese on JD.com 🇨🇳, published by Posts & Telecom Press, Vietnamese 🇻🇳 (Saigon Books) and Norwegian 🇳🇴 (Hegnar Media).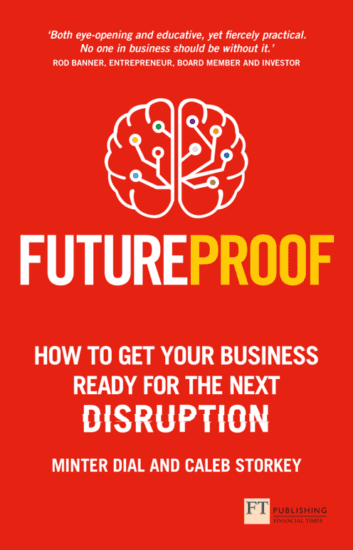 Co-written with Caleb Storkey, Futureproof paints a complete picture of the major disruptive forces currently facing us — defining them, mapping them out and putting them into context. First understand the Mindsets you need to be fully ready for disruption — what qualities do you need to have, how can you develop them and what should you do next?
Next, discover the 12 Forces that are shaping our world: including the new technologies, how they are used and related, the potential impact of the disruption and how you can to turn them into enablers for your business.
For each of the Forces, you'll discover:
What is it and why is it disruptive?
What do you need to know now?
What do you need to do next?
BE READY, BE FUTUREPROOF

Award Winner: Futureproof won the Business Book Award 2018 in the category of Embracing Change. It was also nominated for FT Business Book of the Year 2018.
Reviews for Futureproof: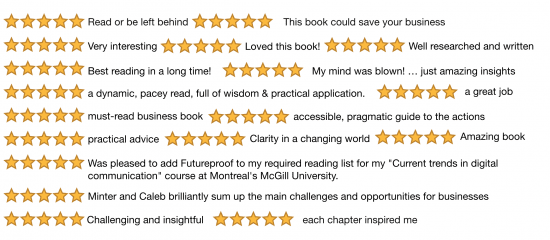 Book review: The HR Director; Campaign Live (Ed Bussey)
'…..an excellent read – demystifying the disruption buzzword with refreshing pragmatism.' – Reviewed by ED BUSSEY, founder and chief executive, Quill Content (www.campaignlive.co.uk)
"The opposite of Future Shock is future proof. Either sit still or move! It's the latter that Dial and Storkey have outlined for you here. Adapt or die!" – BRIAN SOLIS, best-selling author, award-winning digital analyst, futurist and human
"This is a book that challenged me and made me think at every turn. It disrupted my mind!" – MARK SCHAEFER, consultant, speaker and author of KNOWN
'I live by a quote that I once picked up from Tom Peters. The quote is from General Eric Shinseki who said: 'if you don't like change, you're going to like irrelevance even less.' Disruption affects everyone. B2B, B2C, small, medium and large organizations. Even those who are the disruptors are now being disrupted. What's a brand to do? Thankfully, Minter Dial and Caleb Storkey have the answer. "Futureproof, Get Your Business Ready For The Next Disruption" does, exactly, what the title states. Be ready or be disrupted.' – MITCH JOEL – President, Mirum – Author, Six Pixels of Separation & CTRL ALT Delete
'Today, neither agile, precarious startups nor lumbering, momentum-merry global corporates have the formula for endurance. The new world requires a responsive business but it demands accountability. Old models put profits first – new ones, social impact. Futureproof offers a playbook for the scary and thrilling landscape that all companies are now forced to operate in. It's both eye-opening and educative, yet fiercely practical. No one in business should be without it.' – ROD BANNER, Entrepreneur, Board Member and Investor
"After many decades of companies forcing mediocre products and services upon consumers who had very little choice, we're now in an era where buyers are in charge because of the real-time availability of near perfect digital information. As Minter and Caleb show, true disruption comes from deeply understanding consumers and adopting a mindset of serving them in this new world. It's not easy to disrupt, but the rewards for doing so are enormous." – DAVID MEERMAN SCOTT, bestselling author of The New Rules of Marketing and PR, now in 29 languages from Albanian to Vietnamese.
Thanks for your interest and thanks for spreading the word! Let's get #futureproof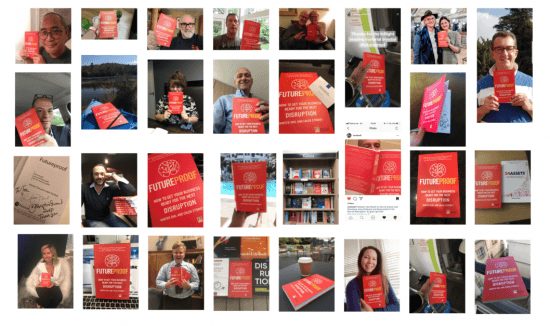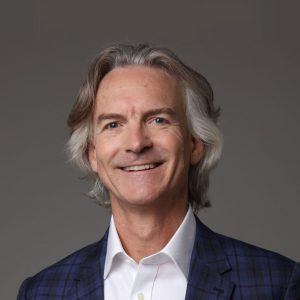 To Book Minter
I'm Minter Dial and I serve my clients by elevating the debate and energy, telling powerful stories and connecting people and ideas. My mission to insert more meaningfulness into our lives and at work. I relish being an engaging professional speaker on leadership, transformation and branding. I'm known for being someone who walks the talk and delivers on or above expectations. I'm the author of four award-winning books, including the second edition of my award-winning book, Heartificial Empathy (April 2023, available in English and French), You Lead published by Kogan Page that won the Business Book Award 2022, and Futureproof (FT-Press/Pearson) that won the Business Book Award 2018. I'm also the producer of the award-winning WWII book and documentary film The Last Ring Home.
My new project is Dialogos, Fostering More Meaningful Conversations that was published weekly on Substack over 79 weeks. It will be converted into a series of books in 2024.