On this page, you will find a highlight list of publications written by Minter Dial. His next book, You Lead, How being yourself makes you a better leader, published by Kogan Page, is coming out on October 2020. It's available for pre-order.
Published Books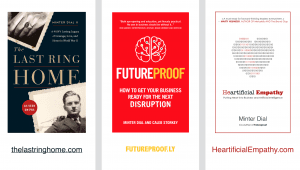 Heartificial Empathy, Putting Heart into Business and Artificial Intelligence (DigitalProof Press, Dec 2018). Winner of the Book Excellence Award 2019 and finalist for the Business Book Awards 2019, Heartificial Empathy is available in paperback, kindle and audiobook. Get your copy here.
Futureproof, How to get your business ready for the next disruption (Pearson, FT Press, Sep 2017). Winner of the Business Book Award 2018 in the category Embracing Change.
The Last Ring Home, A POW's Lasting Legacy of Courage, Love, and Honor in World War II (Myndset Press, Nov 2016). Winner of the Book Excellence Award 2018, in the category Biography.
Publications Online
White Papers
Publications Offline
D/sruption Magazine (September 2017) – pages 52-55
Canadian Hairdresser http://www.canhair.com/. Tribute to Paula Kent Meehan (founder of Redken)
The Bank of the Future (La Banque de Demain) – Contribution in book published by Athling, July 2015 http://www.labanquededemain.com/
The Brand Brains (Issue #12) – Cover & featured article: Brand Accelerator (March 2015)
Film
The Last Ring Home – 26-minute documentary film, selected at 7 film festivals, winner of 10 awards and aired on TV in the North America (PBS/APT), Australia (History Channel) and New Zealand (History Channel).