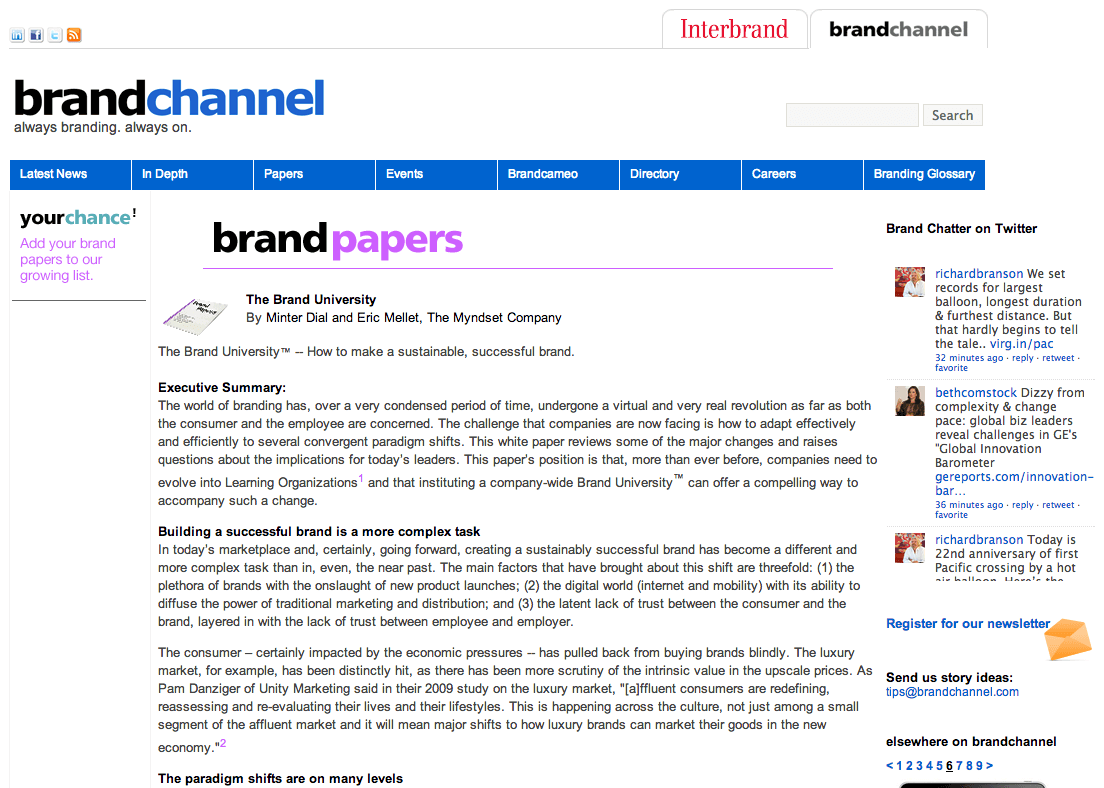 This white paper, "The Brand University," co-written with my ex-colleague and long-time friend, Eric Mellet, was published here by BrandChannel (October 2010).  Alternatively, since it is rather long to read on screen, I suggest that you download it via Slideshare (pdf). On BrandChannel, unfortunately, there is no way to leave a comment, so I have created this post in order to allow for commentary.
Brand University Executive Summary (as it appears in the BrandChannel):
The world of branding has, over a very condensed period of time, undergone a virtual and very real revolution as far as both the consumer and the employee are concerned. The challenge that companies are now facing is how to adapt effectively and efficiently to several convergent paradigm shifts. This white paper reviews some of the major changes and raises questions about the implications for today's leaders. This paper's position is that, more than ever before, companies need to evolve into Learning Organization and that instituting a company-wide Brand University can offer a compelling way to accompany such a change.
OTHER SITES MENTIONING THIS ARTICLE/WHITE PAPER:
Olivier Riviere Consulting (closed down)

EzineMark

published the article (review process)
Xing Chief Marketing Officer Brief
Translated into Chinese in the China Times (Taiwan) reader.chinatimes.com/forum_80805.html
Global Council of Corporate Universities (Annick Renaud-Coulon) – it's a paying website, so no access

for

non members.
Hispanic CMO http://hispaniccmo.com/2010/10/05/the-brand-university/
Dissertations Gratuites (Paris)
Vietnamese Brand Marketing Site, Masso massogroup.com/cms/en/news-articles/research-articles/6547.html
The Branding Gavel (Nigeria)
Branding Today (Scribd) http://www.scribd.com
Branding: An exploration of the changing definitions … 

by

Jennifer Onose, School of Media & Communication, Lagos: http://www.scribd.com/doc/48057161/BRANDING-ASSIGNMENT-2
The Black Renaissance – Hong Kong
Enterprise Collaborative