How to customize marketing efforts without violating personal data?
With all the news about the "close quarter" searching in the United States at airport security checkpoints, one might be excused for thinking that airlines are getting a bit too close for comfort.  Technology that spies on you, airport security that rubs you up… and, last Friday, airports closed in certain places around Europe due to weather and flash controller strikes.  All the same, I found this recent article "Airlines Get Personal (pdf)", written by Andrew Compart, Transport editor on Aviation News, of interest.  Airlines getting up close and personal?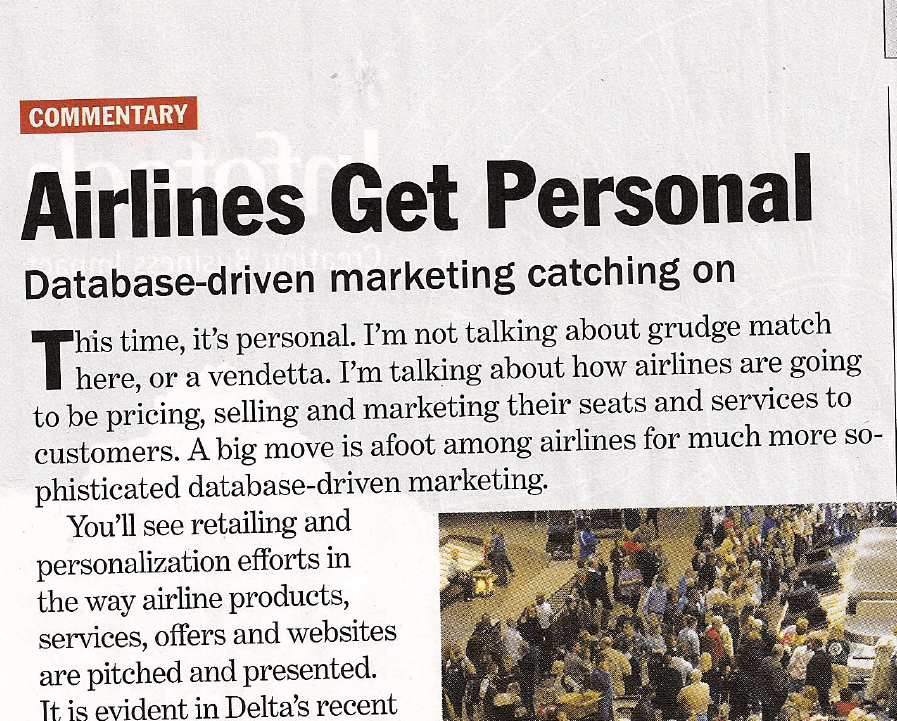 Getting beyond eVIL 2.0
As the tension mounts about the incursions on privacy and potential mismanagement of personal data becomes headline material, there is a seeming de-emphasis on what is good about personalized service.  Personalization cannot happen without a degree of understanding and knowledge of the individual in question.  Customer Relationship Marketing, when well done, should be a time saver, a positive surprise and, ultimately, personally satisfying.  If it is not, you ought to have the chance to unsubscribe, opt out.  Somehow, paranoia is setting in as the press hankers on the negative side of Big Brother, what I like to term the eVIL 2.0.  We are moving into a phase of protection rather than positive projection, to use a phrase I picked up while listening to Jean-Marc Manach (author of a book whose title is roughly translated: "Private Life, a problem for Old Farts?" and the Bug Brother blog on LeMonde).
The real challenge for companies wanting to create a personalized marketing approach is threefold: first, having a company culture that is galvanized around the customer; secondly, creating a voice and service level that is coherent with the brand and is shared, de facto, throughout the company; and, thirdly, finding or recruiting the expertise (aka talent). On the one hand, there is a need for technical expertise. As written by Compart in the article, "[j]ust because things can be done, does not mean they are easy." There is also a need to find talent able to listen to and engage with customers and one's community in an online dialogue where the conversation is truly happening — in complement to any "CRM system" (Siebel, Salesforce, etc) that is installed. In other words, getting personal means knowing how to communicate on a personal level. Making a machine do this is, as yet, an imperfect science. Having human beings do it is evermore expensive and, certainly, hard to scale with consistency. Yet, if we, as a society choose to block off all access to personal data in a response to eVIL 2.0, the chances are that — for those hoping CRM means "Conversation, that is Relevant and Meaningful" — will have to wait a good deal longer.
What do you think of the raging debate on privacy protection and the opportunity for personalized customer service? Do you know of any good examples of companies navigating the delicate path between privacy protection and a powerful & personalized CRM?