Making the local call
In Europe, local telephone numbers are often (if not always?) preceded by a 0. For those of us using the landline to make local calls, that 0 remains relevant: 01 for landlines in the Paris region, 0207 for central London, etc. However, I don't know about you, but I pretty much exclusively use my cellphone, not least of reasons for which is the fact that I can handily pull up the address book and call directly from the contact once located. So, this is when I often get a bit frustrated. For some people's contact details, the telephone number includes the country code (+33 or +44…) and, annoyingly, a 0 in parentheses; for example: +44(0)207xxx-xxxx or +33(0)6xxxxxxx.
Frustration in your contacts
The net result, if you try to call that number, you get an error message from the local operator saying that the number does not work.
Since I know this, I systematically edit out the "(0)" before inputting into my contacts. But, here's the point, don't you think people should get up with the times and just remove it altogether from their contact information? Either you write the local number with the 0, or you write +44207 directly… Don't you think so? Since I have a rather international existence, I tend to ensure that the country code is always embedded. It does not change the rates or efficiency. Here's what I want to avoid:

So, in the spirit of creating a mini movement (without too many delusions of grandeur), please share, like and/or comment the following petition. After all the future is not just mobile, but smart.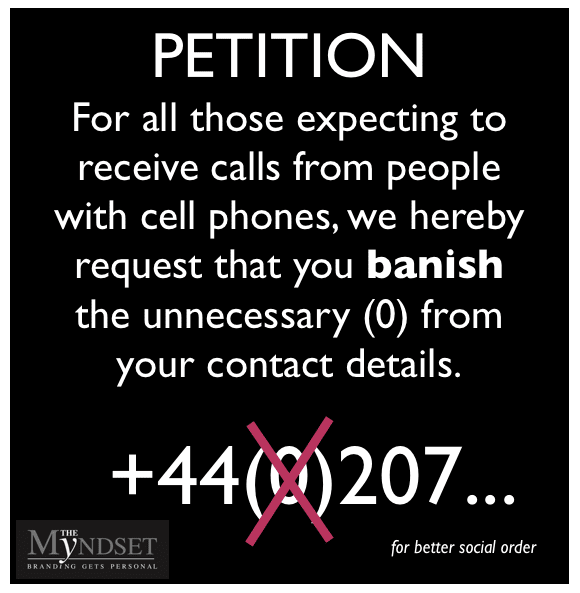 Please share your experiences!