I just discovered a new extension for gmail called "Right Inbox." Ironically, the first feature available, "send later," might be more aptly called the 'right outbox,' but the idea is to have your mail land in the destination inbox at the right time.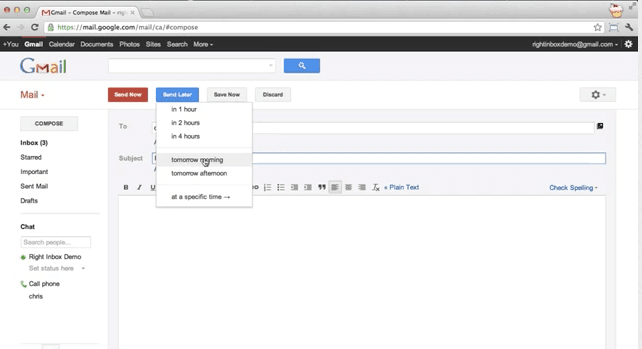 A potentially valuable tool for international digital marketers
The feature to which I was particularly attracted the notion of setting the time zone. Not that I don't want people to know that I get up at 5am to work, but there are definitely some messages that should arrive at certain times…  The only confusion here is figuring out if the time zone you set is relative to where you are (which you could easily be fooled into thinking) or relative to GMT (which is, of course, the norm, and which is the case for Right Inbox). The extension, which is available only on Chrome (5.0+) and Firefox (3.6+) for now, is extremely plug & play (I just love it that such extensions install so smoothly).   In terms of functionality, it is easy to use… seamless would be the correct term.  And, if you need to edit the draft as it sits scheduled to be sent out, you can just save it and the settings for the 'send later' are preserved.
More features to come
The Right Inbox team promise that new features will be forthcoming, including response tracking, improvements for sending large files, finding bulky attachments, email marketing, etc.  The site announces that features will involve "affordable monthly fees," although as in the classical freemium model, there will be a FREE or "light" version. For now, in its beta version, it is free.  With those new services, gmail could easily become a bona fide ally for digital marketing.
A gmail newsletter service?
I wonder whether Right Inbox is going to become the mailchimp (i.e. email newsletter service) of gmail?  In any event, if it can deliver on getting my mail into the right inbox, I'm sure to be a fan.