This week in 1938 (August 22), Hollywood's most famous dancing duo, Fred Astaire and Ginger Rogers, were featured on the cover of Life magazine. With the US still in the grips of the Great Depression and with war heating up in Europe, Astaire and Rogers were grace and elegance personified. Pictured below, Astaire and Rogers are dancing the Yam, a dance (and song) written by Irving Berlin and which was featured in a 1938 film called "Carefree."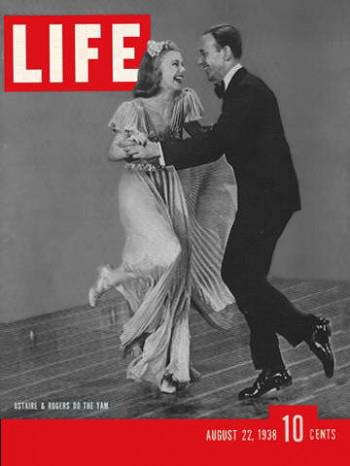 Thanks to Blog Critics Redux for some background information on Carefree and the Yam.  It was in this film that Fred Astaire famously planted an unprecedented kiss on Ginger Rogers' lips.
Here is a clip from YouTube of Astaire and Rogers doing the famed Yam.
Astaire was also featured on the cover of LIFE in August 1941 with his son.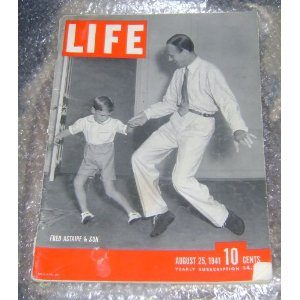 And, finally, Ginger Rogers for her part, was also featured on several other covers (1940, 1942 and 1951), including this one below in 1942, where she was photographed fly fishing on her ranch in the Rogue River Valley, Oregon. A rather beguiling photo.