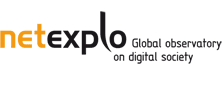 The Netexplo Forum is a magical two-day annual event that is held at the UNESCO headquarters in Paris.  This year's event was no exception.  Founded by Thierry Happe and Martine Bidegain, the Netexplo Observatory and Forum is a landmark event, observing new technology trends and how they affect our world.  As Stephen Crocker (one of the founders of the Arpanet) said at the end of the 2011 Forum: "Coming to Netexplo, with these two days, I feel like I have just gained three years."  Stephen commented on how powerful it was to have so many thought leaders and inspiring entrepreneurs assembled together under the

UNESCO roof.  Full Disclosure: I have been invited by Thierry Happe (aka Thierry 'Apps') to be the International Media Director of Netexplo (alongside my "daily" job) to help bring some international media and coverage to this singular event.
The Netexplo Forum highlights
The Netexplo Observatory serves to report on new tech trends in the five continents of the world — with initiatives that have been in existence for no more than 12 months — looking at how they are being used and how they are changing our world.  The Netexplo Forum 2013 featured a trends report (by Professor Julien Levy of HEC Paris) and several brilliant speakers, each providing their analysis of the worldwide changes.  With a UNESCO partnership, the slant on how new technology is HELPING our world should not be understated.  Highlight keynote speeches included the ever dynamic Duncan Stewart (Deloitte), the digital grand-daddy and IRL surfer Joël de Rosnay, and finally, the stirring Bernard Charles (Dassault Systems).  Meanwhile, I had the pleasure to introduce on stage Amadou Mahtar Ba (founder and Chairman of AllAfrica and the African Media Inititative) and to interview the very talented Jennifer Preston, Social Media Editor of the New York Times.
Herewith the three things I took away from the 2013 Forum.  As you will see, each of these three topics is meaningful.
China = innovation

Whereas we might stereotypically think that China is copytown, innovation is now emanating from China and its diaspora at a startling rate.   Three of the top 10 prizes were by or included Chinese.  Here were the three award winners: the China Survival Manual (a Chinese developer who had to keep his anonymity), Electronic Tattoos (Nanshu Lu @ University of Austin Texas) and ConnectedCube (startup based in Hong Kong).  Kudos to Thierry and the team to being bold enough to award an anonymous project.
eHealth and the year of the Quantified Self

Five of this year's top 10 awards involved health applications.  Here are the five: Care Square (a key-in-hand interface for seniors), Parkinson's Voice Initiative (PVI) to detect Parkinson's by phone, Sparx a very serious game to help with depression (NZ) as well as the China Survival Manual and Electronic Tattoos (above).  The key point here: the use of new technology to help manage our health and health concerns.  The remarkable PVI is distinctly cheap and implementable, so it doesn't have to be expensive and complicated.  While none of these three speak directly to it, we are definitely at the cross-roads of Big Data and Health.
Technology at the service of Education
One of the standout speeches was undoubtedly by Bernard Charles, CEO of Dassault Systems.  One of his most pressing messages was the opportunity and the need to use technology (3D in this case) at the service of a better educational experience.  At Netexplo, the very inclusion of the Wisembly interactive system provides a digital education unto itself for participants.  And, as Dave Duarte (GBS of Cape Town, RSA) said, it was great to see examples of innovation in education.
"We want to use the personal relationship we have with their phones for educational purposes" – @stevevosloo #Netexplo

— Dave Duarte (@DaveDuarte) February 15, 2013
Mixing models and populations
The richness of Netexplo comes from the rich mixture of different profiles, sectors, origins and viewpoints.  In one place, there are academics, sociologists, entrepreneurs, UNESCO personnel, media and business.  The outcome is immensely exciting and, as Stephen Crocker said, you feel that you can get a clear picture of the new technology worldwide tsunami in the space of 48 hours.  The proof is in the brevity of this post.  But, getting there and implementing these intitiatives necessarily involves a group effort… dare I say, a deep collaboration!  I hope that you will share this post with anyone who is interested in staying up with the next wave of new tech initiatives.
I will be posting interviews of some of the winners in the coming week.  Stay tuned!