In today's connected world, we have had to learn to find ways to break down silos, to work in networks and to collaborate with others. I believe that the power of your network is keenly related to your ability to survive.  It is a key part of the so-called "web 2.0" world.  Most companies struggle with this because it requires two fundamental shifts:
getting internal teams to work together
listening to customers
I have long felt that you are as strong as your network, the people you know and the people with whom you are associated. In some countries such as Japan, China or Korea, in order to do business, companies typically need to create partnerships or joint ventures with local players, and it's not always obvious with whom to partner.
The power of your network in the CLOUD
On my most recent trip to Australia, I flew to Melbourne via Guangzhou.  I am a frequent flyer on Air France, part of the SkyTeam alliance, and for the leg from Guangzhou to Melbourne, flew on China Southern Airlines (CZ – corrected 27 Sept 2013 thanks to Olivier's comment!).  CZ is one of the 19 partner airlines of SkyTeam.  As such, I assumed that CZ would be of similar quality to AF.  It turns out, from what I understand, that CZ is the largest, but third best airline in China, and a far cry from the AF standards.  Granted, this is from an experience on just two flights (same route), but if CZ is a large organization, boasting the largest fleet and network of routes within China, it is not on par with Air France.  I note, meanwhile, that SkyTeam also has three other Chinese partners.

Inconsistent Messaging
Aside from the fact that the "SkyTeam" pre-roll advertisement on the inflight entertainment directly contradicted my experience boarding (priority boarding was closer to a mass rugby scrum), there were some major disappointments in the level of service on board.  The staff was well meaning, but the caliber of service in business class was substantially weak.
Quality in the Details
For starters (literally), the appetizer was a rather poor excuse for a starter.  I think the term would be closer to an unappetizer.   Presentation, quantity and choice were below standard.  See for yourself.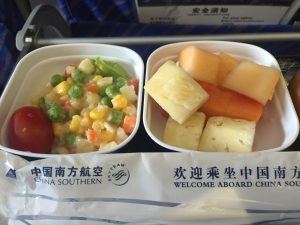 THE IMPORTANCE OF WRITING
The menu was handed out before take-off.  The CZ process requires that I pre-order my meal before take-off.  The English language version featured a little storytelling.  Aside from the rather primitive story and incompatibility with the meal I was served, I noticed a couple of grammatical errors in the menu.  Can you find them?

I cannot reveal to you the discomfort of the Business Class seat (barely the equivalent of Economy Premium in Air France, with a 3-tier seat that provided an incline of under 120 degrees). It measured just 48cm in width.  Meanwhile, the inflight entertainment system was broken. Symptomatic of the situation, the "remote" was rather beaten up. And the choice of films was reminiscent of TV in 1970s with a selection of around 15 English language movies.
The moral of the story
You are your network.  CZ is clearly pulling down the Sky Team partnership.  In a flat world, companies need a strong coalition to cover the four corners.  I wonder how Sky Team came to the conclusion that they should ink a deal with CZ.  Perhaps they underestimated the need to have partners, thinking that they were able to manage themselves.  Perhaps they were slow to recognize the legitimate interest in BRIC "third world" countries.  Perhaps they were too late to sign up the better alternatives?
China Southern Airline's motto is "Fly like the first time."  Clearly, they have forgotten to cater to those who have flown before!  In their trailer, they gently wax: Whichever you trip you take, preparing is like child's play, featuring kids running around in a backyard.  They even feature a gratuitous Labrador dog in their trailer.  All rather puzzling and unrelated to the business in which they are operating.
As part of the SkyTeam network, there are 520 member business class lounges around the world… I had no major quibbles about the CZ lounge in Guangzhou, but on my return leg, I had to make do with the AF side of the lounge and there were no quiet and/or comfortable seats.  I was disappointed that there was no access to the CZ side!  Here again for SkyTeam members, one expects consistency in quality throughout the network, otherwise, it degrades the value of belonging to the network.
Power of your network
In any event, the formation of Sky Team, is an excellent demonstration of how and why it is critical to choose the right partners and to form strong partnerships.
I know there are many horror stories in travel.  This was far from a horrible experience.  Here, I wanted to illustrate the power of your network, rather than just berate CZ.  The staff on board were indeed well intentioned (and I send a special wing tip to the Purser, Ms Lin, on my return journey).