At SXSW2015, I attended the very entertaining Knight Foundation event and was delighted to meet Nico Sell, a serial entrepreneur who helps organize and run the seminal hackers' convention DEF-CON (which has been around for 22 years). Nico is also the co-founder and CEO of Wickr, an encrypted messaging system that says it is "security done right." Wickr proclaims to be the next generation of secret and secure messaging (after Secret, Confide and Snapchat), providing a military-grade encryption. This is a peer-to-peer encryption system where the Wickr servers do not have the keys to decrypt your messages. As Nico wrote to me,
[Wickr's] mission is to be the most trusted global communication platform in the world."
Wickr writes on its site, "Encryption Makes the World Better." As reported by Engadget, Nico said, "[o]ur main mission is to create the private web … I think Facebook has done a good job of creating the public web, but that's only one half of it." Wickr's board, investors and advisors make up a formidable who's who of the internet security world, including the respected Cory Doctorow and Jim Breyer.
Wickr – the "really" secret messaging app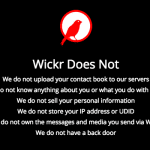 The Wickr app, available on iOS and Android as well for the desktop, was launched in 2012 and has taken a solid foothold, despite a relatively crowded market and some naysayers who refute Wickr's security. According to Trak.in, there are some 5 million users of Wickr. Espousing transparency, the Wickr site goes to great lengths to explain its system. As reported in this Network World Jan 2014 article, Wickr offered a $100,000 award for anyone able to find a serious vulnerability in its app.  In a world where privacy is a new form of currency, there is reason to believe that a truly secure and tight messaging system will be valuable to people.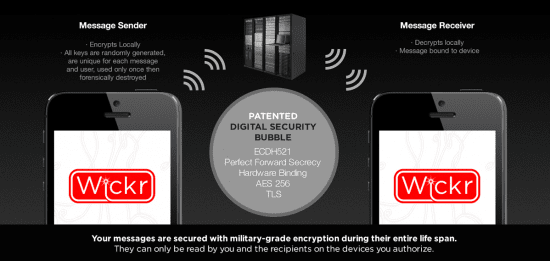 Wickr business model
The inevitable question for an application whose data is, by definition, intentionally not stored or mined, is: what is the business model? Nico wrote in a response to me:
"Millions, then billions will use the free service and never need to spend  a dime. We expect to charge our power users, the top 4%, for premium features, such as unlimited secure calling and unlimited expiration date."
In a 2014 Fast Company article, Nico suggested other premium services such as secure video chat. Wickr may "also license the company's patented security technology to other apps."
Wickr – state of the secretive art?
The company says that it keeps our chats completely anonymous. It uses state of the art, military grade encryption technologies that, presumably will need to be consistently upgraded as the hackers get more sophisticated. Wickr does not store any metadata and also lets you keep ownership of everything you share. One of the nifty functions is a slider bar that lets you define specific expiration times (up to a maximum of 6 days, but as short as 3 seconds) for your messages, whether it is a text, or carries a photo, audio or attachment.
The ambition of Wickr will need to face the test of time (user traction, etc) and the more threatening underminers of the black hat underworld. Personally, I am a fan of the user experience. It is fast and intuitive. If someone does a screen capture of one of your messages, you are alerted. I have recommended it to my kids and family as an alternative to Snapchat. And for those who would rather keep their photos and file exchanges private, it's a more secure option than an Instagram or Facebook.
What about you? What do you think?