[Check for the update at the end of the post]
With the rise of smart devices, the internet of things and connected objects, we are seeing many brands jump into the foray. For the last few years, I have been able to geek out AND play tennis (two of my favorite pastimes) with a "connected" tennis racquet. My weapon of choice was the Babolat Pure Drive. The connected version is called the Babolat Pure Drive PLAY. It retails for around £340 ($482 at today's FX). The "basic" racquet (Pure Drive) without the connected gadgetry retails for £170 ($241). So, you're basically paying 2 for 1 (i.e. I could have bought two "basics" for the price of the PLAY version). What does the Babolat Play do? It calculates various elements of your tennis game (e.g. number of strokes, where you hit the ball on the strings, force of hit…). Then at the end of each match, you sync it up: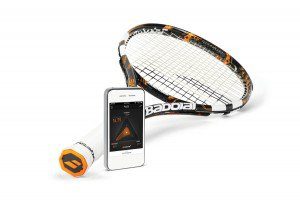 "The racquet syncs wirelessly to your smart phone or tablet (iOS or Android) via integrated Bluetooth. You pair it to your device like any Bluetooth head set and then open the app to sync your data. Use your PC or Mac (required) to upload the data via a mini USB found in the frame of the racquet."
To the extent I own several Pure Drive racquets, it goes without saying that I appreciate the underlying racquet performance. However, the "connected" racquet was rather the bête noire of my collection (even if it's colored orange). Because it was able to record all my strokes, I naturally used it more. But it was always a bit complicated.
Playtime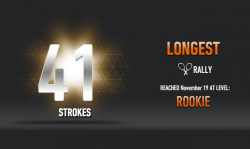 Over the three years I owned it, I managed to play just 22 times with it. Apparently, my longest rally involved 41 shots. On average, I hit harder with my backhand than my forehand; but compared to the pros, I hit about half as hard on my groundstrokes (wow). According to the Babolat Connect site, I am a rookie pretty much across the board (which I tried not to take personally!).
Downtime
At the outset, I encountered numerous bugs and issues. These bugs included incompatibility with the new iOS; not syncing; faulty downloads; poor user experience. For example, on the Babolat Connect dashboard, you can only measure your evolution over a couple of months.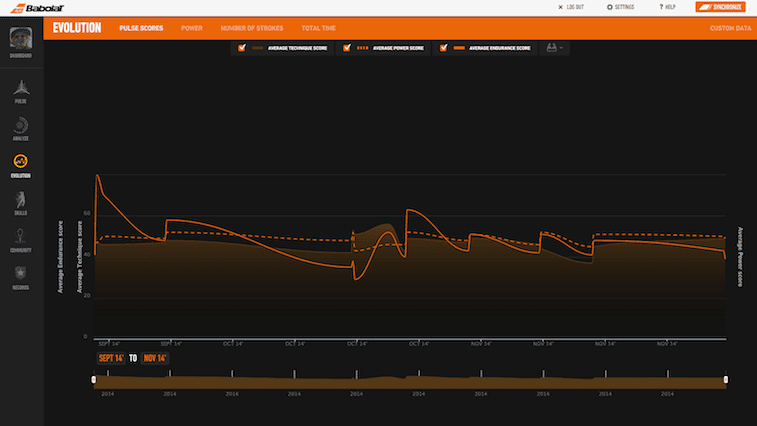 Occasionally, I would forget to recharge it. Other times, I forgot to turn it on. In any event, thanks to my indulgence and hyper-geekiness, I stuck with them. When I would contact the support center, the answer of predilection was "Oh, that's the first time we've seen that." It was as if they had lots of users and everything that happened to me was "odd." I suspect that the truth is that few users would have been quite as geeky as me.
Then I spent over 16 months with a bum knee (surgery included). After doing my rehab this winter, I was super excited to start playing again. I grabbed my connected racquet in the hopes of comparing my game pre- and post-operation. Unfortunately, it turns out that the racquet crapped out more than my knee. Not only did the bluetooth sync not work, when I plugged in the USB port, the silver socket came unglued. That means that I can no longer recharge it. In other words, goodbye the PLAY part of the racquet.
Downer time
So, I returned to the Babolat support desk to intervene. And, with a great deal of nonchalance, they rolled out the rules and procedures. First, they asked me for four items, including the original proof of payment, a photo of the racquet and its serial number. I told them I didn't have the invoice, but sent in the photos. They wrote back that they were not able to upload the photos. So, I dutifully resent the photos. But, it turns out that they could have saved me the pain by telling me right off that they needed the original receipt. After my second mail, they wrote:
Unfortunately, without the proof of purchase, we can't exchange your racket.

We can not do otherwise, it is the Babolat warranty procedures.

Looking forward to your response,

We appreciate you choosing Babolat Play. We thank you for your confidence in our connected products and for your understanding.

Sportingly yours,
Ah yes. You mean the fact that I have been engaging in the Babolat Connect site since the very beginning is not enough to prove my ownership? How great is that? A digital product in an analogue world. Surely, Babolat manufactures a fine racquet. However, they clearly have kept the old-fashioned mindset to customer experience. It reminds me of certain institutions that hire me to help bring "digital" and new tech into their organization, and yet ask me to send in hard copies of the invoice and receipts. Is the Babolat Pure Drive Play worth it?
Big companies, small mind
When I say I worked at L'Oreal, people would spontaneously say that I was "worth it." Well, crossing hairs (strings?), I can say that the Babolat Pure Drive Play is a sham. As a couple of pros with whom I shared this experience said, "Now that's a shame."
The tagline for the racquet is Play Connected. Play With No Limits. Well, if you can't stay connected, there are in fact many limits. And when your customer service is restricted to old-time analogue practices, you don't get to play much, at least not with the digital gimmicks.
At no point, did they ever consider reaching out to me for "feedback." Had it not been for my geeky tenaciousness, I would probably have given up much earlier. The functionality, durability and general utility are questionable. A geek that has £340 to spare for a tennis racquet can probably get more satisfaction by buying a new Apple Watch! Back in November 2014, I found out that there were 5,041 "activated racquets" (with a rate of 10 new activations each day). For all the activity, however, I never read anything about customer satisfaction in their literature. Since that first racquet, they have come out with a new models. If they intend to stay with connected tennis, hopefully, they have vastly improved electronics and better user experience.
Lessons to be learned?
Any company embarking on digital transformation should consider the following lessons:
A digital or digitized product is different from an analogue version; and therefore may require different rules and procedures
The user experience on the web/smartphone is an integral part of the product
In terms of managing expectations, be upfront. In the case above, the Customer Rep literally strung me along.
Engage with uber users to help get customer feedback. Digital products can be updated with such greater ease than analogue ones.
Any reactions?
UPDATED ON MARCH 30TH 2016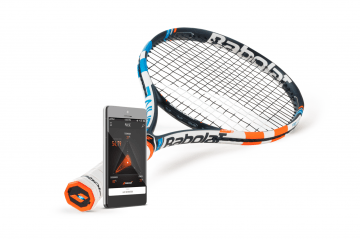 So, it turns out that Babolat came back to me a couple of days ago and revised their stance. As Matthieu @Babolat wrote, having reviewed customer satisfaction levels, "it seems one of our agent has misunderstood your issues and had not correctly handled your request." Coordinating with the good folk at Wigmore (thanks Fraser @Wigmore39), I was given royal treatment and able to exchange for the brand new Babolat Play, plus a new set of strings. THANKS BABOLAT for turning the situation around! Proof that "showing up" and listening can turn a hater into a lover (as Jay Baer might say).