The Web-enabled Force is the most importance force. There, I said it.
It's hard to imagine anything more important than the flexibility of the Internet accessed through a browser. The scary thing? We have quite a bit of untapped potential left with respect to the Web-enabled Force.
Let's take a look at the facts, shall we?
For one, e-learning has barely reached the apex of its growth. With the rise of college tuitions sharply on the rise, options such as Khan Academy and Coursera will only continue to grow. This will put onus, eventually, on higher ed institutions to invest deeply in distance learning, as well as to increase the odds that the next captains of industry hail from unexpected circles that would have previously not had access to such education.
Now in some ways, standing up for the Web-enabled Force as the most crucial force may be cheating, in a sense, and I'll tell you why. Quite simply, the Web-enabled Force might be one of the most broad and expansive out of all the forces discussed in this book. It touches and layers over so many other forces, it's hard to ignore its importance.
For most busy white collar professionals, the Web-enabled Force affects them on not just a regular basis, but on a minute-by-minute basis. So much of our lives are impacted by being connected to the Web, that when Internet connectivity is temporarily lost, we don't know what to do with ourselves. In fact, I recently encountered some competitors at a nearby agency bemoaning the fact that access to the Web was finally being brought to their underground subway line. They had previously used this time to catch up on offline reading, listen to audiobooks, and ruminate about the day ahead. Once they were Web enabled during their subway ride, their entire process changed in a heartbeat. So Web enablement isn't always a force for good – but it's certainly a disruptive one.
From an organizational perspective, so much needs to be done to take advantage of it properly. For example, one has to understand that while face to face connections won't go away anytime soon – there's a biological component to that – distance collaboration tools such as Slack for communications, Box for file sharing, and Asana for task management need to be adopted by companies in order to stay competitive. The organization that doesn't appreciate how employee expectations have changed, all because of the Web-enabled Force, is not likely to succeed in the long run.
At the same time, organizations are not talking enough about the negatives that our always-connected society bring along with them. For example, knowledge workers often don't know when to "unplug" metaphorically speaking and use their intellect to create unique value for their customers and clients rather than to reactively check their work email account every 5 minutes.
Any discussion of the Web-enabled Force wouldn't be complete without a discussion of social media, a form of communication that shouldn't be underestimated. As a result of social media, we now have the ability to connect with people who we would have never had the ability to discover in previous generations. The Taipei-based entrepreneur looking to build the world's first solar-powered hovercraft can now connect with a solar-obsessed investor – who's also a hovercraft aficionado – located in Sao Paolo. The opportunities for this type of collaboration are endless.
Moreover, previously enterprises might not have gotten off of the ground because of being unable to find the right raw equipment or materials, or they could not be procured at the right price. Thanks to our Web-enabled society, that's no longer the case for most of society. B2B ecommerce has largely been solved by platforms such as Alibaba, while marketplaces such as Craigslist are not just valuable for small businesses, but for classifieds-style listings, including dating ads. Speaking of dating, apps and websites as diverse as eHarmony, Tinder, Match, and many others have transformed the concept of dating and marriage across many strata of society.
I'm not going to be so bold as to say the Web-enabled Force has barely tapped its potential; far from it. There has been so much transformation in our society due to Web-enablement that it's hard to believe its impact will only continue to grow over time. One thing is certain: it is hard to imagine a force that could have more of an overall impact to our society from a social, experiential, and professional perspective.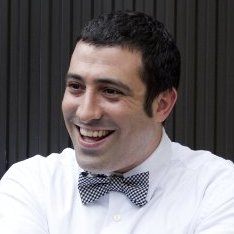 Jeremy Goldman, @jeremarketer
CEO and Founder of Firebrand Group, Author, and Keynote Speaker, Founder at Mosaic; Author at Going Social: Excite Customers, Generate Buzz, & Energize Your Brand with the Power of Social Media
Inc Magazine & The Next Web (TNW) columnist