In New York, there are now two full-fledged Amazon Books stores, both of which were opened in 2017. I visited both sites, one at the Time Warner Center (Columbus Circle) and the other downtown (34th Street). I wanted to record my thoughts about the experience. Overall, I found the stores charming, taking some of magic of the online world and bringing it to the offline store. That said, there were some things that could need to be improved as I will point out below.
Amazon Test, Learn & Deploy
To bring us up to date, Amazon has rapidly been turning to In Real Life (IRL) stores to complement its online behemoth business. Typically using its Seattle base as a testing ground, Amazon has been looking at various different ways to disrupt and tackle head-on IRL/brick & mortar retail. This includes 4 concepts:
Amazon Go — a check-out free convenience store. In early 2018, it opened up the first of several Amazon Go's. They're targetting a total of 10 locations by end of this year, with as many as as 3,000 by 2021. See the Bloomberg report (subscription required). The core convenience: not having to do the checkout line. You can check out Amazon's youtube video.
Amazon 4-star — with its first one opening in September 2018 in Soho, New York (72 Spring Street), the Amazon 4-star store promotes all types of items with 4-star ratings and above. I noticed in particular a strong presence for LEGO. It's a compelling idea, considering the data on which Amazon sits online. The store carries a selection of best rated, top sellers, as well as new & trending items. It boasts a cash-less checkout process.
Amazon Books — perhaps the most traditional of its initiatives, the Amazon Books store is truly an augmented IRL book store. I consider it perhaps the nearest thing to a blended bookstore. Although it's obviously focussed on books, the store also sells a range of devices (speakers, kindles, etc). For having visited two of these (as I present below), they are original in many ways. And the pricing mechanisms are highly seductive to want to be an Amazon prime member right away.
Amazon Pop Up stores — presumably taking advantage of temporarily available and cheap retail spaces, these pop ups are proving grounds for Amazon's retail concept(s). Ongoing since 2013, there apparently have been 100's of pop ups around the world, including the US, China, France and the UK. Not surprisingly, some of these pop-up stores are being installed in Whole Foods and Kohls in the US. One of the stated objectives is to promote its Echo/Alexa voice-activated home speakers. See here for its dedicated page on its site.
Amazon Books – the Blended Bookstore
If the base nature of Amazon Books is still about promoting sales of hard goods, Amazon's concept has a number of features that sets it aside from a classic bookstore. The stores use different slices of data that is refreshingly different. The data from online is obviously voluminous, but they have diced it up to include localised and real-time information. As I mention below, I felt that there is certainly room for improvement to promote an even more disruptive experience. If I didn't necessarily understand the layout of the store, I discovered new categories and "aisles" at every turn. Here are the types of end-caps and categories the Amazon Books store offers:
100 Books to Read in a Lifetime (also 100 books for Young Adults to Read in a Lifetime)
Book Club Picks from Goodreads
Business Top Sellers
Most-Wished-For Books on Amazon.com
Unputdownable — powered by charts: Books that Kindle Readers finish in 1 Day or Less
If You Like, You'll Love
Hot Right Now
Hidden Gems
Highly Rated 4.8 Stars & Above
Fiction Top Sellers in New York
Popular Books in Time Warner Center (see right)
Coffee is served at the 34th Street location…
What I wasn't able to verify is how up-to-date all the rankings and listings were, due in part to the old-fashioned printed shelf talkers.
Amazon Pricing & Returns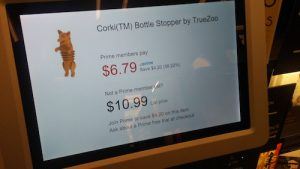 While you might be used to finding two-tier pricing in certain drugstores — one for loyal customers and the other (higher) for the rest — it's less common in other environments. For sure, it's a prominent feature in the Amazon Books store. There are bar code readers dotted around the store asking "What's Your Price?" As an Amazon Prime customer in the US, I was able to check out the pricing differential and was very gratified by the privileged pricing I received in the store. If I'm honest, it basically prompted me to buy more. Another thing I checked out was Amazon's return policy. Returns and full refunds are ok for 30 days with a receipt. However, items bought online cannot be returned to the store. These still need to be treated through the online process.
The Commonalities in Amazon Retail
Between all the four different IRL Amazon retail initiatives listed above, there are a number of commonalities that I detected.
Artificial Intelligence (or deep learning algorithms) is used unsparingly and is designed to learn and improve the customer experience. As reported in a recent WIRED article by Steven Levy (paywall), AI is now an important "flywheel" at Amazon.
They each provide added convenience, although the convenience factors seem to be divided out among the concepts for now
Each store benefits from online reviews and takes stock of your online pricing
Each store concept is a hotbed of data collection for further improvements.
Opportunities for the Future
If there were many novel/innovative features in the Amazon Books store, I was still surprised, not to say disappointed, that they didn't go even further. Here are some areas for improvement, in my opinion:
Smartphone features, such as geo-fencing. I was stumped that the store didn't want me to self-identify as I walked in. That way, it might automatically recognise me as a customer and provide my Prime pricing each time, for example. Naturally, I'd expect this feature to be opt-in.
To my great surprise, there were several books that were Out of Stock (see example to right). Considering the terrific logistics of the Amazon warehouses, you would have thought that OOS would be anticipated better in the stores. I'd note that the gap gave me a bit of book envy (the ones I'm missing out on?).
If each book had a tag that showed the overall rating and a real customer review, I would suspect that the future must hold real-time digital reviews, that are updated and/or scrolling.
Voice-assisted retail assistants. For all the work being done with Alexa/Echo in homes, I wonder why they're not as prominently featured in stores?
Lastly, I found the Amazon store personnel quite traditional. Fundamentally, I was left wondering how different the key metrics were from any normal bookstore. I learned that the personnel were salaried with bonus (no commissions), but didn't get to find out how they were evaluated. I believe they could do with a little more Apple in their eye, where personnel are really focused on providing education and delivering customer delight, rather than focused on the ultimate KPI of sales.
Overall, I do continue to fret about the long-term viability of an Amazon without Bezos (as I've written about in the past: What's the Amazon Brand?), where a non-Bezos top management will inevitably fall prey to the wiles of short-term performance issues as well as other challenges such as employee engagement. However, clearly Amazon's foray into the IRL retail store business will spell ever more trouble for independent and chain book stores, much less other retail sectors (watch out: grocers!). One of the biggest aha's — insight provided by Martin Lindstrom — is that in the areas where Amazon is putting up its stores, its ONLINE sales are also improving. I don't know the financials behind Amazon's current retail activities, much of which will be cloaked and/or covered as an experiment, but one has to imagine that the real play will be in owning the BIGGEST data combined with the wallet (credit card information).
Your thoughts?