If it's one thing to want to master the customer experience in the face of all the new technologies and changing consumer habits, it's another to do so as a tech company that systematically launches new products, upgrades and extensions. The tentacular relationship between the various products becomes increasingly precarious to manage. A few recent personal events in the Apple eco-system have given me cause for concern and, I suspect, provide signs of cracking under their size.
The Notification War
As if it weren't hard enough to silence the barrage of notifications, there's nothing worse than a notification that you're not allowed to turn off. A little while ago, I got a notification that I needed to upgrade my Apple Watch (Series 2) to the latest version. When I tried to do the upgrade, I discovered that I didn't have enough space on the Watch. I was told by an Apple Genius that I'd have to eliminate apps on the Watch in order to free up space. I was already down to just 6 optional apps after the last major upgrade and I didn't want to lose these apps so I chose not to upgrade. However, when I ask him how to stop getting the "you must upgrade" notifications, I was informed that wasn't possible either. So I have to live with the regular nuisance of a notification that basically is screaming: buy a new Watch?
The Synchronization Battle
Next, I discovered that I wasn't able to synchronise the Activity app on the Watch with my iPhone. After all the hype about the new attention to health, this irked me. The message on my Watch (right below) said to use the Activity app on the iPhone. To my consternation, the Activity app on my phone ((right) sent me back to the Watch. A vicious circle. The Apple Genius was stumped and put it down to the fact that I didn't upgrade the Watch. No solution.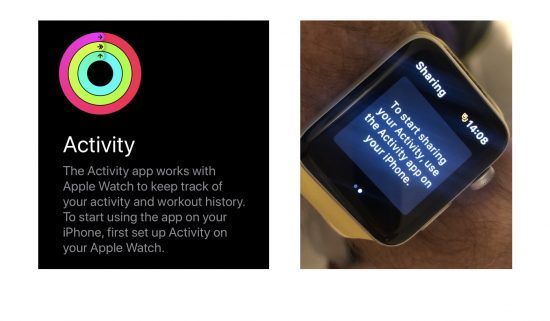 Valuable Customer Service
The third event was enough to bust my chops. I recently bought the Beats PowerPro wireless earphones at $300. I preferred their hook-on form to the Apple earbuds. The first user experiences left me quite impressed with the sound quality and their connective link to my iPhone. Unfortunately for me, however, I had the charging case stolen from my coat at my sports club. Someone may have thought they were getting the full monty (i.e. with the earphones). Too bad for them, these were in my ears at the time. But, without the charging case, I was in the possession of lifeless earphones. To get a new charging case (pictured below holding the earphones), I looked to grab one on Amazon. Failed. Nothing available. There was no such separate accessory available on the Apple site either. Failed. I searched high and low on the Internet. Failed… until finally, I found that Ebay had one used case that was still under bid for five more days. Offering price? $80. Wow.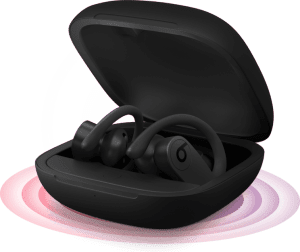 At a retail price of $300, these Beats earphones are no gimme. Originally, I was more scared to lose the earphones. I had no idea notion of the value of the case. Anyway, when I went to the Apple Store to inquire about a replacement case, I was told I had to take a rendez-vous with a Genius. Annoyed, I complied. When I came back at the appointed time, I was asked for the original receipt (which I didn't have on me). I quizzed the Genius about why he needed the receipt. His response? "That's the process." I smirked. Why such a process? He shrugged his shoulders and just said that's the way it is. THAT is not a valuable customer service exchange! Why do I need to bring a receipt to buy a replacement at around $90? Not only does the genius look less so, it makes me, the customer, feel about to be shafted. Conclusion: I wasn't allowed to order a replacement without the receipt! Really? What's that about?
Apple's Customer Experience is Serpentine
Keeping the customer experience (CX) clean and enjoyable is a struggle for all brands, where customers are freely jumping between analogue and digital, between Android and iOS, between one country and another. For Apple, who do all they can to keep you in their walled garden, they still have to deal with the integration of foreign systems such as Google and Microsoft. But, if Apple can't manage its own system, people will wonder and then wander. These three instances happened to me in quick succession. They make me feel that the Apple customer experience is becoming too serpentine and unwieldy. Can they really keep the magic as the number and complexity of the interconnected devices increases? A huge piece of the CX at Apple relies on customer care that is handled online and in the store. But, even with the "attributed" genius at the Apple Store, he didn't have the appropriate or sufficient answers. Right now, I'm feeling that cracks are showing.
Anyone else feel the same? Am I exaggerating? Or is this just 'typical' of everyone's experience in the past and they'll get through it? Of course, this is just an anecdote and there'll be no correlation with share price performance. But with the pressure on Apple, despite its size, to continue to grow to please shareholders, and its price sitting near an all-time high, I am convinced this type of customer experience will be its undoing…

At the end of the day, Apple obviously has its challenges. But other brands will be faced with similarly serpentine experiences, dealing with an array of sometimes incompatible technologies. For example, fashion brands who want to get into wearable tech. The automotive industry that has to integrate IoT, energy storage and autonomous driving technologies. And these very same companies also have to master the marketing challenges of engaging, hooking and satisfying their customers. The role of customer service will be key for ALL brands. For Apple, I have detected a worm.