Has the "new normal" become a regular term in your lexicon? At the very least, I seem to keep hearing references to it, whatever normal may be. To wit, in his recent address to the Tory party convention, Boris Johnson emphatically said that we can't go back to the "old normal." But, what does normal even mean if it isn't the same old thing? By definition, normal (as an adjective) means "conforming to a standard; usual, typical, or expected." In any event, all this "normal" context was swirling around in my head when I picked up a recent Evening Standard (which I was reading in the morning) and fell upon this 'normal' ad on the back page: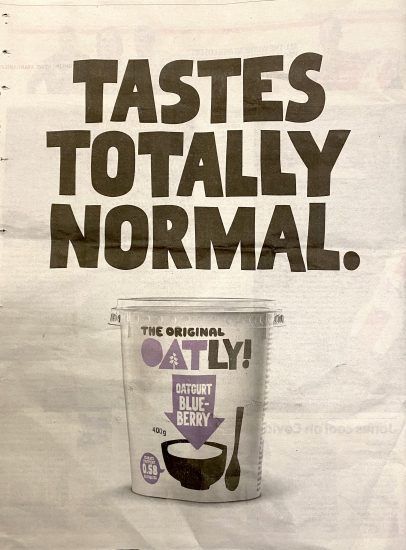 However, it was the double page (inside front cover) that was completely abnormal and carries the real message.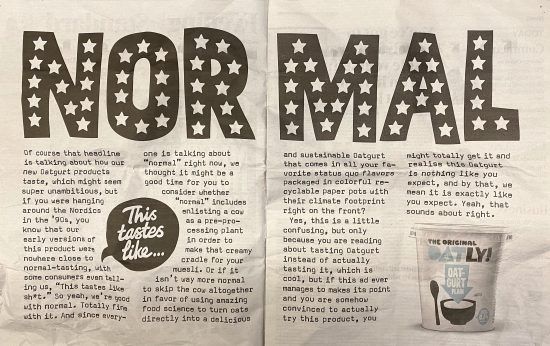 With the stars in the word "NORMAL" I half expected the message to be from an American. And it took me a second to relate it back to the single page ad on the back page. The long-form text was written with a real voice. Not being sure if you can read it in this image above, I decided to type it out in full — that's how good I thought it was.
NORMAL
"Of course, that headline is talking how our new Oatgurt products taste, which might seem super unambitious, but if you were hanging around the Nordics in the 90s, you know that our early versions of this product were nowhere close to normal-tasting, with some consumers even telling us, "This tastes like sh*t." So yeah, we're good with normal. Totally fine with it. And since everyone is talking about "normal" right now, we thought it might be a good time for you to consider whether "normal" includes enlisting a cow as a pre-processing plant in order to make that creamy cradle for your muesli. Or if it isn't way more normal to skip the cow altogether in favor [NB US spelling] of using amazing food science to turn oats directly into a delicious and sustainable Oatgurt that comes in all your favorite status quo flavors packaged in colorful recyclable paper pots with their climate footprint right on the front?
Yes, this is a little confusing, but only because you are reading about tasting Oatgurt instead of actually tasting it, which is cool, but if this ad ever manages to makes [sic] its point and you are somehow convinced to actually try this product, you might totally get it and realise [UK spelling] this Oatgurt is nothing like you expect, and by that, we mean it is exactly like you expect. Yeah, that sounds about right."
What do you think of this text?
A few things stood out for me:
It's a long-form text — recounting a story. (not normal)
The tone is delightful, at times self-deprecating. (non normal)
The change in spelling from US to UK indicates that maybe there were two authors? (weird)
The (single) spelling mistake should not be normal.
The product image is given little real estate on the DPS (much more on the SPS). (not your typical marketer from L'Oreal, that's for sure)
Finally (and not least), there is not a single indication where to get the product. No website link. No string of social media icons. Not even the name of the company (Oatly) that produces Oatgurt.
In any event, based on this ad, I'm definitely intrigued enough to give Oatgurt a try. Of course, it would help if their site told us where we could get the blooming product (it doesn't)!
In a final coup of abnormal marketing, this Swedish company even trumpets on their site that they are backed by private equity. And they actually name and talk about why this PE company: Blackstone. All makes for original reading.
These are not normal times and I doubt we will return even to a new normal any time soon. As Bob Dylan crooned, the times are a-changing and the change is going to continue to come hard and fast, well after the end of this pandemic.
Your thoughts?