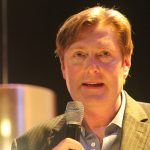 Andrew 'Drew' Ellis is the co-founder of We Are Like Minds, which was founded in October 2009 and has quickly taken up a pole position as thought leaders for business using social media at their global events, and with an eponymous co-working private members club in London WC2.  Drew also founded EyetoEye Digital, in 1994, an agency providing creative and marketing strategy,  including brand creation and mobile app development.
In his spare time, Drew is also one half of the band ORBIT, alongside renowned composer and producer, Craig Leon. Their first project Orbit- The Journey to the Moon was shown on The Discovery Network in 56 countries on the 40th anniversary of the 1969 Apollo moon landing.
He is a man with his pulse on the world of digital media, advising global businesses and countries on how to adapt to the fast paced world of social media and more.
Links and resources mentioned by Drew Ellis:
Huddle collaborative platform
Craig Leon
Chris Brogan, author of Trust Agents and renowned speaker extraordinaire…
Olivier Blanchard – The Brand Builder Blog
Trey Pennington – Trey Pennington is a marketing pro, speaking, author, and social media integrationists (leverages your TOTAL marketing program)
Ken Rutkowski Radio show – World Technology Roundup – a daily technology new podcast with unique insight and perspective on the high tech industry.
To connect or follow Drew:
————–
Further resources for the Minter Dialogue Radio Show:
Meanwhile, you can find my other interviews on the Minter Dialogue Radio Show on Megaphone or via iTunes. Please don't be shy about rating this podcast on iTunes here! And for the francophones reading this, if you want to get more podcasts, you can also find my radio show en français over at: MinterDial.fr, on Megaphone or in iTunes.