One of the most repeated questions I hear is: 'how, Minter, do you find the time?' How do I find the time to produce all I do, answer all the correspondence and engage with my community? The short answer is defined determination.
I have written before about some of the keys to managing one's time better as well as the tools and platforms that help to be as efficient as possible. While I continue to practice the same skills (and attitude) in terms of my time management, I realize that the tools, sites and platforms are evolving. Herewith a little snapshot of the latest go-to tools that I use pretty much every morning (and in chronological order) as part of my daily morning routine of social media community management.
Tweetdeck – this is my preferred Twitter client.  I use Tweetdeck on my multiple Twitter accounts, to do a check on the retweets, direct messages and mentions, then read the morning tweet stream.  This usually involves some messaging, thanking and retweeting.  I am then ready for a concerted effort of reading and original tweeting.  [20 minutes]
scoop.it – my curation site of predilection.  I use scoop.it as a publishing site — usually co-tweeting every thing that I "scoop" at the same time — around my four top topics (social media marketing, great branding, elearning and the Grateful Dead).  Most typically, I do not GO to the scoop.it platform itself, but I use the handy scoop.it widget to bookmark and publish the articles of interest.  [20 minutes].  If you would like an invitation to scoop.it (still in beta), let me know!
Facebook – a stop on the BIG BLUE site to see the morning's messages, notifications.  I will typically try to post a comment per day on at least my personal wall as well as on the page for my eponymous grandfather. [15 minutes]
Email – with all my email centralized on gmail, I can do a one-stop review.  One of the novelties in my inbox is a carefully selected set of "daily journals" that are created via paper.li.  Considering my inbox of some 75-100 emails per morning, this operation involves reading, replying and classifying.  [20 minutes]
BBC – my most trusted source of news (after Twitter!)
Social Media Engagement (Part 2)
That is it for the systematic part of each morning. Below are the "trending" platforms that occupy more and more of my morning social activity: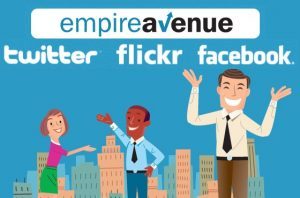 Empire Avenue – a "trending" social game, based on people's social media presence and influence that pretends to have a real use.  As of this writing, my shares are still only @ 35.07E – a long term steal 🙂
Gist – a "rich media" way of keeping up with your contacts.  What I particularly like is that it publishes what your network is publishing and you can put hierarchy on the people whose output you would rather view.
Google Reader – if I have not had enough to read, I will take a look at my Google Reader, although this is trending down.
Blog post creation – three times a week, I will write articles.  This usually happens at the end of the morning "set."  My rhythm of production depends on the week's workload and other factors.  But I have a routine that is always bookended with the weekly newsletter (Thursday).
What are the new activities and platforms that are popping up in your morning routine?