An original lifetstyle bookstore
If you are ever in Brussels on a Sunday, one of the busier locations is the 1,700m2 Filigranes book store (39-40 Avenue des Arts, 1040 Brussels)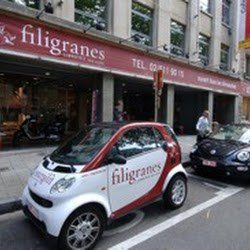 which, because of its license to sell the daily press, is allowed to stay open on the weekends*.  Filigranes is, by all accounts, an institution in Brussels.  According to the wikipedia entry, based on its turnover (12 million euros in 2010), Filigranes is in the top 5 independent book stores in Europe. And, given future expansion plans (to 2600m2 in 2013), founder and owner Marc Filipson clearly isn't content to stop there.
The Filigranes brand
By all accounts, Filigranes is a brand with meaning.  On the one hand, it offers a lifestyle approach for both customer and employee.  At the core of the store is a coffee shop, replete with a fine selection of healthy foods.  There is also a wine bar accompanied with wine books and accessories.  The store hosts a number of events and boasts a kids' playground.  Certainly, Filipson has carved out a position in the world of bookstores in Brussels that is different and, presumably, somewhat controversial because of the weekend hours.  Moreover, Filipson has no qualms in asserting his Jewish heritage whereby the entrance is lined with mostly Semitic works (NB I don't mean just in Hebrew).
Filigranes and digital marketing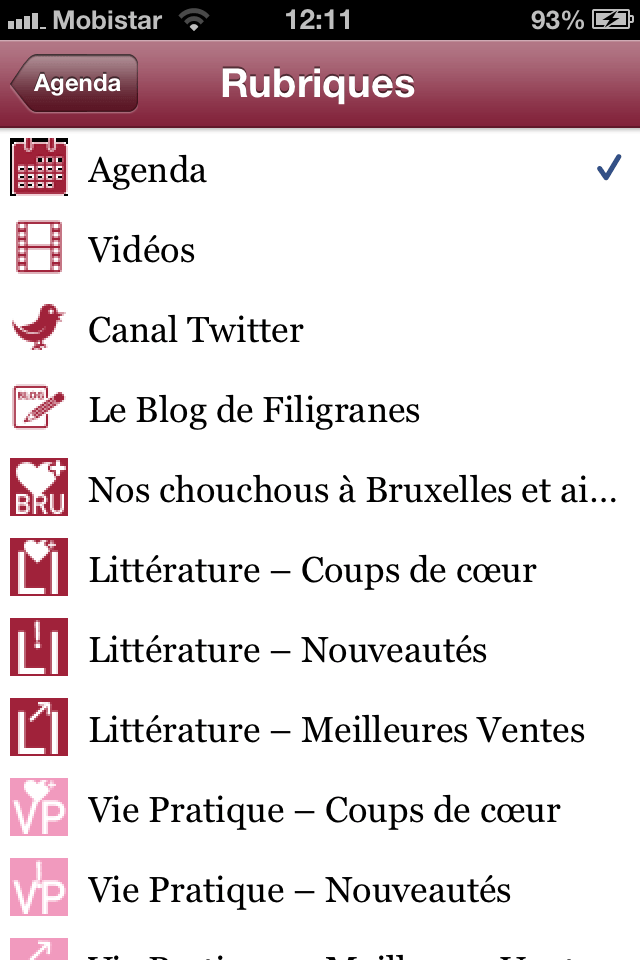 In the US, the digital tsunami has washed up a few noted book and video stores.  So far, Filigranes is resisting the trend without even having its own eCommerce site.  Instead, Filigranes has turned to digital marketing and social media to extend the community and to communicate via the digital media.  Its presence in social media is visible in Facebook (17K fans), Twitter (1K followers).  As with many SMB, it is hard to benchmark accurately one's social media activities.  The key is to evaluate against their objectives and level of commitment.  Of note, Filigranes has a robust video channel on Filigranes.Tv, creating a good deal of video content (via Vimeo, in particular).  There is also a dedicated Filigranes mobile app (iPhone).  As you can see in the screen capture right, the app displays a list of Filigrane's digital scope, including a blog that is upkept by the resident librarians.  To cap off Filigranes digital marketing activities, they also provide a bi-monthly e-newsletter.
 eBooks accessible… not eCommerce
As the proud owner of a new Kindle, I was interested in the way the bookstore offers digital versions of the books.  In a work around, you can order an eBook at the store and have it delivered to your email (not on Amazon, though).  The marvel, though, is that Filigranes has not capitalized on eCommerce — it is estimated that 15% of books in Belgium alone are now purchased online (source Slide 58).
Completing the digital transformation
It is always interesting to see how smaller sized businesses are managing the digital transformation.  Media — as in books, video and music — have been the first major sectors to experience the effect owing to the easy digitalization.   As such, they have had to transform or die.  One of the saving graces, providing a landing pad of sorts, is having a strong brand, a niche positioning and a thriving community.  That said, to my mind, it is unlikely that even a brand like Filigranes can go without taking up eCommerce, if only as a service for its clientele.  More likely, given the broader reach of French literature, eCommerce could provide an opportunity for growth.
Do you know of Filigranes?   What about any other bookstores that are going digital?  Can they survive without eCommerce?  Your thoughts?
*Filigranes is open 8a-8pm on weekdays and basically 10a-7pm on weekends.