During my stay in Shanghai, I was lucky enough to be invited to a very unusual fashion show entitled Glam Dogs, a fashion show for dogs.  Put on by the flash sales site, Glamour Sales China — whose founder and CEO, Thibault Villet, I interviewed a few months back — I again found confirmation of the burgeoning trend for pure players to work the offline world as part of the marketing mix.
Glam Dog – Fashion on the Bund
The Glam Dog concept was a fashion show for Chinese pugs, with a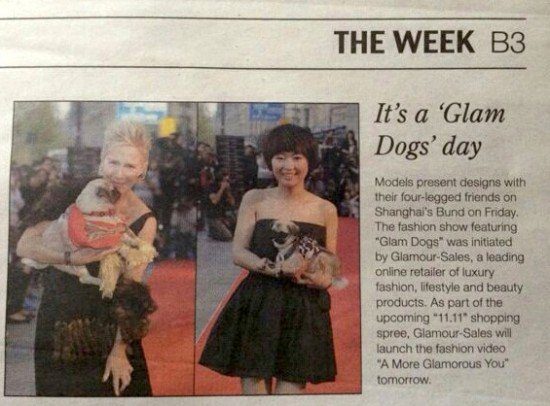 runway event held on the famed Bund, showcasing dog-specific designs by a host of Chinese fashion designers.  As Lukun, one of the local designers with whom I talked said, everyone in China should be allowed some luxury.  For pet owners, the idea is to offer a chance for regular people to splurge on their dog.  The Glam Dog event was also intended to roll out the company's new ambassador: Little Glam.  The event was, that said, held to promote the site and gather some IRL press coverage ahead of November 11.  I found the write-up in the Shanghai Daily (left).  You can see this video of the Glam Dog show, too.
1.1./1.1. – Single and Singular
The sub-plot to the Glamour Dog fashion show event was the enormous Singles' Day eCommerce bonanza which is "celebrated" on November 11 (11/11 representing 4 singles) in China.  Initially positioned as an anti-Valentine's Day* on Chinese university campuses in the 1990s, this singular sales event is (by far) the biggest single-day eCommerce event in the world.  Last year, eCommerce sales topped $3.1B.  This year, the one-day sales are said to have reached $6B, with Alibaba's Tmall garnering the lion's share.  For the record, Cyber Monday in the US pales in comparison, registering $1.5B in sales last year.  (See Business Insider article on the event)
The IRL-URL continuum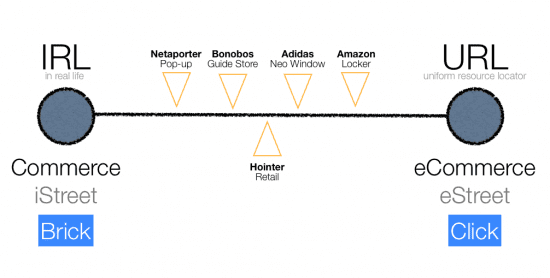 Most traditional businesses have been struggling to make the leap into the virtual world, passing from IRL into URL, as one might say.  Meanwhile, pure players — like Amazon, Gilt, Zalando — are increasingly making forays into "real world" marketing, whether it is TV advertising, pop up stores, drive distribution points, event marketing or tangible magazines etc.  [I wrote this piece up recently about the importance of the human element in the digital space.]  The surprising fashion show event by Glamour Sales, now an eCommerce company with close to 3 million members, is another case in point.
Creativity applied
Just as creativity is necessary in making breakthroughs in digital marketing, we are bound to see that creativity applied to 'traditional' marketing by teams and organizations geared to greater agility and spontaneity, and potentially more risk-taking.  Of course, pure players are not immune to old world conservativeness, but events like the Glamour Dog fashion show exhibit what kind of creativity are needed to pierce through the clutter.
*The 11/11 date was used because it highlights the individual "1"… and possibly encourages 1+1!