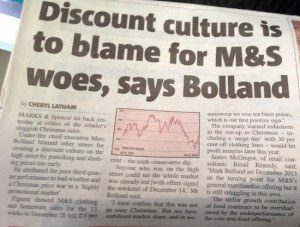 I was struck by an article in the UK Metro daily newspaper headlined, "Discount culture is to blame for M&S woes."  Three of the major retailers in the UK (Tesco, Morrisons and M&S) announced negative results, despite indications that the UK consumer spent +0.6% more this year versus last year.  Clearly, others were winning out.  One of the reasons cited?  eCommerce.  As the Daily Telegraph writes, "[t]here was a larger than expected swing to online shopping in December."  In the same article, Philip Clarke, CEO of Tesco, explained, "'Big business has changed,' he said. 'Big business doesn't mean better. Better means better.'"
Discount culture and the race for volume
In a business where margins are thin (basically between 2% and 8%), it's always been considered a volume game.  The core concept behind the higher volumes is being able to negotiate (dare I say, screw down) prices from suppliers, such as brands.  Yet, in the realm of having a sustainable and successful business, providing value to the customer cannot be reduced solely to the lowest possible price.
Brand strategy versus discount culture
Just as brands that are being sold at retailers need to find ways to warrant premium pricing, retailers need to consider ways to bring an element of branding (i.e. value creation) into their business flow.  From learning more about their customers, ensuring they have motivated staff and creating innovative and/or useful services and applications, there are many ways for the retailer to create value.  Where must retailers spend more of their energies?
Differentiation – What is the brand's story?  The difference must be spread across the full customer experience.  This includes — but is not limited to — having a strong product offer (including own label).  And, then how is that point of difference going to be played out in the physical location, through the personnel, online and in social media?
Added Value – What valuable and/or useful services are there around the product to justify the price?  How enjoyable (delightful!) is the shopping experience?  Is there synergy between off and online shopping?  What kind of apps could enhance discovery or become useful during the consumer journey (i.e. including the pre- and post- the shopping experience)?
eCommcerce – It seems hard to imagine, but some senior executives were surprised by the strengthening online sales.  Whether they were surprised, ignorant or annoyed, is not clear.   However, the preference for shopping online as opposed to dealing with the crowded, messy and time-consuming physical shopping is becoming evermore a preferred channel for the customer.  According to the IBM Digital Analytics Benchmark Hub, in the US, "[o]verall fourth quarter online sales were up 10.3 percent year over year."  I am sure that similar trends were observed around the world.  Is the retailer's portal providing a hassle-free, value-added experience that complements the offline offer?
mCommerce –  The online activity on the smartphone and tablet is unarguably important.  Again via IBM, "[m]obile traffic soared [in the 4Q2013], accounting for nearly 35 percent of all online traffic, up 40 percent compared to the fourth quarter of 2012. Mobile sales also remained strong, reaching 16.6 percent of all online sales, up more than 46 percent over the same period last year."  On Boxing Day alone (showing that some days are more propitious than others for mCommerce), s

ales completed via mobile devices grew 63% y/y, and topped 45% of total online sales.  And, clearly tablets are better at converting into sales.

Social media strategy

– If all the retailers have a presence, the lack of a differentiable brand position and offer makes the social media presence often rather weak and/or undifferentiated.  Scanning the different platforms, most of the retailers seem to be saying (or asking) the same things:  Like this… or What's your favorite bargain?  In the US, IBM reported that "shoppers 

referred from Facebook averaged $72.01 per order, versus Pinterest referrals, which drove $86.83 per order."  However, Facebook referrals converted sales at nearly four times the rate of Pinterest referrals, perhaps indicating stronger confidence in network recommendations.  Scrambling to make the new year better, I found this post by Tesco particularly feeble:
<![CDATA[// ]]>
The main hook is that the January sale is "still going strong"… and yet it is just January 3rd; so you have to hope that the sale is still going on.  The photo of the Chesterfield is without a logo and certainly isn't the kind of item I would consider buying at Tesco.  To wit, they write, "we're tempted…"  £100 off doesn't sound like a lot for a Chesterfield, since I would expect a real Chesterfield to be much dearer.  Finally, the link that they provide doesn't send me directly to that item.   Instead, it sends me to the Tesco Sale page, so you still have to find the couch.  Unsurprisingly, the post got little traction on Facebook.  I doubt that there was much in the way of click through.
Getting the right deal
Bottom line (without mentioning profits), I think that this Christmas season saw the inherent in a few retailers' positioning and strategy in the UK.  The same kind of segregation is probably playing out in markets across the world.