I recently had the good fortune to visit the Thyssen-Bornemisza Museum in Madrid. It has a fabulous collection (Chagall, Braque, Dali…), and makes for a great second visit after the Prado. Being my usual geeky self, meanwhile, my attention was immediately drawn by the fact that they were proposing a number of new applications to download (see below). There were several panels sprinkled throughout the ground floor publicizing these apps. What followed exposed a missed opportunity and, I believe, provides an insight into the digital mindset of the museum's management team.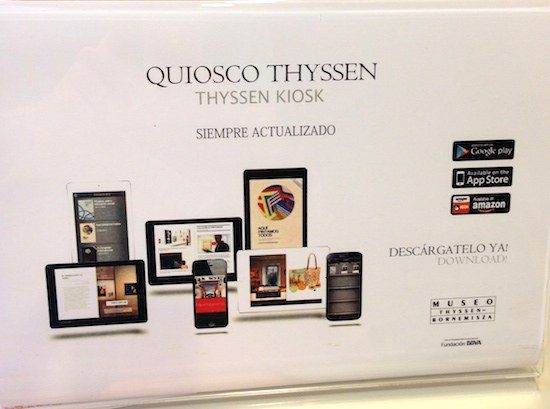 Regrettably, since I was traveling in Spain, I had turned off all data roaming, in order to avoid those horrible extra charges. Thus, I was in need of Wi-Fi if I were to take advantage of these apps. I would have to imagine that a good proportion of the Thyssen Museum visitors are tourists in the same situation as me.
Have WiFi, Will Travel
When the digital marketing efforts are run by someone who gets digital — such as the walk-the-talk Sree Sreenivasan [whom I recommend you follow on Twitter] at the New York City Metropolitan Museum — you can guarantee that the question of wifi was raised well in advance and that funds were strategically allocated in order for that to happen. Proof here. Furthermore, the Met has put in place a number of great digital initiatives to make for an enhanced interactive experience. At the Thyssen Museum, that level of digital understanding appears to be lagging or missing altogether.
Digital Mindset – Thinking User Experience
When management invests in digital, it is important to know that providing a complete user experience is what will make the difference. This type of oversight (no wifi) would point to a management team that thinks it is "cool" to have a new application; but it would appear to be a team that (a) hasn't thought enough about the customer context, and/or (b) does not act or use digital tools and devices themselves. The person who served us at the ticket booth could only shake her head vehemently in agreement. Coincidentally or not, when I went by one of the interactive screens, I found the system frozen in a rather long reboot. It's funny how I find these kind of bugs. [NB By the time I left the museum, the bug had been fixed.]
Social culture
On a positive note, Thyssen Museum has a reasonable social media presence and I enjoyed several of their more quirky boards on Pinterest, including Wine Culture at the Thyssen or Eros at The Thyssen. You can also find the Wine Culture "route" on their app… Another area of improvement: in the app, images of the paintings can be enlarged, but they haven't been optimized as they take 8+ seconds to mount since they are in ultra high definition. I would argue that's too long, especially if the connection is not fast.
Execution + digital IQ
Bottom line: if you want to indulge in digital to enhance the customer experience, you will need to walk in the customers' shoes to make sure it fits the bill!
I would be curious to know if this digital execution reflects the digital IQ of the management team at Thyssen? Anyone who knows the truth, do let us know! Better yet: I'd love to have someone from the Thyssen Museum reply and rebutt! Your thoughts? What other museums are doing a great job at integrating digital and social?
UPDATE on 23 APRIL 2014:
I received an immediate response directly from the Museum! Kudos to the Museum team for responding so quickly!
@mdial Thank you for your post. We will have free wifi for visitors within some weeks 🙂

— Museo Thyssen (@museothyssen) April 22, 2014