I recently visited the new Sephora Flash store, located in central Paris. This pilot "concept" store was opened on October 21, 2015. Not to be mixed up with Sephora's Flash 2-day eCommerce delivery service, the Sephora Flash boutique is much smaller than the average Sephora store at about 130m². In such a reduced surface, they have certainly packed in a lot of digital oomph.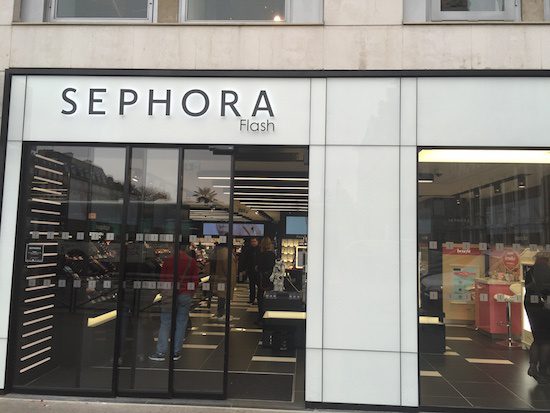 The humanoid welcome
Nao
, the humanoid robot created by Aldebaran, greets the visitor; there are two such Nao's in the store. Programmed with three different speeches, the robot moves its arms and head as it talks to you. One curiosity, especially for such an international setting, is that the robot only talks in French. Also, if Nao is billed as interactive, it does not really interact in much of a two-way kind of interaction.
Sephora Flash Card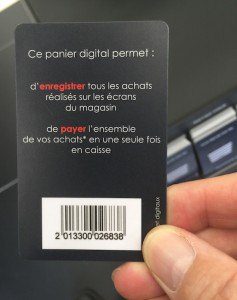 With some 3,500 references on display in the store, there are multiple terminals in the store that allow access to the entire catalogue (14,000 references). One of Nao's three messages is to encourage the shopper to equip herself with a shopper's card (with its NFC chip). This individual card is designed to help the shopper pull together virtually the different items desired, without having to carry them about. It should be noted that, in such small confines and with far fewer items on the shelf, there is less reason to believe that the shopping cart is going to be overladen with products. Otherwise, at the cashier, the card is handed over and the items available are fetched for immediate sale. 
Instore eCommerce
With your digital shopping cart card in hand, the digital experience continues. You take the tester and place it on a specific location to the right of the screen and place your card on the left hand circle (see photo).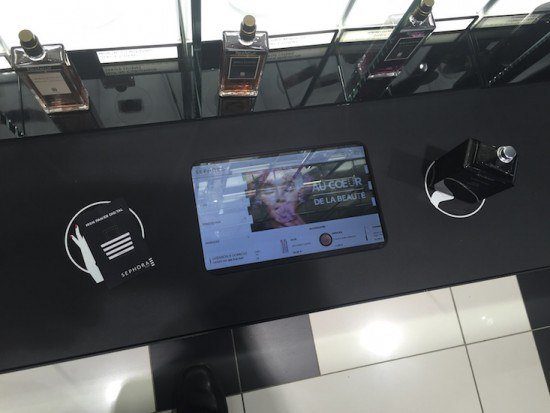 On the screen, you will find information and the ability to add the product to your shopping cart. I must admit that this took a couple of tries to get right. Also, I thought originally that, just passing my card over the left hand circle would have sufficed to pick up the product. However, the computer touchscreen interface allows for multiple units, etc.
Omnichannel…ish?
Sephora Flash provides at least a partial answer to the omnichannel story, by merging off and online experiences. In the case where the products are not available in the store, customers can place the order and, for orders over 60€, can have these delivered for free at home (or picked up at the store the following day). However, as far as having a complete omnichannel experience, I was surprised that there was no integration with my mobile. When I opened up the Sephora app on my phone, there was no connection made with my presence in the store. I would have anticipated some kind of crossover/geolocation. Maybe next time?
Other digitail activities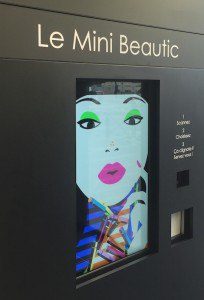 There is a rather classic selfie beauty mirror where you take a picture of yourself and send it out (social media or email). There's a Mini Beautic station (left), that allows paying customers to scan in their product and go out with a free sample.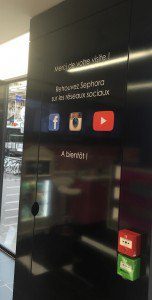 There is also a recharging station that allows for four mobile phones. And, as you leave, there's a gentle reminder to go find Sephora on the various social media. I kind of liked the fact that there were similarly colored fire alarm boxes in the same space. Catchy, no?
Little male merchandising
As far as other comments are concerned, I noticed that the "men's section" was entirely merged into the far right of the Sephora Flash store, with a short wall of "masculine" fragrances that, frankly, looked no different from the women's section.
A little help from my friends
Perhaps it was because I am a man, or because I had my iphone out to take multiple photographs, but I was quite surprised not to be approached by the store personnel. After being left to my own devices, I started to speak to the security guard. Then, once I had penetrated to the back of the store, a sales person did ask if I could be helped. However, when it came to interacting with the digital devices and screens, I was left on my own. I find it curious that staff are not encouraged to engage with the digitally inclined visitors.
Sephora Flash Sale?
Overall, Sephora Flash is an interesting exercise of digital in retail. For a small space, some of the usages didn't seem completely adapted. Nao could be a little more interactive and easy to understand (not to mention speaking in other languages). And, the omnichannel component is a step in the right direction. In a next stage, perhaps the smartphone will seamlessly integrated. Maybe the smartphone could be replace the digital shopping cart? That said, I will avow that the overall experience was generally positive.
Your thoughts and observations are welcome.