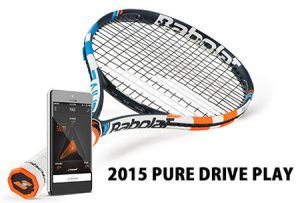 For the last couple of years, I have been the owner of a 'connected' racquet by Babolat. After a few technical hiccoughs (Connected Pure Drive), I now have a fully functioning and new Babolat Pure Drive Play (left). Outside of the fact that the racquet hits beautifully (independent of my skills!), I also get to enjoy the pleasures of dissecting my game post-match from a technical standpoint. Many people ask me what I take away from these "digital" numbers? Is the digitalization of my tennis worthwhile? Can such a device provide a digital coaching of sorts?
Digital Sport Measurement
Personally, I have three different ways of taking advantage of the digital recordings from the Babolat Pure Drive Play:
 Impact Locator. Where I am hitting the ball on the strings — am I hitting it too close to the ball, especially on the backhand? In this match, it was a tale of two sides. Clearly, I hit far too many backhands in close, meaning that I was lazy in not moving away from the ball.
Strength. How hard do I hit the ball – especially on the serve? (I will allow that this is just a vanity stat!). It's also interesting to look at how many second serves I had to do (ie. first serve percentage) and the velocity and spin effect I was managing. In this particular match, I hit 70% of my first serves in, with an average speed of 88mph. My second serve average speed was 77 mph. 
Strokes. How many backhands versus forehands I hit? i.e. how much do I run around my backhand (or not)? I also like to check how many times I hit topspin versus slice versus flat. In this match, I actually hit a good deal more backhands (which tends to be my more reliable stroke).
The Babolat app also gives you a feeling for your energy and consistency of output. These are the readings I had for this particular two-set match: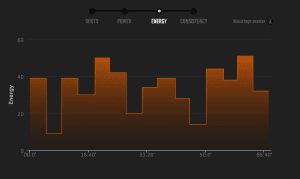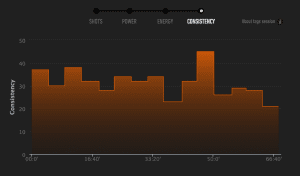 Noting the big dips for the changeover, it seems that the energy level was higher at the end of the game, although there was a dip in consistency… Something to work on: my footwork.
Apple Watch Workout
All the while that my racquet was measuring my strokes, I also had my Apple Watch measuring my activity (warm up through the match). While the app does not have a setting for a tennis game (yet!), I used "indoor run" to track my tennis match. The results showed the active calories (257) purportedly consumed during the hour and forty-four minutes of tennis. That seemed chronically light I would add. It also measured my total distance covered, with splits for each mile. Consistent with the energy measurement on my racquet, my last mile was better than my first mile!
All in all, with the two connected instruments (Babolat Pure Drive and Apple Watch), I felt that I was getting closer to more comprehensive reading of my game. It's a peculiar thought, but are we getting closer to a digital sport in this case? Rather than a game played on a screen, this IRL game is going digital. While I may not be able to justify the steep prices for the gadgetry, I can honestly say that I am motivated to find out the scores, try to find out what I can do to improve next time. Gimmick or Genuine? Your call!