Having now produced around 50 events in four countries (US, Canada, France and England) to screen my new documentary film, The Last Ring Home, I took a step back to harvest some lessons learned in the realm of event marketing and wanted to share them with you. Underpinning this post is the desire/need to encourage more socialization and exchange.
What event marketing tools work best?
I'd like to start with a quick poll. Which social tool/platform do you think is most effective to fill event seats at an event?
Create your own user feedback survey
First, the context
First, it's important to understand what you're 'selling.' Some events and content have more success on different platforms. I was told, for instance, by someone at Facebook, that war stories don't do well on Facebook. The event, in my case, revolves around my half-hour World War II documentary film. So, it's important to qualify that the type of content will require different solutions.
For now, I am only distributing my film via individual screenings or TV (USA, ANZ). For each of the screenings, depending on the venue, I generally provide a short introduction and a longer outro before taking Q&A. The whole event never lasts more than 1 1/2 hours. With a film that explores many emotional topics, including father-son relationships, romance, and the impact of war on those left behind, every event inevitably provoked intense questions and tears, and stimulated conversation. (You can check out the trailer here).
Creating an experience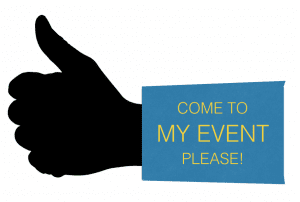 At its core, I was selling an experience. The venue, setting and group of people ensured that each event was different. But, getting bums in seats is difficult. The challenge is getting people onboard when they haven't heard about the story, don't know you or just don't have the bandwidth. How does one incite people to get out of their "ruts," break with their habits and come to an event? Whether the event is transformational, entertaining or educational, many are the event managers trying to fill seats. Everyone is super busy all the time. And, frankly, it is a tough business… even when you are 'selling' a moving, meaningful and accessible event.
 Social media tools for event marketing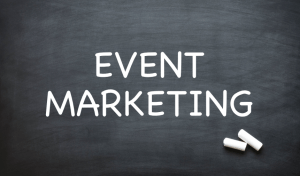 Once I had figured out the venue, date and pricing, I used a host of different media to get the word out. These were mostly digital tools, complemented with some old fashioned telephone calling. Here was the list of tools that I used systematically:
Eventbrite for booking
LinkedIn – mostly individual messages
Facebook Event, posts on Pages and my own personal page, as well as individually via Messenger
Twitter – both general tweets and a few Direct Messages (DM)
SMS (text message) – targeted (erspecially when I know they aren't very social)
Email – mostly group messages (typically via BCC)
Phone calls
Of course, I also have my main website
Lessons learned for event marketers
Be where the [potential] customers are. Where is the target audience for your event? This can cut a swath across platforms, but it is all about whom you're looking for. Contrary to my a priori, here was the surprise. Even if the context of your event is deeply personal, Linkedin can be a great platform. The key is to use personalized messages.
Be when they are. On Facebook, one idea is to send messages when you see the green dot by your friend's name. When you post a "general" message, make sure it is published when the largest number of your contacts/friends are on line. Buffer is a great tool for figuring out when your community is most online and making sure it goes out at the best time. NB If you add a link to the message, make sure it's a Facebook link to keep the recipient within the walled garden of Facebook. If it points to an outside link, the Facebook algorithm will tend to strangle it. Targeted individual FB messages will work well, too.
Mass emails are too cheap (and feel spammy) and, as a result, don't get engagement. Even if your tone is chirpy and personal… the response rate showed heavy dilution. I tended, therefore, to prefer individual mails with a light touch personalisation.
Get your community to help. Trying to do it all on your own is desperately difficult. Involve and recruit your inner core!
Whenever you create a message, remember to be in the shoes of the recipient(s)…. and, if it's an individual message, remember what your last communications were with that person. Keep it real!
Hopefully you found a few of these helpful. Any reactions?