Minter Dialogue with Jason Miller (MDE244)
Jason Miller is Global Content Marketing leader at LinkedIn, a heady position. He's also a RocknRoll photographer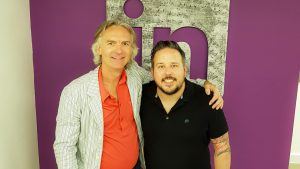 , author (best-selling Welcome To The Funnel), podcaster and all around top influencer. In this podcast, Jason and I talk about the big challenges facing business leaders and what they should be doing about. We talk about how best to use Linkedin of course, as well as how best to leverage your social profile, what are the most exciting technologies and much more.
Below, you'll find the show notes and, of course, you are invited to comment. If you liked the podcast, please take a moment to go over to iTunes to rate the podcast.
To connect with Jason Miller:
Site(s) and/or people mentioned by Jason:
Featured Image Credit: KISS photographed by Jason Miller
————–
Further resources for the Minter Dialogue Radio Show:
Meanwhile, you can find my other interviews on the Minter Dialogue Radio Show on Megaphone or via iTunes. Please don't be shy about rating this podcast on iTunes here! And for the francophones reading this, if you want to get more podcasts, you can also find my radio show en français over at: MinterDial.fr, on Megaphone or in iTunes.
Music credit: The jingle at the beginning of the show is courtesy of my friend, Pierre Journel, author of the Guitar Channel. And, the new sign off music is "Finger Paint," written and performed by Josh Saxe, produced by Chase Geiser. Here's a link on iTunes. I invite you to take a spin on Pierre's podcast or listen to more of Josh's music!