Last week, I wrote about the five reasons why people fall in love with Padel. This week, I write about the five biggest turn-offs of padel tennis… and the easiest ways to fall out of love with Padel. The first three reasons fall under the umbrella of sportsmanship. The fourth is a question of rewiring. The fifth is a matter of the court (and weather).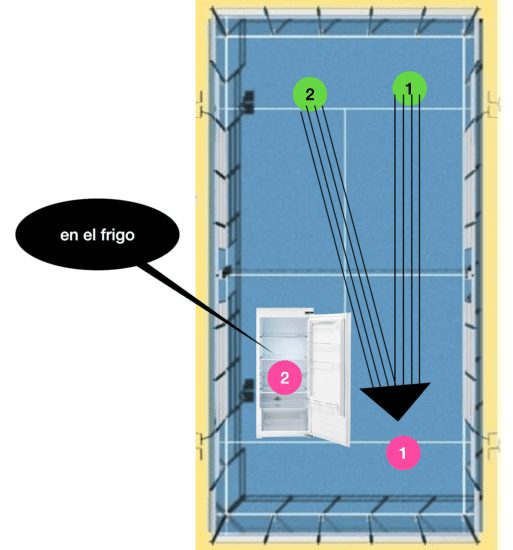 The fridge treatment. The concept here is that the opposition choose to leave one player out in the cold. The person 'in the fridge' will get just a small fraction of the balls (outside of the moment he/she returns service). In other words, at the discretion of the opposing players, they choose to hit the balls (typically) to the weaker player. In Spanish (and French), it's called el frigo. See below for how to deal with the fridge treatment.

Overstatement of level. One of the challenges of padel is having four people of the same level (or at least evenly balanced teams). To the extent levels are self-declared, it's all too frequent that individuals will have a higher opinion of their game than they really play. To be fair, at the outset, it's difficult to gauge. But, it's preferable to marginally understate than marginally overstate your level! There's nothing like going to play in a tournament in Spain to see what the levels mean (noting that the Spanish will often use A-B-C levels for tournaments as well as the 1-7 individual rating system you'll find on the app, Playtomic; while in France, they use a 1-10 scale). You can find the LTA ranking system here. See footnote vis-à-vis lawn tennis.*

Need to win too much. This hyper need to win shows up in various forms, such as overzealous cries after winning a point or being unsportsmanlike with line calls (or the ball that lands on the angle of the floor and wall). Not that I'm at all against competitiveness, however, I consider the concept of winning at all costs is against the spirit of padel. Another behavior of players who are too keen to win is that they will think nothing of fridging the better opposing player (see point #1!). For those of you who know my writings on padel, you'll recognize that, in my four principles of padel, trying to win comes in fourth,

after

having fun, not getting injured and trying to play well.

Too much (lawn) tennis. As many new players come to padel from lawn tennis, it's only normal to use what you know at the start. Ground strokes, volleys, half-volleys and top spin overheads. However, the heavenly part of padel is because of the walls ("the walls are your friend") and the different padel-specific shots. With some tennis players, even after having played a good deal of padel, they never manage to unwire themselves. As a result, points are short, lobs are rare and players still think that making winners is what makes the sport exciting. As my cousin Nallé taught me: It's better to be angry with yourself for your unforced errors than to be happy about the winners.

Wet courts. When the court is wet, there are

three

problems. The surface of the court is slippery. The balls are soggy and heavy, meaning that they don't bounce well. Moreover, if you have any tennis elbow issues, heavy balls will aggravate your arm. Lastly, moisture on the walls will mean that the balls do not come off the wall properly, essentially reducing the game to a lot of baseline half-volleys and volleys, to avoid the ball going to the unpredictable and generally unhelpful wall. Hopefully, if you live in a spot where it rains a lot, the courts will be well covered.

Three bonus bad points:
Punctuality. Arriving late and/or checking the phone constantly in between games. It's (a) discourteous and (b) shows a lack of attention.
The service. Some players will bounce the ball on the service so high that it's always close to, if not above, the belt. Having a crushing service is sooooo not part of padel, even though as server you don't mind getting an easy point from time to time.
Too much sand on the court. While we understand that many new courts require a level of sand initially, often the sand has a nasty way of sticking around and causing (a) excessive slipperiness and (b) odd bounces.
Resolving the fridge treatment – in a competitive game
There are no fast recipes to resolve these points. I will try to avoid them when I know in advance the conditions or the players. When you are the one being fridged out, in a competitive game, you need to confer with your partner, who hopefully has noticed as well! You've generally got three options:
Have your partner hit down the line whenever possible (to try to get more diagonal play from the other side).
Look yourself for opportunities to cut the ball off at the net.
Change sides when serving. In other words, instead of using the 'padel' i-formation, the person at the net switches sides each point.
Fridging in a social game
Fridging someone in a social game is just not cricket (as we say in England). If it's a friendly game where nothing is at stake and you're being fridged, you can try to make everyone aware. But if that doesn't work, my approach is to choose not to play with them again. Meanwhile, if you have the perspicacity to notice that someone else is getting the fridge treatment, especially when it's your partner, it's best that you make the observation. The problem is that the person who's getting all the play often doesn't even realize it. Would that there were a code word (I propose "tropical") that would alert everyone to what's going on because it sounds like sour grapes when you yourself have to bring up the matter that you are being fridged.
*In lawn tennis, the level system has always been difficult as well, especially when you're playing in another country… I note that in the UK, the LTA adopted the World Tennis Number system in 2020. Hopefully, we'll eventually all get our levels right and have an internationally understood system (esp since it's more and more likely that padel aficionados will be travelling to locations where padel is cropping up (or in sunny climates where it is heavily available, such as in Spain and Italy).
Any other points I missed for how to ruin a good game of padel?