Padel around the world
Updated Jan 22 2023
Padel is now played in over 100 countries and there are exactly 50 national padel federations according to the FIP. The number of articles popping up in mainstream media testifies to the growing popularity. We've even seen GOATs of tennis (Feds, Rafa and Djoko) all on a padel court. The list of celebs (courtesy of Padel1969) who are playing padel is growing rampantly as well. They include such names as Ronaldo, Messi, Beckham and Neymar. And as testament to the growth of padel outside of Spain, the World Padel Tour pro tour (Open 1000) has tournaments planned in a total of thirteen different countries in 2023.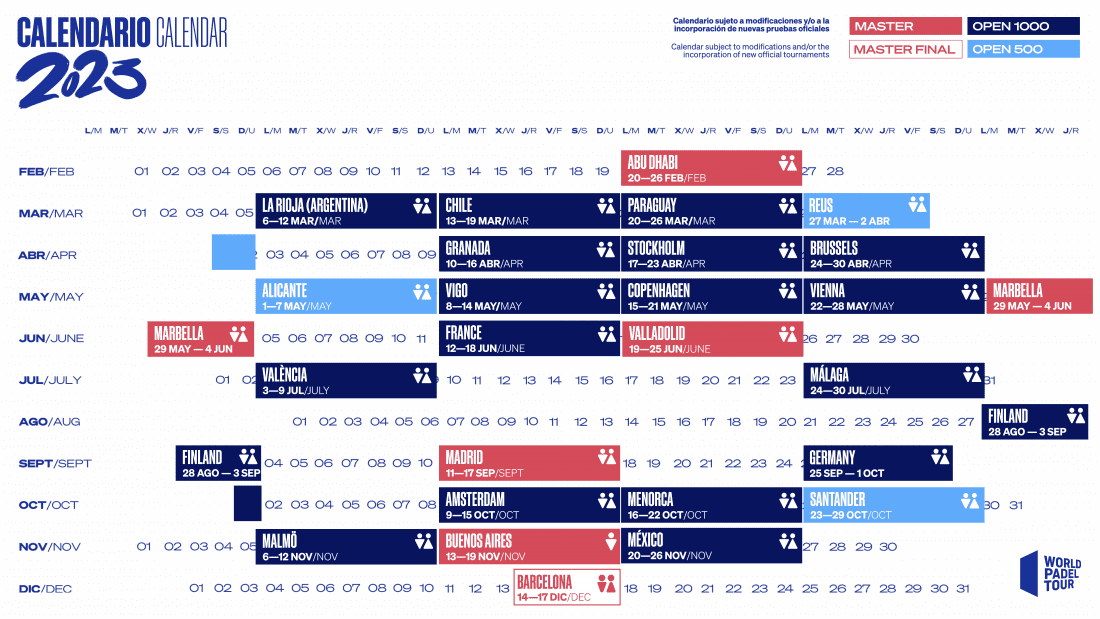 The FIP tour 2023 (still a tentative calendar) has major tournaments in four countries and lower grade tournaments (Rise, Promo & Promises) in twelve countries, several of which aren't among the 13 of the WPT (Abu Dhabi, Australia, Japan, Lithuania, Poland, Qatar and the UAE). And, lastly, the newly rebranded A1 Padel tour will be holding tournaments in a further five countries (Senegal, Monaco, Panama, Brazil, USA and South Africa). In total, that means pro tournaments featuring in 25 different countries. Delighted at the prospect that my local Chiswick Rocks Lane club will be hosting a FIP tournament (in April). If padel seems like a hot commodity, the growth and maturity varies tremendously by country. Overall, Europe and South America are the two most popular continents. The Middle East is in hot pursuit, while North America, Australia, Far East Asia and Africa are bringing up the tail end.
So, how many padel courts are there in the world (by country)?
In my continuing obsession with padel, I've been tracking where and how fast padel tennis is growing around the world. I've personally been able to play the game in thirteen countries thus far, including Colombia, Panama, Dominican Republic, Turks & Caicos, France, England, Isle of Jersey, Spain, Portugal, Belgium, Switzerland, Italy, and the United States. Obviously, I've got to get to Argentina and Sweden soon! My preferred way to evaluate padel penetration in a country is via the number of courts. The implicit assumption is that the growth in players is tracking the number of courts (or vice versa!). Below is the best available and updated estimate for the number of padel courts across 31 countries (covering 36% of the world's population). It's my current estimate that there are a little over 52,000 courts globally, with 1000 in "others" including uncounted private courts and other countries that have only a handful of courts. This list of countries covers all the major markets and a handful of "ones to watch." Surely, in the next edition, though, there'll be many more countries to add (I think already of Saudi Arabia and India). You can find the raw data in this Google Spreadsheet and my sources, which will be updated periodically.

I note that it's not easy to get accurate numbers. For example, for Argentina that used to be the hotbed of padel in the 1980s when there were some 30,000 courts, the number is anywhere between 5,000 and 10,000. In Spain, it's at least 15,200, but I believe it's really well over 20,000. For France, the number at 955 looks light. And the USA has a lot of potential. Presently at under 200 courts and limited to a few cities (e.g. Miami, Houston, LV, Phila, NYC and soon in LA), the prospects in America are tantalizing. The US Padel Association (USPA) has said that they are anticipating huge growth, projecting that there'll be up to 30,000 courts and between 8 to 10 million people playing in the US by 2029. (QZ Source). The announcement of the grassroots program by A1 Pádel (previously APT) and the tournaments to be held in the US is most encouraging. (Reported by SportsProMedia)
What are the reasons for growth in padel?
Outside of the fact that the game is sheer fun, very social, relatively simple to pick up and quite easy on the joints, it's a perfect pastime for all ages. These are amongst the reasons why it's growing fast. But the presence of padel varies massively from one country to another. The reasons for the different rates of growth per country will depend on any combination of things such as the climate, the number of local celebrities who are taking it up, finding the right business model, access to money, availability of good padel coaches, and the nature of competing activities (e.g. pickleball in the US).
As Sandy Farquharson has written via LinkedIn, there is also the nature of the ties with lawn tennis and local federations. Should padel be integrated into the lawn tennis federation or be a standalone? As Sandy explains, the answer depends. Meanwhile, cities (and countries) with stiff planning permissions will certainly make it slower and harder. It's also likely that influential individuals going on holiday in padel-centric countries (such as Spain, Italy, Sweden…), where they will inevitably hear about padel and taste the game, will be tempted to bring it back to their home country. Overall, apparently, there are now over 25 million people around the world playing padel [Source: PadelFIP]. In 2021, there were 15,000 new padel courts registered in Europe [Source]. Of course, the top country in the world is, by far and away, Spain, which will likely stay that way for some time, including the Spanish dominance on the professional tour. See this article on the future of the pro tour. For most countries, the future of padel growth looks very promising with great investment opportunities.
Padel density per pop
While a few countries (most notably Sweden) may have reached over-saturation, most are just beginning their padel journey. What's the right or optimal number of padel courts a country can have? That will depend on the uptake in demand, but an interesting gauge is using courts per population ("courts per pop" or CPP). There are presently nine countries that have a court per pop ratio that is under 10,0000. Among all sizeable countries, Spain has the highest density with a CPP of 2,367 Spaniards, while Sweden has an impressive CPP of 2,977 Swedes. The country with the highest density is actually Monaco (CPP of 1:1976), although there may yet be some obscure island nation with a miniscule population that has a private court whose existence is yet secret. Given the fast growth and spawning of so many clubs in the 'up and coming' countries like France and Denmark, it will be interesting to see where the dust settles on the right per pop density.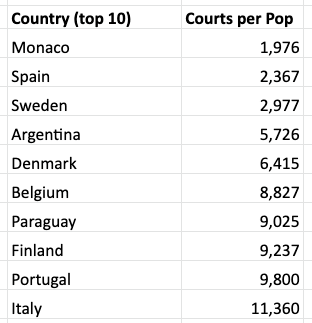 Padel is trending online, too
In concert with the growth of padel IRL (in real life), Google Trends shows how padel is in lift-off mode online. Below is the trend for the query on Google of "padel" worldwide since 2004.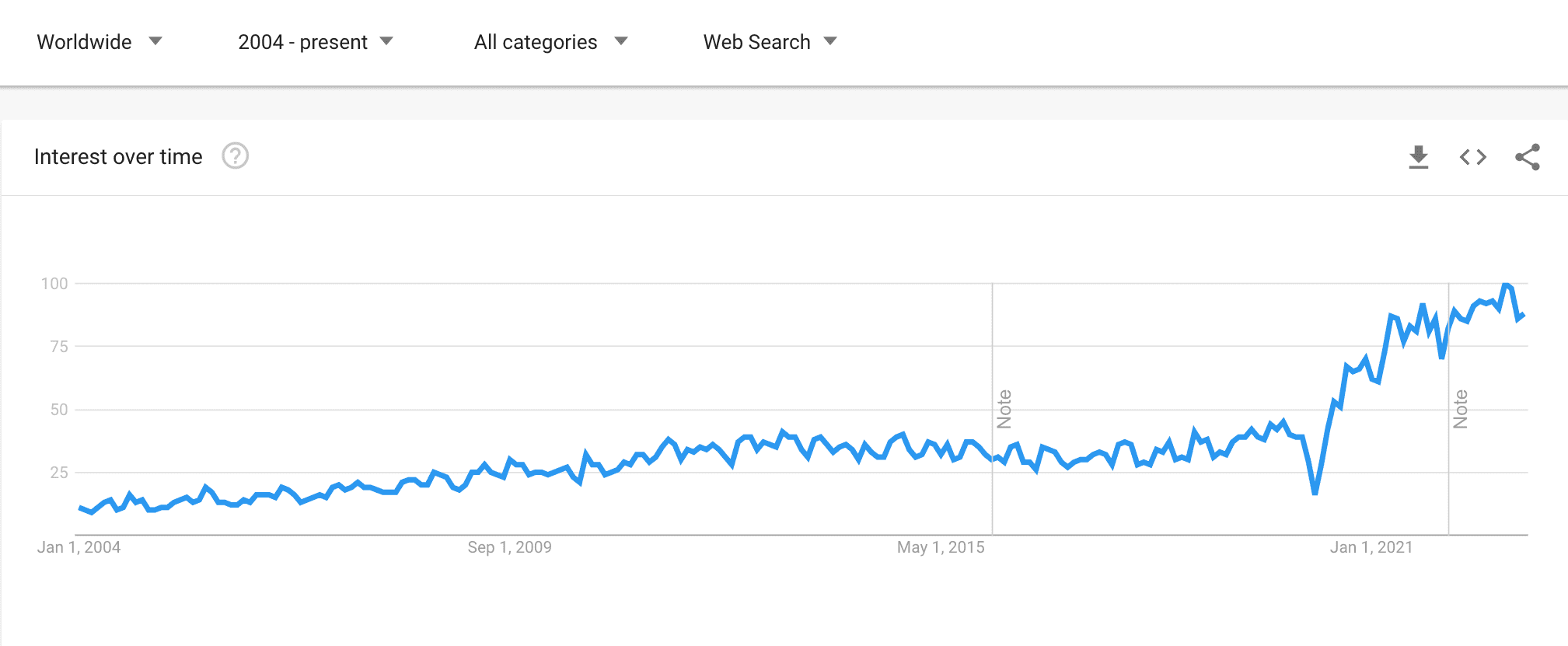 Below are the search trends over the same period for the word "padel" in six separate countries: Spain, Sweden, Italy, France, the UK and the US.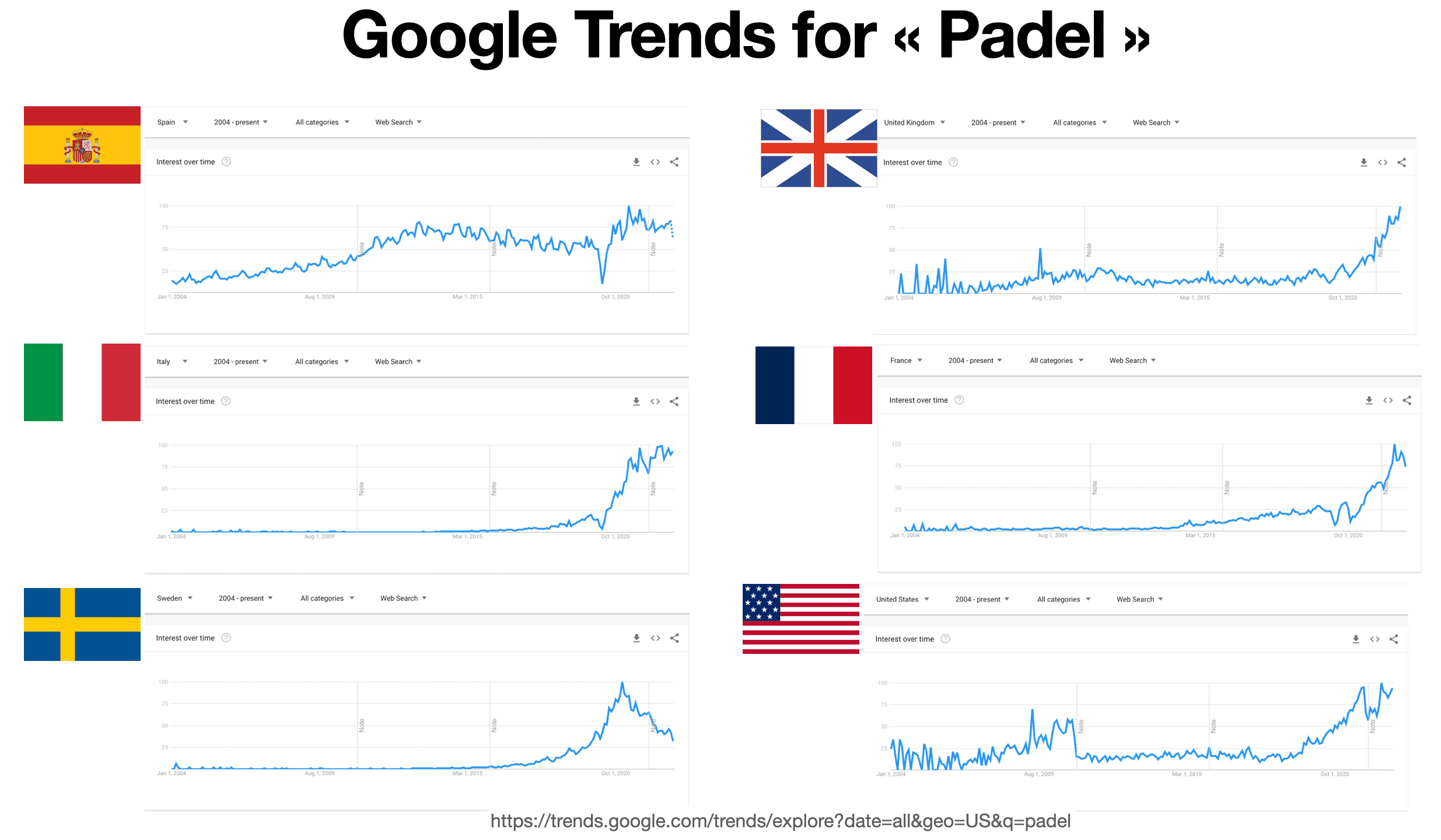 The future of padel is vamos!
In London, I play at three clubs, Chelsea Harbour Club, Rocks Lane (Chiswick) & Queens Club. And especially interesting for the latter club, despite the English winter, the two outdoor courts have been running at near full capacity. There is something deliciously charming to see a foursome in whites hooting and howling despite playing in the rain as I've witnessed on numerous occasions. That tells you something about the attraction to padel. Meanwhile, it's also very encouraging to see dedicated padel magazines in many languages sprouting up, including The Padel Paper and The Bandeja in the UK!
With folks like the global consultancy firm, Deloitte, publishing a report specifically about padel tennis, you have to believe that padel is bound to continue to grow massively. Money is certainly pouring in. I read a forecast for 67,000 courts worldwide by 2026 versus the 52,000 we have currently (source).
Please let me know if you have any better stats in the comments. Also, are there any other countries that would be worth adding to the list?
If you'd like to see my State of Padel from past years, check out my prior 2022 and 2021 articles.