The Joy of Padel podcast with Mike Yanguas
Mike Yanguas, who comes from Malaga, Spain, began playing padel when he was just 7 years old. Now 21, playing right, he's the 17th ranked player in the WPT. His partner for most of this year (and through the recording of this interview) has been the 44-year-old still-active doyen of padel, Fernando Belasteguin. Due to an injury to Bela's arm, Mike has for now teamed up with Victor Ruiz. On the WPT, he has a 68% win ratio. His best result this year was winning the Tau Cerámica Reus Costa Daurada Open 500, in Tarragona Spain. He has also reached 2 other semi-finals and 9 quarters. Enjoy this conversation with one of the stars of padel on the men's tour.
To find out more about Mike Yanguas:
Find or follow on Instagram: MikeYanguas
Enjoy these highlight points from 2022 when Mike, teamed up with Coki Nieto, won the WPT Costa Daurada 500: YouTube
To listen to the show:
To listen to The Joy of Padel podcast, you can use the embedded player above, or go find it on Spotify, Apple Podcasts or any number of other podcasting services listed here.
Send in your questions or reactions:
Please send me your questions — as an audio file if you'd like — to nminterdial@gmail.com. Otherwise, below, you'll find the show notes and, of course, you are invited to comment. If you liked the podcast, please take a moment to review and/or rate it! ¡VAMOS!
Further resources for The Joy of Padel:
The Joy of Padel podcast is brought to you in association with Padel1969, who are proud to create one of the best padel product and service offerings in the world. Padel1969 believes in passion, joy, and integrity. We respect the DNA and roots of Padel – from Acapulco since 1969. To check all their full offer in padel courts, equipment and savoir faire, please go visit the Padel1969 site.
Meanwhile, you can find Minter's other Evergreen podcasts, entitled The Minter Dialogue Show (in English and French) in this podcast tab, on Megaphone or via Apple Podcasts.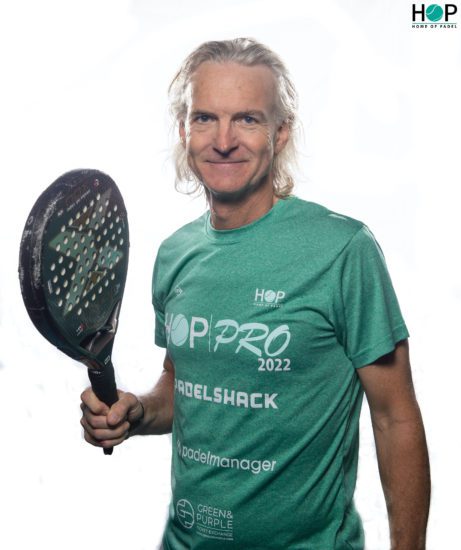 About the host: Minter Dial
Minter Dial is an international professional speaker, author & consultant on Leadership, Branding and Transformation. His involvement in sports has been a lifetime passion. Besides playing 18 years of rugby, captaining athletics teams, coaching tennis and playing squash for his university, he's been a lifelong player of padel tennis, starting at the age of 10, from the time of its very first public courts at the Marbella Club in 1974.
Then, after a successful international career at L'Oréal, Minter Dial returned to his entrepreneurial roots and has spent the last twelve years helping senior management teams and Boards to adapt to the new exigencies of the digitally enhanced marketplace. He has worked with world-class organisations to help activate their brand strategies, and figure out how best to integrate new technologies, digital tools, devices and platforms. Above all, Minter works to catalyse a change in mindset and dial up transformation. Minter received his BA in Trilingual Literature from Yale University (1987) and gained his MBA at INSEAD, Fontainebleau (1993). He's author of four award-winning books, including Heartificial Empathy 2nd edition (2023), You Lead (Kogan Page 2021), co-author of Futureproof (Pearson 2017); and author of The Last Ring Home (Myndset Press 2016), a book and documentary film, both of which have won awards and critical acclaim.
It's easy to inquire about booking Minter Dial here.
View all posts on padel tennis by Minter Dial
Full transcript of interview via Otter.ai
 SUMMARY KEYWORDS: play, racket, padel, mike, Bela, players, change, big, malaga, joy, years, shot, pickleball, day, partner, world, game, point, tournaments, sport
SPEAKERS: Minter Dial, Mike Yanguas
Minter Dial  00:00
¡ Buenos días, chicas y chicos ! Hello and welcome, a very warm welcome to the Joy of Padel podcast, spreading and sharing the supreme delight of this wonderful and fast-growing game. I'm your host Minter Dial. And this podcast is brought to you by Padel1969 The largest manufacturer of premium padel courts, one quart for life by Padel 1969. The Joy of Padel is part of the Evergreen Podcast Network. For more information about the network, go and check out evergreenpodcast.com. So, this is the inaugural season of the Joy of Padel podcast. And to start with, we're going to do an episode once every fortnight. Episodes will drop every other Wednesday at 12 noon, London time. Please let us know what you think about the show by putting up a rating and review. So, I'm very happy to announce for my ninth episode of the joy of padel podcast, my guest is Mike Yanguas. Miguel, who comes from Malaga Spain, and began playing padel when he was just seven years old. Now 21-years-old, playing right, Mike's the 17th ranked player in the world padel tour. His partner for most of this year and through the recording of this interview, has been the 44-year-old still active doyen of padel Fernando Belastegauin, also known as Bela. Due to an injury to Bela's arm, Mike has now teamed up with Victor Luis on the World Padel tour, he has a 68%-win ratio. His best result this year was winning the Tau Ceramica Reus Costa Daurado Open 500, in Tarragona, Spain. He also has reached two other semi-finals and nine quarters. He's a great guy! Enjoy this conversation, one of the stars of padel on the men's tour.  Vamos! Mike Yanguas. Well, what a true honor and a privilege to have you on the joy of padel. You were born and raised in the town, the beautiful city of Malaga, a city I know so well. And, and you've been playing padel since the age of seven! In your own words, how would you like to describe yourself, Mike?
Mike Yanguas  02:25
Well, as a player a little bit different as a person. I think we have a lot of sometimes well, different type of characters. You know, in the court, you have a different type of character when you get angry or where you're happy. But I think me, involving me out of padel, I describe myself as a very natural guy. Very, very normal. Very familiar. And likes a lot to be at home. Chilling. So, I describe myself as a very simple guy, who likes to do simple things.
Minter Dial  03:00
It is funny, this idea that we can have two characters because there's the tension of the game, the competitiveness. Of course, you have your partner, and you're a very public figure when it comes to this. And then then presumably what you're talking about is also the desire to have privacy and have time for yourself and with your close friends.
Mike Yanguas  03:23
Exactly. totally right. I think there are two different things and you need to know how to separate both because if not, if you try to be the same, maybe it doesn't work.
Minter Dial  03:33
Well, in any event, if padel consumes your private life, then that's a trouble for the mental health and other things like that. So, let's just talk about how you got into padel, at the age of seven. And what made you become a padel player as opposed to a footballer or tennis player. Because when you're young like that, usually there lots of little influences on you. Talk us through how you got into padel.
Mike Yanguas  03:58
Well, when my father and my mother, he started playing by the Marbella. He really liked it. So, when I was two to three years old, he was starting to develop padel and liking it a lot. Yes. When I when I was around the age of six, seven, he started playing with me. Eight started like coaching just for fun. Yeah. During that time, I was playing football and padel. But in that moment, I liked more football. But when I was 12, I decided to change to padel only, to get a little bit more serious with it. So, well that was it. training every year and improving the tournaments, in the juniors and that was my way.
Minter Dial  04:48
Well, you do live in the in the country where there are so many more tournaments and the development of players allows for younger players to come through, to learn. When did you get your first coach?
Mike Yanguas  05:02
My coach was my father. During all these years until I was 17. Then I went to Madrid, to try to make this step. But my father was my coach during all these years. So, I think my biggest development was with him as a player.
Minter Dial  05:21
And when was your first pro win? Talk us through when you got your first pro win.
Mike Yanguas  05:29
My first pro win was… I remember my first World Padel Tour was in Madrid, in a club that doesn't exist now. It was called San Sebastian Reus, it was called Sunset. And then my first pro win was in the second tournament, when we were able to pass one round in a challenger. Yeah, that was how everything started, travelling a lot around all of Spain playing challengers, playing first rounds of Qualis in the in the big WPT, that you could enter because it's difficult to enter to the tournament. And that was the way. Roller coaster.
Minter Dial  06:07
Yes, it is one of the biggest roller coaster elements of it, Mike, for me from the outside knowing a few of the players though, is choosing your partner. How do you how go about choosing your partner? They obviously, it's almost like divorce and marriage?
Mike Yanguas  06:25
Well, first of all, you need to be lucky because when you choose your partner, your partner needs to like you also, and usually a mutual pick-up. how you say so, yeah, I think you have to be lucky, you have to have a good connection. Inside and also outside, no? I think you have to share lots of things in the day with your partner, and you need to have a good connection. And I think, then when you choose or you start playing you need to make good results.
Minter Dial  06:56
Yeah, because it's one thing to like each other, you know, and hey, you're a great guy enjoy you. It's another thing to be complementary on the on the pitch. How do you gauge that? That must be such a subtle, nuanced thing to be able to do?
Mike Yanguas  07:16
Well, you need to try to concentrate on yourself. If you're very focused on your partner, then the situation is going to be good. I think both have to do their part well, take care of themselves, be professional, and then in the court., be complementary. You know. I think Juan Martin and Bela are the best example. So, well, I think that's the key to succeed in a partnership in padel.
Minter Dial  07:41
Well, that's a great insight. Mike, thank you for that.
Mike Yanguas  07:44
Welcome.
Minter Dial  07:46
What about playing right? When did that happen? I mean, you know, let's say you and I were playing, I would make you play left?
Mike Yanguas  07:55
Because of the of the height? Not because of the level?
Minter Dial  08:02
Well, at both! I'm afraid let's say I'm smaller, having met you and slower, not as strong. But when did you how did you decide to become a right-hand player?
Mike Yanguas  08:16
When I was 15, I had an injury that is very common in football player, it is called Scoliosis. It's a little bit in the hip, you have like one leg a little taller than the other. So, you know, when I when I tried in the in the right-side movements, my hip or my abductor was suffering much less, and I could play very good when I was in the top of the injury. So, I decided to change and then I assumed in the months, that my level was higher in that position, I was playing really well. So, I decided to be a right-hand player from one day to another because I talked with my father and we went to the idea that there are not so many right-handed. So, it was like a generational change in that, in the little junior competition, not in the change that, for example, Lebron made, because he went to the drive when he was number three in the world. I went to the drive, right hand place, when I was finishing juniors, starting under 16. So, yeah, I think it was a very, very intelligent change for my part.
Minter Dial  09:36
So since I get to play right most of the times I'm hopefully playing trying to play with better players and more younger faster and so I'm playing on the right, and so they call it the drive position. It's also typically the central nervous system the smart, smart play, trying to control and yet you are playing with a guy called Bela. How does that go down? And what's it like to play with the legend himself?
Mike Yanguas  10:05
Well, saying it easy. It's day by day learning experience. Now you need to just sit down and listen. And then it's very easy to learn with him. He makes things very simple. You have to work hard, take care of yourself, be professional. That's it. And then well, when I watch him, I learned a lot of things. It's very constant. He doesn't lose time with silly things. He goes very focused to the work. And that's because of his success, on his 44 years.
Minter Dial  10:38
Impressive! And congratulations on having a win with him this year. You made that happen in — where was that? I know, in one of the World Padel tour tournaments, you want to know about that?
Mike Yanguas  10:51
Well, that was with Momo.
Minter Dial  10:55
Oh, it was with Momo, is that right? Sorry!
Mike Yanguas  10:57
My partner was with Momo. And then we change?
Minter Dial  11:00
I see. And so playing on the right. I wanted to just dig in on that. How do you see playing on the right has changed over the years? For me, it seems like it's a fast evolving position?
Mike Yanguas  11:15
Yeah, well, it's, it has changed from being the right. The right player from being more defensive or more constant making work for the point to finish from the backhand side. Now to be the one that can smash, finish points, more aggressive. In one word, they will say aggressive in change of the game.
Minter Dial  11:37
Yeah, I mean, I I've seen that happening. And it feels like it gives value to the right-hand side, somehow, even more. There was always this notion of being the person who controls, sets up the left. And now the variety of shots, it's not as necessary to hit just crosscourt. You're driving at the person in front of you. And yet, for example, when I was talking with another friend, a pro, how the vibora, for example, is somewhat easier when you're in the backhand position, because it's a little bit more natural split shot, whereas when you are on the right, the vibora is a more difficult shot, I think, what do you think?
Mike Yanguas  12:21
But I think it's the position of the feet. For me personally, it is easier in the in the right hand, because I trained a lot. And I think you need to give it more the back to the ball. I think that's the success of the vibora. When you put a little bit more your back to the ball, and you twist the body. At the end of the day, I think? Well, in my opinion, I like a lot the vibora on the right hand. So, I can I can say that the in the backend is more difficult. But I think it's a show that now talking a little bit to what we were saying before, it has a very revolutional change on the right-hand side. You can smash, you crosscourt to win. Different shots. If you see padel before it was another world, you can smash down the line, and bring it up, I think it's a total change. Now padel is much more aggressive, and much more dynamic, no? Before it was much more tactical, I think. And then you have like guys that do things that change every tactic. So, what I think you need to play with now both, surprising things and tactical.
Minter Dial  13:33
Yeah, it is fast evolving. And you're right. What I see, from my perspective, is the amount for example, you on the right, you might cross over to the left at the neck pick up the ball.
Mike Yanguas  13:46
Much more dynamic I would say.
Minter Dial  13:48
Yeah. And so how would you what's your favorite shot? Do you have a favorite shot?
Mike Yanguas  13:54
I can have three. I think I will say the vibora, the backhand dropshot volley. And I will say now it's getting more favored the smash. I feel improving a little bit better. So, I can mention those top three.
Minter Dial  14:18
Yeah, I love it. And when you when you hit a drop shot, is it so I mean, I because I play a lot. And sometimes the pace is fast. You are rushing around? Do you sometimes premeditate the drop shot in your mind? Or is it something that you just invent as it comes?
Mike Yanguas  14:35
Yeah, well you invent as it comes, and you have to be very relaxed to do it. When you're in a much very tense, it is not to go. When you have lots of confidence and very relaxed with the wrist, you can do ten in a match! But if not, I have played matches when I'm quite tense and it's much more difficult to do the shots.
Minter Dial  14:59
Yeah, and especially, when you go over your shoulder a guy saying "Mike!" So speaking of golden points the recent this is being recorded just a few days after the announcement of the merger between Premier and World Tour. First of all, what do you think about that?
Mike Yanguas  15:27
Well, I think it's going to be a very important change for padel, for players, for brands for the padel world. I think we don't need to forget about World Padel Tour because they did a great job this 10 years. They took padel to the next level, so we need to say very big thanks to them. But now talking about Premier I think they they're gonna do a necessary change that needs. I don't know if it's good thing, but we have to be more similar to tennis in lots of ways, to get much more professional. So, I think with Premier they understand a little bit how everything works. In tournaments we're going to play in an emblematic places. Roland Garros. Maybe soon we play in Rome, Acapulco, Doha? It's unbelievable, Milan.
Minter Dial  16:23
And Flushing Meadow?
Mike Yanguas  16:25
Yeah, I don't know. But we were gonna play in places that are incredible. So, Egypt! So we need to know that something unbelievable for padel. Only 10 years ago, five years ago, we wouldn't believe it!
Minter Dial  16:43
Yeah, who would have thought the boy from Malaga? Right traveling the world?
Mike Yanguas  16:47
It's a mix from Malaga and Granada. I was born in Malaga. We have a house in Marbella. We have a house where I have been raised, in Motril, it's in the beach of Granada.
Minter Dial  17:01
Of course the beautiful town La Alhambra of Granada
Mike Yanguas  17:07
Yes. So, I think it's going to be a very great big, positive impact for everyone that surrounds the padel world. I think even podcast everything is gonna go vrooom!
Minter Dial  17:20
I am thinking the same! The Joy of Padel on the front lines with you guys. Excellent. So, one of the things that's of intrigue, I spoke to Juanjo Gutierrez, our mutual friend, about this golden point or deuce?
Mike Yanguas  17:38
I think deuce. I like more deuce.
Minter Dial  17:43
And is that going to be the future? Why do you prefer deuce? Why do you prefer deuce versus the golden point?
Mike Yanguas  17:55
In my opinion, it is more realistic. If you're playing better than your opponent and you have much more percentage to win. If you're playing worse, maybe you have a lucky one point. I think percentages in sport are very important and with deuce and advantage, it is much more accurate when you see that the couple is playing better than the other to win, I think it's much much better.
Minter Dial  18:25
Yeah, so I mean I look at squash for example when you're at squash, back in the old days, let's say, when we used to play up to 15 in America, you had a choice of having three points or five points. So, if you're a better team then you choose five. If you're less good team, you chose three to try to get the lucky shot, the lucky bounce, the one that hits the net or something like that. Little earlier, I was talking about Flushing Meadow. I'm a damn Yank as they say and America: Have you had any chance to look at the Pro Padel League in America? Is that something that's on your radar or not at all?
Mike Yanguas  19:05
Ah properly I saw lots of things. Yeah, I think it's a success. They're doing very great things. I think that if padel touches America the right way, it is going to be much better than pickleball.
Minter Dial  19:18
Ah yes!!
Mike Yanguas  19:19
I am thinking yes, because you can't compare. I mean, with all due respect, I think it's a much more dynamic. You play padel and you play pickleball…and I think pickleball is nice but in padel, you have much more variance much more different things.
Minter Dial  19:36
It's a really sport? Yeah!
Mike Yanguas  19:38
Well I didn't say if it's a real sport or not but I think that how padel works in America, that can fit very very good. And also, it is starting to go you know very incredible way.
Minter Dial  19:54
Well, just before this one goes live, I've already had a fun conversation and recording with Marcos del Pilar, the Commissioner of the Pro Padel League in America. So, this is something that I'm trying to promote as well, because if America gets a hold of this, it's going to open up all sorts of avenues for you, the pros, I think.
Mike Yanguas  20:17
I think also. Yeah, I think it's gonna be incredible, actually. And, of course, I want to try pickleball, I never tried it. But for padel, I think it's gonna be explosive. And also, I know some the players of older sport are very big, and they're choosing padel. So, I think he's gonna be awesome.
Minter Dial  20:41
Let's do it. So, I wanted to ask you about your play, as well. There's one of the things that's really intriguing for me in terms of learning about Padel Tennis, is when things aren't going well. You were talking about before having tension in your wrist. And maybe you don't have the sensations. How do you go about adjusting for that? When you're in this moment, like, Oh, damn, I missed that shot should have made it. That's an easy shot. How do you adjust in mid flow? What are the what are the processes that you use, Mike?
Mike Yanguas  21:15
Well, I think that when everything goes good, you need to not try to change. I'm very meticulous with the things, so when I'm doing something right, I try to do the same. But if I can tell you about my game, I tried to play, well before the game I say to myself, Okay, you're gonna do everything you come to win, playing very, very relaxed. If you do it, and you lose you're inside. It's good, because you did everything that you can to win. So, that's my game. I play very relaxed. Try to do my best shots every time. I'm play aggressive. So, I think that's the key.
Minter Dial  21:56
And what about when you're when you're not doing so well? Where are you not? Oh, shoot, you know, you're relaxed, but your shots aren't executing like you'd wish? How do you do? Is it a conversation with Bela? Is that a conversation with you? Or the coach? How do you? I mean, because we all have these days, when we're not quite as good as yesterday, or, you know, we want to play better?
Mike Yanguas  22:18
Yeah, well, you need to try to first always try to make sure you understand what's going wrong. Maybe you have a bad day. And then as you are playing doubles, have a good connection with your partner until okay, I'm not very comfortable today with this play, so that the ball doesn't come to me in this way. It's a mutual thing to help each other, to try to get that whole closed, is the easiest way possible. No? So I think that's the key of Bela these years, no? I think that's the key to play good.
Minter Dial  22:56
Yeah, I think if I take away from you, Mike, the idea is that you need to identify it, and then you need to communicate about it. You know, listen, partner, I'm not feeling quite as strong or confident in this shot.
Mike Yanguas  23:09
You have to have confidence with your partner, to tell him that on a different point, then continue and try to get better and better during the game. Because it's not in a match. I think you don't come back from being very bad playing or very good you can be. I think the success is when you play bad, how do you in that 30 to 40 minutes in the game, to still be in the game alive? I think that's the thing in sport, when you're not in a good day, how do you play the most intelligent as possible, to still be there with chances.
Minter Dial  23:51
So one of the things that I am deeply impressed with, with your game, Mike, is your footwork. You have unbelievable footwork. That's what I think. I don't know if you agree or your coach would agree. But that's I think you have probably the most exceptional footwork in the pro league.
Mike Yanguas  24:14
Well, thank you. I didn't know I didn't know that. They will. I will I will take make sure to take a look about my footwork. Yeah, but I think yeah, imagine if you're playing against monsters like Lebron-Galan or Coello-Tapia they're playing excellent. At least you your footwork has to be the best possible. I think you have a long way also to travel with that, because I think I need to one of the best, the most things I need to improve my physical game, so I'm working on that.
Minter Dial  24:47
Get that snap for the big smash. What about a shot that you are trying to improve? Is there something in your arsenal that you're trying to get better?
Mike Yanguas  24:58
Everything! I'm trying to get better at defence, at attack. The change of shot when you have the ball, I think I'm trying to get everything better. No, I think you need to be very complete, to try and compete every single game, no? Because everything is very difficult. So, I think that you need to get very, very good at everything, the best possible is the real success.
Minter Dial  25:23
All right, I'm getting to the last questions here Mike with you. One of them is about rackets. So, you play with a Varlion racket if I'm not mistaken? Choosing a racket? You know, back in my day, like you can see in the photograph in the back, we had one racket to choose. The choice has gotten so much bigger. And how do you choose your racket? I mean, obviously there's a sponsorship component to it. So, you have to be with a family of rackets, and then there's within the family which racket to choose. How much time do you spend thinking about choosing and changing rackets?
Mike Yanguas  26:05
Well, at the beginning of the year, you have the possibility, together with your brand, to see what racket should do the best to play on to compete to the maximum level. Then in my case, I don't know the rest of the players, that I play with the same racket as you as you call sell. But it's true that before getting this racket to the market, we discuss little things that I have a preference on playing and then after that we decided to build a racket that helped me and also amateur players, depending on the level, and the most amount of players to play comfortable with the racket, so I think it's a very, very good racket, for example, in my opinion and the Varlion one, but I think also is for players that are not professional.
Minter Dial  27:01
Alright, so because it's available for retail. So, if someone wants wanted to get your Varlion racket, what sort of players should they be to be able to slip into it? A Mike Yanguas? A smaller Mike Yanguas?
Mike Yanguas  27:15
Well, I think now that I think that you need to have a little advanced level. I mean, you have to have a clear knowledge of the game. I don't recommend it to players that are just starting to play to get my racket, but I think you have the possibility to get the winter racket in for example, where do you live?
Minter Dial  27:37
I live in London
Mike Yanguas  27:39
London, London for example, maybe it's colder than in, say, Malaga in winter, maybe with with a winter racket. You are more comfortable with the Summer Edition for example. When it comes to Malaga, I need to play all the year with the Summer Edition. Because normally you have 20 degrees the whole year. So, that's the difference. No, and I think you have the possibilities. But yeah, I wouldn't say that once the level is better a little bit…
Minter Dial  28:03
Well, I know the guy, a friend, who is the importer of Varlion in England, so…
Mike Yanguas  28:09
I know I met him the other day. A very nice guy.
Minter Dial  28:13
Francisco. Oh, he's a lovely, lovely man. I played with him just last week. So, listen, Mike, this is the Joy of Padel Podcast, what is the funniest moments that you've ever thought. What comes to mind if you think about a funny moment on a padel court?
Mike Yanguas  28:33
Well, this year we have with Bela, we're having lots of funny times and he's very funny. So, I don't know if I can tell all of them, but yeah, when sometimes we laugh about I say that he has a very, very big head. He tells me I have very big nose, so I get all the grief from him. Now, we're all the time having having fun so it's very funny. If I can tell you an anecdote, I don't remember now. A very funny one but also with Miguel Lamperti. You can have like 30,000! I have a very big very funny one that I remember now with Miguel, in Sweden. When you go to bed in with the sheets, there they are different. The Swedish people they do sheets like squares. So, when you when you go to sleep if you don't put the sheets well, your legs get out and you're very cold. Miguelito at four in the morning, he was screaming. He was getting very cold at four in the morning. It was very funny.
Minter Dial  29:53
But Lamperti is a funny guy.
Mike Yanguas  29:57
You need to try to bring him on. You will have fun.
Minter Dial  30:01
I certainly will try. That's a great idea. And when you when you're talking on the court, that's interesting. There's the there's the communications during the point, but then there's the communications between points. And presumably sometimes it's good to bring a little levity in the in the middle, to keep you relaxed between points.
Mike Yanguas  30:22
Yeah. You mean communication between the points. I think it's sometimes when you finish the point, go to your partner talking about the next point. I think it's very useful, because maybe to relax mentally. So, you know exactly what the other thing is to start the next point. So, I think it's an advantage.
Minter Dial  30:42
All right, Miguel, last question. Mike. What is your ambition? What's the future hold for Mike Yanguas?
Mike Yanguas  30:50
Of course, everyone wants to be the number one, but my ambition is that one day I finish my career successfully. And I think I mean, a long way to go also, I would like to everyone to remember me as a good guy. That's my ambition. And as a guy who works hard for his dream. Then if he has success and because success is an interrogation, you don't know what is success. But when I finish my career, my idea is to everyone to tell or to remember that I was a guy who worked hard. And a good guy. Nothing, nothing more.
Minter Dial  31:34
Those are good values. Mike. Values. Yeah. Muchisimas gracias. It was a total pleasure and good luck with everything. I'll be following you and I hope to see you in Paris.
Mike Yanguas  31:44
Ah, if you're coming to Paris, we see each other!
Minter Dial  31:48
I am booked to come to the semifinals and finals. So, you better keep playing, sir!
Mike Yanguas  31:55
Thank you very soon. Thank you. Bye.
Minter Dial  32:01
So, I hope you've enjoyed this Joy of Padel episode. Please don't forget to subscribe to be the first in queue for the next episode. And if you like what you hear, please do share it around with other padel aficionados. This is a sport that deserves to be played by absolutely everyone. And if you've got a story that you'd like to share, please send me an email or a better yet a voice note at NMinterDial@gmail.com With that, thanks for listening. And see you on the next episode of the Joy of Padel podcast. ¡ Vamos !