To buy or to build?
Most companies have understood that social media is serious — not that every brand has taken the plunge and, even less, doing it well. And I'd like to say, that's normal, because we are learning our way in a changing landscape. As brands ramp up their efforts in social media marketing, I think many marketers struggle with the question : is it better to buy or to build the traffic? Some people use the terminology to buy or earn. My belief is that it is clearly not a question of either/or. The challenge is how to do a blended version where each benefits the other.
Old schoolers (and most line managers) are looking to get quick traffic.  As a Benjamin Seguillon, a friend I respect who founded MyMedia, said, 'there is nothing easier to do than get traffic.'  The trick is keeping the traffic.  If you buy the traffic via Google adwords, Facebook advertising or email lists, you will end up having to repurchase every year to anniversary the traffic.  You get what I like to term is a bunch of LOOKS.  The key to transforming that traffic into a paying customer are qualities that require a whole other mindset.  I have written in the past of the Marketing of the 5e's.  Here's another angle.
From Look To Link, To Like or To Love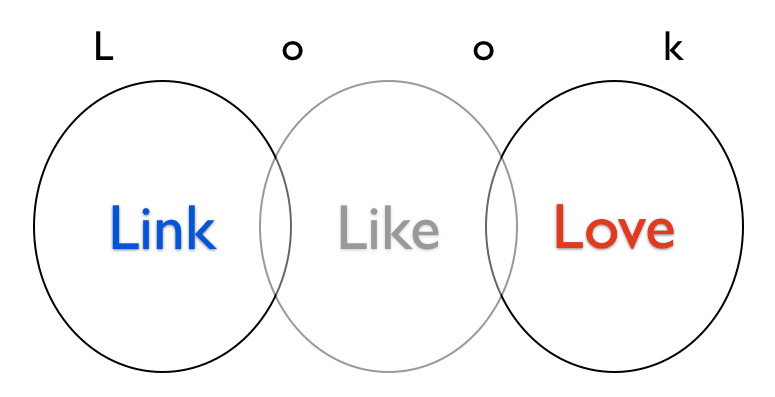 Among the choices that exist in terms of transforming the look into a monetizable act and creating sustainable traffic, I like to break them down into three choices for digital marketers:
Link:  This is all about getting people [and other sites] to link back to you and your site.  This involves having sufficient content that they would like share with their network, to take the effort to put a hyperlink in their content.  One avenue that is aching to be taken up for brand marketers: become a reference, an expert in a zone that customers want to know about.   And, the "easy" solution that jumps to my mind is becoming a content aggregator or curator.  For example, I personally want to become known in social media marketing, so here is my scoop.it site [defunct]…  Give it a spin and see how your brand could do the same thing on a relevant topic.
Like:  Getting people to like you, your brand and your [online] content means that it has to be good enough (and easy enough) to spread it throughout my friends and families.  Clearly, a Facebook LIKE is a little more personal in that it suggests a personal conviction, even an emotion.  Does your brand create likeable products, services?  Do your own employees LIKE your own products and share their passion within their personal networks?  In fact, are your people — especially those in your customer service — "likeable"?  Moreover, how easy do you make your content to LIKE (i.e. have you integrated Facebook Connect — if not, why?).  Google's +1 is a more rational option in terms of semantics.  It also has the benefit of existing "on the outside", making it very easy to click.  Both the Like and the +1 have their charm for brands.
Love: This is the toughest one.  And, surely, this is the elephant in the closet for most companies.  What is the mission of the brand that connects with its stakeholders in a way that channels through the right brain, through a deeper emotional connection?  The question is: do your employees love your product?  Are they your most fervent ambassadors?  If not, chances are you will struggle to manage your online community effectively over time — even if your clients "love" your products.  This is because your clients will come to expect an experience in their interaction with the company that surprises, that reciprocates and, at a very minimum, recognizes their love.  And those signs and acts must be carried out by people.
Absolutely, buying keywords and doing SEO are a valid part of the game. The trick is making sure that the veritable tail is not wagging the dog and that brands are working on the core elements, including on keeping excited their own employees. Buying traffic becomes especially effective when your link, like and love catalysts are in place.
Your thoughts? Please do feel free to comment and disagree!