I spent a good deal of time ploughing through the social media campaigns of the two French presidential candidates for 2012, Nicolas

Sarkozy and François Hollande. The bottom line was that their social media campaigns did nothing to change the outcome.  And, this wasn't for a lack of investing time and energy on it.  Their digital marketing campaigns were great examples of how NOT to run your brand social media strategy.
It is worth noting that, on balance and not surprisingly, the French voting population remained plugged into mass media channels to get their information about the election.  However, I can't help but feel that had either of the candidates considered social media as a viable and different way to drive their campaign, it could have made a material impact, since it really only takes moving 1 or 2 percent of the electorate to make a difference in today's democracies.
Here is an overview of the two nominal Twitter handles: @nicolassarkozy and @fhollande.  Below I show the total number of tweets and an brief analysis of the content that each account distributed between January and May 6, 2012, (second round) election day.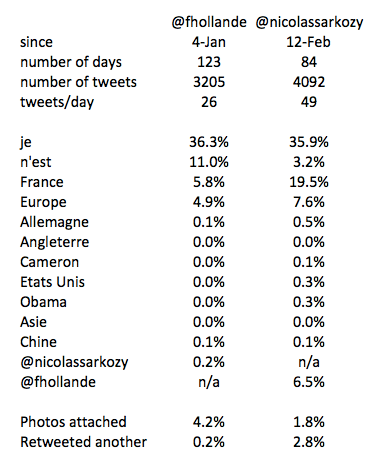 What strikes you most about the frequency of words?
This is by no means an exhaustive analysis.  But, a few things stood out to me.  The word "je" (or "I") was used – in equal measure – by
both accounts for one third of all tweets.  The odd thing was that for @fhollande, he never signed his own tweets, so you never really knew if it was his own real sentiment or not.  And for @NicolasSarkozy, he actually signed his own tweets "-ns" which amounted to about 6 individual tweets.  Secondly, Hollande's tweet stream seemed on balance to be more about what not to do, as opposed what to do, as shown by the number of times he used the term "n'est" (or "is not").   Third comment: the content was extremely local, as was visible during the nationally televised debates, where discussion about Europe and France's allies (and enemies) was very limited.
The @fhollande's account was started in 2009, but it was only truly active starting in the fall of 2011.  The @nicolassarkozy account was actually opened only on February 12, 2012.  Now, that is criminal (sarkostically speaking)!  Even if the announcement of his candidacy was held until as late as possible, there was no reason not to initialize the Twitter account well before.  How does one build community overnight, you might ask?  You don't, is the answer.  Click here to tweet this one out!
Twitter is not a machine gun
When you look at the Tweet rhythm, you can only look aghast.  Hollande's 26/day is bad enough, but 49/day?  Mortifying.  Each of the teams was spewing out tweets in an evident spray and pray approach.  The odd thing is that you would have thought the teams might have taken some guidance from the Obama campaign, which has some provable track record, no?  Obama, whose account was opened in 2007, has a 2.5/day rhythm since inception.  Aside from having built a substantial and thriving twitter community with a higher level of penetration of the US connected people (double those of Hollande and Sarkozy for France), Obama has a much interactive account, participating in conversations, sharing different content, retweeting regularly and adding legitimate personal tweets.  None of these ideas were entertained by Hollande or Sarkozy's camps.
Here are some big takeaways:
building

community takes time — plan and anticipate (including the fact that it might be a slow build at the beginning)

create

an editorial line that is complementary to your communications on other channels

be

authentic, including being transparent about who is doing what.

limit

the outgoing broadcast to a manageable amount (e.g.

no

more than 10 per day during the key election period)

retweet

others, because that will encourage your community to participate

add

links and/or other media (photos, video)
The tragedy of the French presidential elections, as far as social media is concerned, was that it was a missed opportunity to create interesting conversations that in turn may help France to improve its lot.  Moreover, it was a missed opportunity to show that digital marketing and communication are a useful and viable alternative channel.  Finally, it was quite appalling how little the candidates discussed the digital economy in general.  [BTW, neither of these Twitter accounts remain active.]
Clearly, we cannot take our lead in France from the way the politicians are managing the digital space.  You wonder how decisions are being taken about digital and social media at a policy level?
What is or was your takeaway?