You have to assume that, by now, most Human Resources departments have a keen eye on what is being said about their company (Google alerts, TweetAlarm, etc). One way to know with more or less impunity is via the portal Glass Door.
Glassdoor is your free inside look at jobs and companies. Salary details, company reviews, and interview questions — all posted anonymously by employees and job seekers.
To be fair, the results on Glass Door (GD) are skewed toward North America* and probably to a younger, more digital population. However, there are plenty of European companies now with a decent amount of input. The question I have for HR and executive teams more broadly: to what extent would you or are you promoting staff to fill in Glass Door [honestly]? Of course, I should note that Glass Door is not the only player in the space. Below, I have listed alternatives around the world.
Glass door – a level playing field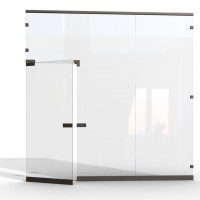 This suggestion may seem counter intuitive. It probably does not resonate with most HR people. If I had to guess, deep down, the bulk of top executives would probably rather Glass Door not exist because of the endemic risks of negative comments or a vitriolic employee. The reticence about Glass Door is that a large (largest?) number of entries come from ex-employees. In any event, the responses are anonymous. However, to the extent that this would be a common factor across the board, I think the statistics stand as good indicators one against the other, assuming there is a large enough sample. But, why not have current employees populate the site?
First, it's worthwhile knowing what Glass Door catalogues by way of employee input (out of 5):
Overall satisfaction
Cultures & Values
Work/Life Balance
Senior Management
Compensation & Benefits
Career Opportunities
CEO approval
The key point is that Glass Door is anonymous and renders, as the name implies, a form of transparency, heretofore obscured by HR, PR and Communication machines who tend to try to paint rosier pictures.
Where's The Best Place to Work…
Fortune publishes an annual list, created by the Great Place to Work Institute (GPWI), of the top 100 best places at which to work in the US. This list is clearly not exhaustive. Nor is it bereft of anomalies. Taking the top 8 companies cited in the 2013 list, I thought I would compare with the Glass Door listing.

What one can see is that, for the top 8 per GPWI, Glass Door overall ratings vary from 3.3 to 4.1 and this top 8 do not feature any of the top companies cited as "best places" by Glass Door. It's worth noting that in this list CEO approval in Glass Door is high (over 90% for half of the companies). Having spent some time looking through the Glass Door results, I noticed that for certain companies, you might find Work/Life Balance low, but compensation & benefits and career opportunities compensating considerably (ex: BCG). Makes sense.
Most Beautiful Place to Work?
With my background at L'Oreal, I thought I might take a spin through the beauty industry. I took the top 14 companies in terms of sales in beauty, and I compiled also HQ scores when possible, when the HQ is outside of North America (ie L'Oreal, Shiseido, Beiersdorf…).  Here are those scores, ranked by the overall satisfaction rating.
Judging by (or of) the CEO
Looking at the CEO approval rating I think can be highly revealing, since the scores tend to be much wider. it should be noted that in this list, there are nearly half that have not had a significant number of votes cast (noted in red for under 30 ratings, where margin of error is 20% – see the graph to the right). With some degree of irony, the two Japanese companies (Kao** and Shiseido) have 100% approval from the two employees. Freda's score at Estee Lauder is a bit more impressive (although his rating in the US is lower on a larger sample). You can also cross check the score of the CEO with the scoring of senior management.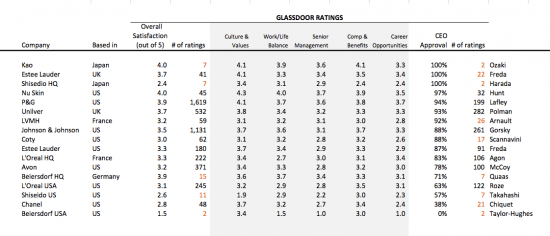 The Big Tech Blooms
Most companies prefer to benchmark themselves against their direct competitors and that largely makes sense. However, in terms of recruiting the best talent, the competition for talent is much wider. It's not surprising that, according to Glass Door, companies such as Facebook, Google and Twitter come up spades in the overall satisfaction ratings.

So, the bottom line is: are human resources aware of Glass Door? Are they paying attention? And if so, hopefully they may encourage their own employees to fill in … anonymously and without pressure!
Your thoughts and reactions?
*Alternatives / Competitors for Glass Door abound around the world. Here are few examples:
**Full disclosure: Kao is a current client mine.