Last night, I attended the world premiere of the English version of a new play, "Being Cyrano." Originally written in French, the play is entitled "Dans La Peau de Cyrano." The play is a one-man show, starring Nicolas Devort, who plays 5 very different roles, including the 'lead,' Colin, who is a boy entering a new school with a rather daunting challenge.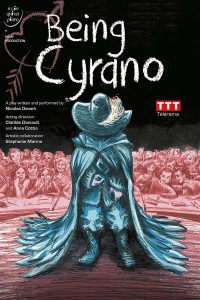 What I liked most about this play is that it shows the power of the arts to help in our development. The Maths & Drama teacher at the school decides to put on the play Cyrano de Bergerac and, with parallel stories between actors and characters, plays out how acting and music can be most therapeutic. But the therapy isn't just for Colin (or Cyrano). It's for us all. Nicolas Devort spins through the different personalities with a wonderful and distinct set of accents, ticks and manners. The marvel of Nicolas is that he is able to deliver the play in both French and English. An extraordinarily tough act that anyone who is bilingual will understand perfectly.
If you get a chance, check it out. It's 1h15 in length. Well worth the visit en famille. Here's the trailer with subtitles en français.
dlpdc-v05 from Marc Kawam on Vimeo.
The show is in Brussels on Tuesday next week (in French). Book here. Then the show moves to Casablanca on the 14th Jan! The show will be coming out in English officially in March 2017. Contact the team directly to find out about dates.