Having just spent a week at South By Southwest (SXSW) in Austin Texas, I heard a number of recurrent themes throughout many of the panels and sessions I attended. Two of the themes struck me as most paradoxical:
the right to privacy
defense of the freedom of speech (First Amendment)
Managing both ends of the spectrum
Somehow, we must fight for both, knowing that the freedom of speech may invade somebody's privacy. The stories of Kim Dotcom (the founder of MegaUpload) and Gawker (the news media that revealed the Hulk Hogan sex tapes) are two cases in point. Both were the subject of premieres at SXSW (see below).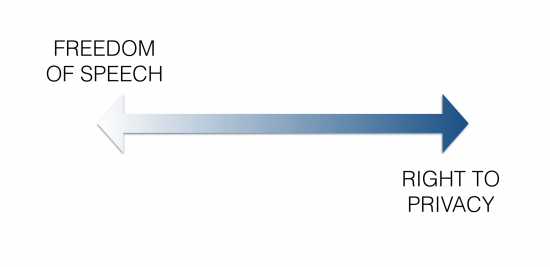 In the case of Kim Dotcom, he set up a site (Mega Upload) to facilitate online piracy. He was first charged with copyright infringement (and a number of other charges); but in the quest to undo his empire, the NZ authorities (implicitly backed by the US) illegally tapped into his private life. And then wanted to quash him.
Kim Dotcom, Caught in a Web
The absurdities of this "fight" include the flip flop one makes about Kim Dotcom the Pirate, to Kim Dotcom the Crusader (for rights to privacy and freedom of speech…). He goes from villain to victim after the NZ government authorises a military-style operation to arrest him.
The film, Kim Dotcom, will be coming out on Amazon Film as of April 26.
Nobody Speak: Hulk Hogan, Gawker and Trials of a Free Press
In this film, the parallel with the Kim Dotcom film were evident: the use of excessive means to close down an "unwanted" element. The nominal topic in this documentary is the privacy of a public figure (Hulk Hogan). The real topic: the use of money by moguls to close down media and the freedom of speech. The funniest moment in the film, however, was the notion that an individual can — in a court of law — seamlessly speak about himself as a character (Hulk Hogan) when he is being interviewed, in order to deflect from his real-life identity (Terry Bollea). And what if Hulk (the character) were to commit a crime (in real life)? I'm sure his response would be: "Whoops, it was just my character Hulk Hogan doing that, not me Bollea!"
The film Nobody Speak will be coming out on Netflix soon enough! Watch this space.