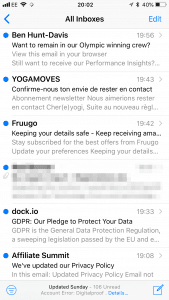 Now that May 25th — the date when the European regulation GDPR officially took effect — has come and gone, the barrage of GDPR-related messages has subsided. At one point, opt-in requests and privacy setting announcements seemed to be ALL I was getting (see my mobile screen grab). It was just a constant and rather ludicrous stream of last-minuteness. Through all the mails, I did note some recurrent themes that reveal where we sit as marketers around the globe.
Asking to Opt-in again!
Among the major companies with serious email lists and, to varying degrees, BIG data to worry about, the vast majority seemed to play the conservative (and legal) route of asking its subscribers to re-opt in under the new conditions. It's a request that is fraught with significant risk for the business. Either by not replying or not reading the mail, accounts will have to be deleted. Without the re-opt in, the company is bound to remove that subscriber from the list (although the temptation to keep the person's information is huge all the same). How many email lists were radically depleted as a result? How many people were eliminated but actually would have preferred to stay subscribed?
Forcing an opt out
Some companies were a bit cheeky and preferred to ask: "If you really don't want our mails, please do unsubscribe." It's a very meek way of validating your subscriber list. To make that a viable route, this would assume that they believe that their subscribers had fully opted in previously.
Privacy policy update … only
Some companies decided to side-step the re-opt in and just to tell their subscribers to check out their new privacy policy that follows the GDPR guidelines. This altogether skirted the risk of subscribers not wishing to stay on board. It's a rather low brow approach. But, I'd say it's taking a measured gamble. We'll have to see when and how the regulators judge each of the companies.
The impact on business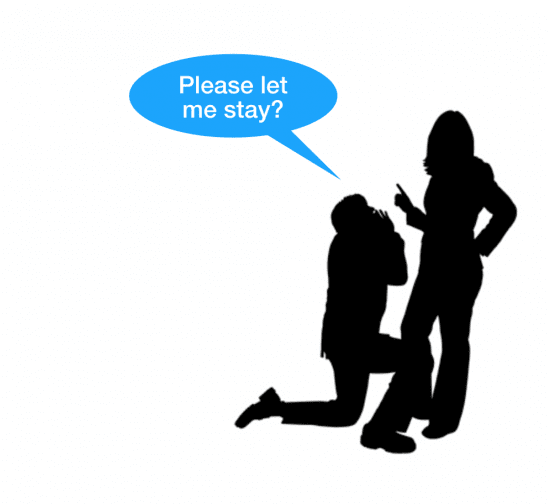 There were several businesses that sent multiple messages, essentially imploring me to re-opt in. Very few remarkably tried to justify why I would want to stay subscribed. Perhaps they didn't know how to express their value? Perhaps they realised that they don't actually provide a bona fide value? I enjoyed one individual who sent out a set of three messages that built up in crescendo, where the final message was a rather somber, almost threatening, au revoir!
Goodbye Forever – Have a nice life! (by Nigel Cliffe, LinkedIn training expert)
In the same vein, but a little less dramatic:
"I guess this is goodbye …" (BOC Global Events Group)
Here's another effort, a bit menacing (from Web Summit and Collision):
SUBJECT: DELETION NOTICE. Don't blame us if you don't hear about ticket offers, exclusive events and speaker updates!
Permission needs to be earned
As was shared by Seth Godin on the podcast I recorded with him, GDPR is merely the legal code of permission marketing. Many companies are going to suffer for having failed to create loyal followers in a trustworthy manner over time. I saw one mail from a SME literally begging for me to stay on her mailing list, in realization of how costly the fallout would be if the subscribers don't officially accept to remain. Whatever one thinks of it, the GDPR initiative has certainly provided a new way to spring clean our email inboxes. Unfortunately, it probably won't mean much as far penalising the unsolicited spammers who will continue to pollute our mailboxes, regardless of the legislation.
Doing the right thing, is good in the long run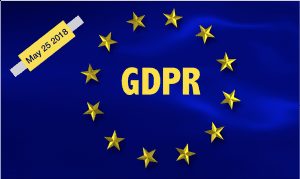 One of the interesting things about such an event as the implementation date of GDPR is that it's hard to do a practice run. It's not like we have ever had the same situation happen before. I wonder how many companies chose to do some A/B testing? Someone will surely be plowing through the data to see who was more or less successful in re-opting in its subscriber base. But, far more important than those statistics, the KEY component – that's so much harder to gauge — is about having the right mindset in what you're trying to achieve:
If you have had a habit and a mindset of giving great value to your subscriber base, that's trust you have assiduously built up and, on which, it's now time to capitalise.
Click To Tweet
As far as I'm concerned, the fundamental lesson of the GDPR legislation is that marketers need to think in advance of the consequences of their methods, and to cast an ethical eye, that takes into consideration the subscribers' perspective. Click To Tweet
GDPR = Gosh Damn Prove (you're) Reliable #trust
Click To Tweet
Update: I would add that a large number of media companies in the US (as far as I can recognise) have opted merely to close down access to their sites for those of us identified as being in Europe… for example: the Baltimore Sun: