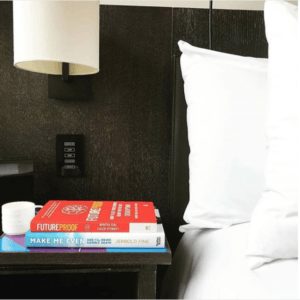 We are excited to announce that, starting in August, Futureproof will be given away to guests at the Conrad Hotel in New York as part of a bedside reading offer. The initiative received some unexpected press coverage:
As cited in one of the articles:
"Bedside Reading®, the only program to place complimentary best-sellers at the bedside of luxury hotels across the U.S., is introducing the Beside Reading program to Conrad New York as the first business-focused hotel to provide both business and leisure travellers with a way to unplug and enrich their minds while travelling."
Caleb and I are thrilled that Conrad accepted Futureproof. It's a prestigious hotel in the high season! We'll have to wait to see how it rubs off!