Last week, Lush, the UK-based cosmetics retailer, announced that it was cutting down its social media presence, apparently Lush management was fed up with the algorithms. I believe this move by Lush is quite revealing and should be a signal to other brands. In fact, I would not be surprised to see many more brands, either publicly or not, taper back their social media activities over the next 18 months. [See more on Time] The list of brands that have deleted their Facebook presence includes Tesla, SpaceX and Playboy. Other brands (Sonos, Commerzbank, Pep Boys…) have formally stopped advertising on the platform, too.
Declining user numbers
In Europe, the number of monthly active users on Facebook has declined for the last two reported quarters in a row. [Source BI] In the US, meanwhile, over the last two years, we've seen how the younger generations (the Lush target group) have been leaving Facebook and Twitter in droves. As the Edison Research Infinite Dial report shows, between 2017 and today, more than 17 million Americans aged 12-34 years old (82 million down to 65 million users), have left Facebook. That means that we're down to 61% of 'young' Americans using the platform.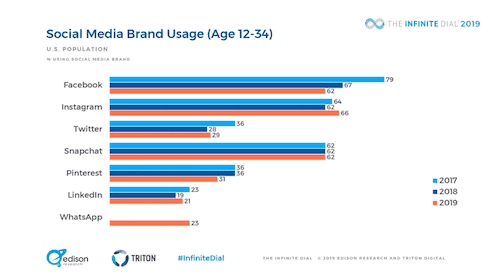 This decline is related to changing desires and behaviours (shifting to Instagram,* in particular) but also reflects rising concerns about and mistrust of Facebook. The slew of data privacy scandals has clearly damaged public trust. But the user experience is presumably also a major factor. It's not uncommon to hear: "I don't enjoy scrolling down and seeing so many ads" or "I keep seeing the same people over and over again" or "I don't see the point anymore."
Not just brands, celebrities
Alongside the brands, certain influential individuals — with personal brands and large followings — are also giving up on Facebook. These include people in the know such as Steve Wozniak (Apple co-founder), Brian Acton (Whatsapp cofounder, who sold his business to Facebook) and Walt Mossberg (renowned technology journalist), as well as big name celebrities such as Cher, Jim Carrey, Will Ferrell, Rosie O'Donnell, Farhan Akhtar…
N.B. Some of these stars have only deleted their personal account (rather than their fanpage). Another one to make waves recently is Alexandria Ocasio-Cortez (right) who gave up on Facebook, referring to it as "a public health risk" that can lead to "isolation, depression, anxiety, addiction, escapism." [USA Today]. This type of departure, where Facebook played a significantly positive role in her success, speaks volumes to the level of reining negativity. How many more will join in with the #DeleteFacebook movement?
Review of social media marketing
Lush is not alone or the first to have pulled back its social media activity. In 2018, the UK pub chain Wetherspoon's and a few other spirits brands made the decision to close their social media accounts. Reasons cited for this were that social media does not have an impact on the bottom line, and merely feeds an addiction of always being online. There was also the specific issue of regulation of the alcohol industry. When you combine the flight of the younger users, concerns over the management of the platform and the data privacy issues, as well as the platform's inexorable drive for profits, it all amounts to enough reasons for marketers to be worried and to review their social media strategy.
Measuring the benefits
In the realm of reasons to quit social media, the economics (ROI) will undoubtedly be a, if not the, chief consideration. What's the bang for the buck and could the resources be better employed elsewhere. Maybe you're brand values and team are less effective on social media. Maybe your users are aggregating in a more engaged manner elsewhere. But, there are other reasons that include regulation, legislation (and sometimes lack thereof), ethics and more broadly speaking, brand strategy.
The changing economics of social media marketing
At heart for business is the economics. The amount of internal resources, the lack of ownership (and therefore vulnerability to the foibles of the platform), the pay to play reality (which will only get worse as the platforms continue to seek to drive revenues and profitability), not to mention the possible risks of doing something wrong. Being out of social media doesn't mean that you can't read and listen to what's going on. It's just that you choose not to participate or use it as a channel for your communications. As Mark Schaeffer wrote last year about the Wetherspoon announcement, "the social media was so poorly managed that it never had an impact any way." If you're not getting the return anticipated, maybe you're not doing a good job, maybe your team (and agency) need a revisit, or maybe it's just an illusory waste of resources. For now, the major point is that brands should be carefully monitoring how effective and efficient their social media channels are, whether their users are still engaged, and to what extent the brand is playing in the right playground.
P.S. It's worth noting that, in the nuance, Lush North America is not reducing its social media presence, which seems doubly surprising considering the more drastic drop in users in the US.
* One of the ironies of the user abandonment of Facebook is that Instagram (and Whatsapp) are both owned by Facebook.