I was invited to attend PegaWorld 2019 in Las Vegas. The event spanned four days, although the last day was just for programmers. Over 5000 attendees were on hand, with a good range of main stage keynotes and about 80 separate sessions. Until writing my book, Heartificial Empathy, last year, where I came across the pioneering Dr Rob Walker, I had had no knowledge of Pega; so this was a real immersion. If you don't know them, Pega provides "software for customer relationship management, digital process automation, and business process management." In its own words, Pega describes itself as a company "empowering digital transformation at the world's leading companies." Competing with the likes of Salesforce, Oracle, Zendesk, Pega seems to be charting a unique path. With a market cap of over $5.5 billion and led by its founder, the ebullient Alan Trefler, Pega is certainly a force to be reckoned with.
I enjoyed a number of great sessions and the entertaining and exclusive show by One Republic (no, it wasn't One Direction) who pleased me no end with the rollicking Counting Stars as a rousing encore. But the most intriguing and, I would argue, most significant element of Pega World 2019 was the fascinating work on installing empathy into its core solution. Alan Trefler certainly owns Pega's strategic direction toward empathy, insisting on its benefits for the business (e.g. in design thinking) as well as within the business in terms of culture.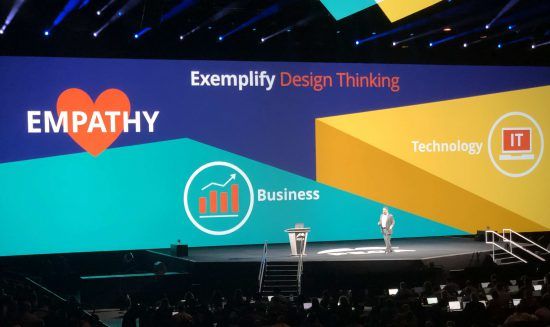 Empathy as a game-changer
Naturally, I have a bias, but it is extraordinary and I underline rare to see empathy being implemented at such scale. The Pega Customer Decision Hub solution, which is being rolled out in 2H2019, will include an entire module that looks at the empathic factor of each action. It amounts to a dashboard, that calculates the cost/benefit of empathy over time.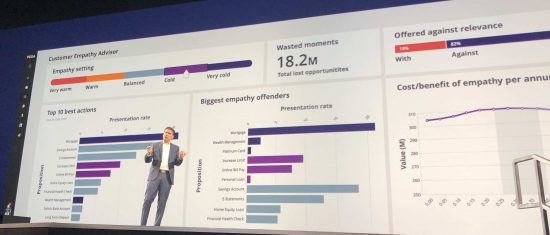 Empathy Inside
I have to believe that calculating the empathic element of each action is bound to be an evolutionary work-in-progress. Without doubt, the algorithm will need to learn and be adjusted once it gets launched. Enter: machine learning. I haven't road-tested it, so my POV is conjectural. It's possible the readings may not be entirely accurate at the granular level; yet, the very nature of looking at and measuring empathy as a quality of your customer interactions is quite radical. It's the first time I've seen any company that has raised empathy to this level, so explicitly. For Pega's clients, they will be forced to evaluate their own empathic index. If they understand how to be more empathic within the organization and with their customer relationship management [think how they might be able to alleviate/improve the hideously annoying automated call centers or make more appropriate emails instead of spam!], they should see an almost self-fulfilling benefit! Just the concept of exploring empathy as a business quality will be enlightening. Empathy Inside your organization could become the soft equivalent of Intel Inside your computer.
Overcoming customer's latent mistrust
One of the issues highlighted in Pega's newly published report on Empathy & AI is the huge mistrust that customers have of companies and business in general. "Two-thirds (65%) of respondents don't believe companies have customers' best interest at heart…" Moreover, 68% of the respondents "trust a human more than AI to decide on bank loan approvals." And 60% don't agree that AI has the potential to improve customer service and interactions. The chasm is large and companies looking to introduce AI into customer interactions would be well warned to take into consideration the a priori barriers and cynicism that their customers have of business and AI. It will take a lot of effort for companies to gain back trust, especially with AI in the middle. As the study suggests, empathy could be a way to help bridge this trust gap. As you can imagine, I'm a believer.* But companies should not underestimate the transformation — even disruption — that trying to be more empathic inside and outwardly will be, particularly for the empathically-challenged leaders.
How readily would you embark on a programme to measure and improve your own empathy?
PegaWorld Replays
By the way, you can check out the PegaWorld 2019 main stage replays here. I would particularly recommend checking out Dr Rob Walker's talk that focuses on Empathy & AI.
*If you haven't yet, please do check out my book: Heartificial Empathy, Putting Heart into Business and AI