Apps – too often, all bells, not whistle.
There are a lot of companies that have jumped on the bandwagon to create mobile applications.  The problem is that so many of them are meaningless. I can think of several where, aside from sloppy functionality, the app itself does material to help me in my daily life.  No value added.  Zippo.  I can just imagine how the marketing manager thought to get into the spotlight (and advance his/her career) by creating a shiny app with no tangible end-user benefit, ill-advised by the Agency.  The other typical case is when the app is great, but the rest of the business is a long way off the mark (e.g. an old fashioned 1.0 institutional website, or terrible customer service…).
An app as a value added service
I have been absolutely stunned (in a positive way) by the Chase Manhattan Bank mobile app.  I have not seen what other banks have done, but I am going to guess that, when Chase launched this app in the Summer 2010, it innovated with its functionality and, gained a few new clients, if not fans, along the way.
Chase's app (available for iphone, ipad, and now on android…)
What does the Chase app provide that is so special?  Beyond the very quick access to your balance and an ability to make transfers, you can deposit your checks directly into your account by just taking a photo back and front of the check.  The operation takes nothing more than 30 seconds and you get a confirmation email moments later.  It is a splendid invention.  Here are some screen captures.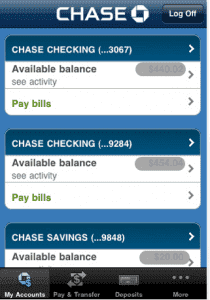 Then, comes the magical part: the check deposit: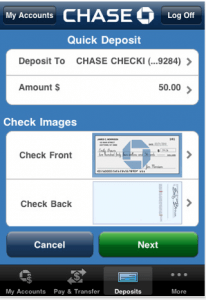 Aside from being quicker from an execution standpoint (instantaneous deposit versus waiting 7 days for transatlantic post) and saving money (envelope and stamp), the app is extremely efficient and easy to use.  On top of that, it's free. The funny thing about this kind of service is that (a) you cannot be expected to know about it if you are not a Chase client; (b) I didn't find out about it from Chase myself, either!  It was only in a seminar I attended in the US that I heard about this app.  And, boy do I love it.  Moreover, it probably is a time saver for Chase personnel as well, who previously had to receive and deposit my check manually previously.   Another rather neat added feature in Chase's mobile technology is the Person-to-Person QuickPay, which allows you to pay a friend using just their email address, as with PayPal.  (You need to set the that up on the site on your desktop).
How did Chase do it?
So, the big question is: how on earth did Chase manage to create such a game-changing app?  Well, it appears that the app is just an extension of a check scanning technology that has been implemented at Chase ATMs.  So, Chase has shown that they can amplify innovation by spreading it intelligently across platforms.  I, for one, am hugely impressed.
Do you know of any other great apps done by banks?  I understand it is in the works for Bank of America in 2012.   I would be curious to hear of other banks doing great things.  Please let me know of any other apps that you have come across that have made your life less painful, too!