Minter Dialogue Episode #79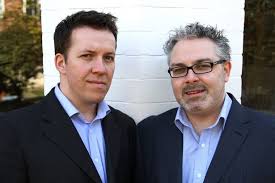 This interview, recorded on October 21, 2013, is with Richard Lucas and Ian Patterson, respectively, Managing Director and Project Director at Discerning Digital. In this conversation, we discuss their experience in making the digital transformation at the Guardian Media Radio Group, and what are the key learnings for companies today faced with the same shift. We also look at managing digital risk and infrastructure needs to support the digital transformation. Hope you'll enjoy the show.
By the way, you can also sign up to the Minter Dialogue podcast here via iTunes.
To connect with Richard Lucas and Ian Patterson:
Sites mentioned during the podcast:
————–
Further resources for the Minter Dialogue Radio Show:
Meanwhile, you can find my other English-speaking interviews on the Minter Dialogue Radio Show on Megaphone or via iTunes. Please don't be shy about rating this podcast on iTunes! And for the francophones reading this, if you want to get more podcasts, you can also find my radio show en français over at : MinterDial.fr, on Megaphone or in iTunes.