There are typically three schools of thought about South by Southwest (aka SXSW):
It's over. It's over-hyped. It's passé. It's a zoo. It's a waste of time. I also heard "too much ass licking." This, or words to that effect, would be what the SXSW snobs would say as they snub coming. Typically, they came in the "early days" when it was 'way cooler.'
South by Southwest Interactive (SXSWi) is the best digital convention. SXSWi is not just about digital marketing, but all things digital. At SXSWi, there are literally hundreds of different topics surrounding digital, whether it is philosophical, professional or personal, different applications, industries or continents.
It's the mix. For some who feel right at home in "keeping Austin weird", the SXSW Interactive (i.e. digital) conference is the best there is because of the merry mixture of digital, music and film. First, it's true that film and music were among the first two industries along with newspapers, television and porn, to face the digital turn. Secondly, film and music is all about emotion and storytelling, using media that have an impact in the social fiber.
Personally, I am in the #3 camp. I stayed past SXSWi (which occupies the first five days) this year to enjoy more of SXSW music and preview a few films (only documentaries) as well as listen to some of the sessions that cross pollinated between interactive, music and/or film. In these sessions, they often talked about how filmmakers and musicians were tackling the digital space. The wacky ambiance — and that Austin "weird" touch — mean that businessmen and brands alike seem to let their hair down. And, on balance, that's good for engagement! A better example of the "mashup" at SXSW was Kevin Bacon (see the Image Think recap below) who spoke about the degrees of separation (from Kevin Bacon), but which speaks ever so cogently about the connected digital world.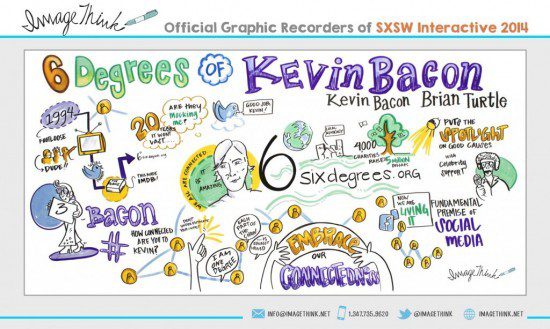 New themes at SXSWi
This year, the interactive sessions were clustered around certain themes, which made great sense to help participants navigate through the maze of sessions, workshops and keynotes. Meanwhile, why some sessions fell in to one category and not another was sometimes a bit haphazard. All the same, the fact that these themed sessions were clustered geographically made the event a little easier to manage (according to your interests). The SXSWi 2014 themes included:
Art, Science & Inspiration
Content and Distribution
Design and Development
Entertainment and Immersion
Health and Business
Intelligent Future
Social and Privacy
In this list, clearly the most polarizing was "social and privacy" where Julian Assange, Edward Snowden and Glen Greenwald were all given a virtual main stage. The feat of piping in Snowden through seven mirrored proxies met with some technological hiccoughs (despite the gathering of uber geeks). However, their combined presence in SXSW2014 brought with it a strong political overtone and not a little controversy.
Technology that gets more meaningful
SXSW is an evolving event as well. This year saw a healthy injection of technology for social good. It confirms a trend toward a more social business and certainly echoes nicely with the NETEXPLO Observatory with which I have been working for the last several years, with the visionary Thierry Happe.  Chelsea Clinton's keynote address was the pinnacle moment, talking about how technology can and should be used to improve society (especially in Africa). Here is my Storify about Chelsea's speech. Another speech that I particularly enjoyed was by Neil deGrasse Tyson who provides an entertaining and inspiring approach to science and new tech.
So, if you are in marketing and are going to come to Austin for SXSW, I highly recommend prolonging beyond SXSWi to take stock of that "other" side.
Advice for the uninitiated going to #SXSW2015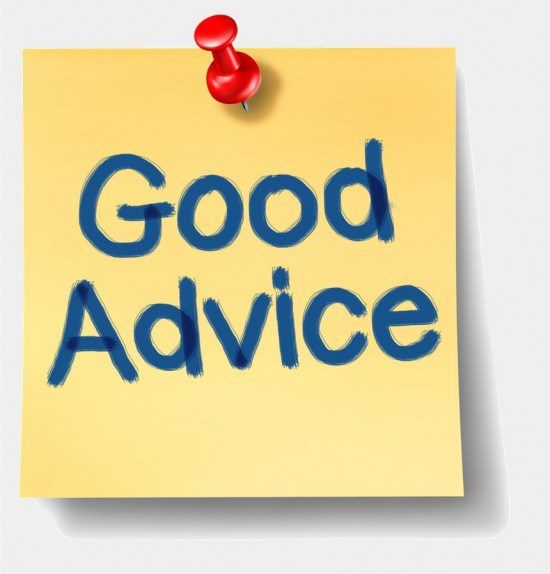 A few words of advice or warning for SXSW2015:
If you come alone, make sure that you plug into some groups. It can be rather intimidating alone. The best thing is to find a "godparent" who has been before and can show you the ropes.
Bring the wherewithal to keep your devices recharged throughout the day as the connectivity is vibrant and, specifically, iPhones have a way of not lasting all day. You might also want to travel as light as you can at the start of every day.
Book your hotel early and — very importantly — try to get a hotel that is downtown. It's worth the expense.
Scout out the sessions you want to listen to and make sure to go early if you REALLY want to listen to it. I missed out on a few sessions because of timing.
As much as you might want to optimize each session, allow time for "chilling" and for chance to meet some new people, since SXSW is a great networking place.
Clothing: In March, evenings in Austin can be a bit chilly. This year, it rained for a couple of days.
Make sure to bring comfortable shoes, because the venues are often very far from one another.
Don't expect much rest!
A last thought
: with so much merriment around, drive sober and be careful. My heartfelt thoughts go out to those who were impacted by the tragic accident on Wednesday night in Austin (Chicago Tribune writeup).