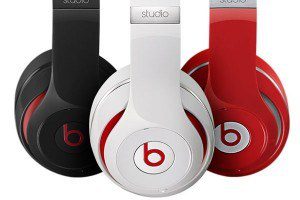 Many people have expressed doubts about the intelligence of Apple purported purchase of Beats Audio for $3.2B. On many points, I would certainly be tempted to agree with the criticism levied at Apple. The naysayers talk about:
The price tag is outrageous (Beats was valued at $1B back in September 2013)
Doesn't Tim Cook know that the quality of the headphones is subpar?
It's proof that Apple can't innovate internally anymore (and create their own products)…
Certainly, Apple is struggling to find the midas touch with any big new hits. I can say that the pair of headphones I bought my son were shortlived. And, as far as the $3.2B price tag is concerned, it certainly is more than Apple is wont to spend on acquisitions. Given the rumors about Twitter going after Soundcloud, perhaps there was bidding pressure from other players (including Facebook, Twitter…).
Beats = Data or the promise of streaming?
In the face of such damning criticism, however, other than speculating on the value of the Beats brand and the genius of Beats' founder, Dr Dre, there could be one major redeeming part of the equation, of which we may not be aware:
Real Data
Apple now has a sprawling and acclaimed retail presence. In their Stores, they sell many types of products including a cross section of earphones and headphones. It seems plausible that, with their data, they may know some things that we do not. For example, at sellthrough on the floor, the Beats might do better than their competitors. Secondly, Apple may view the profile of Beats customers as being particularly interesting and/or complementary for its current base of clients. One has to imagine that they analyzed their own data.
Streaming music
If Apple isn't interested in the headphone business nor the current Beats headphone customer, then the only other case that would make sense is the music streaming business and the promise of a community. At present, the streaming business and its community are, at best, nascent. Per The Verge infographic below, Beats has a paltry paying subscriber base.
I chose to embed this graphic because of the inclusion of Beats Music — most other articles don't even reference Beats. Created with data from Spotify, however, it's worth noting that a few of the major players such as Pandora (leader with 250 million free users and > 3 million paying subs), Google Play, SoundCloud, Rdio, Xbox Music are conspicuously missing.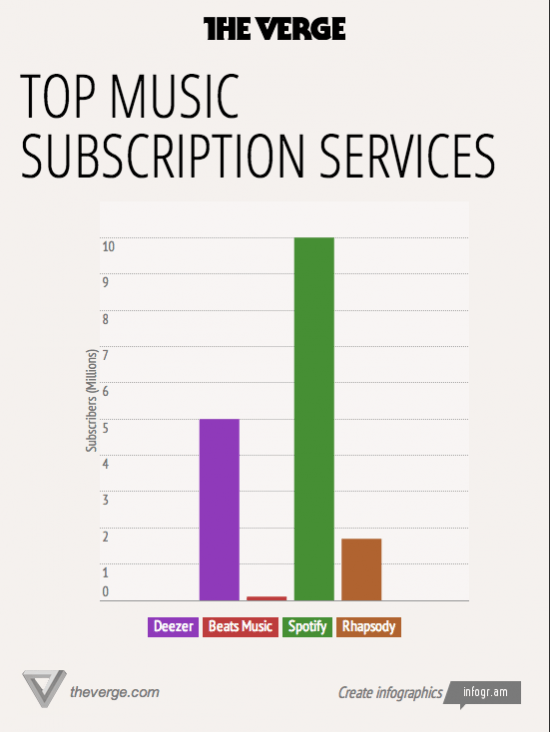 Going against the flow, Mark Rogowsky wrote a more positive article in Forbes about the intended acquisition. Nowhere have I read, though, that Apple's retail data might present the best insights into the value of Beats.
What do you think? Where do you sit regarding the potential Beats acquisition?