I love to travel. Don't you? Well, that is, if one makes abstraction of the headaches of getting the tickets and visas, getting through the security checkpoints and managing on-board rage and the occasional delay. On another note (so to speak), there is pleasure of discovering new cultures and currencies. Do you remember when you instantly became a millionaire upon visiting Poland? Then, you get back home and realize that you still have foreign currency stuffed in a back pocket. I used to stash this money into labeled envelopes, a way to remember my trips, I thought. Not much use, really, especially when you find yourself in the plane on the way back to a country whose currency is still stuffed neatly in that envelope back in your drawer. Going to a foreign exchange desk has always seemed like a necessary punishment. First, you have to go find a bureau, annoyed about how they won't accept the coins, and knowing you will get nailed with exacting commissions and fees. Enter Fourex, providing self-service forex currency exchange, that one might broadly call a "fintech" initiative.
Fourex – self-service forex
I came across this Fourex booth, below, at St Pancras/Kings Cross tube station (at the entrance to the Hammersmith/Circle line). There are two booths there. In fact, these are two of only four in operation at this point.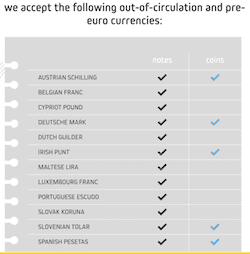 The Fourex booth will exchange coins and notes from a whole slew of countries and turn them into pounds, dollars or euros with consummate grace and ease. One of the geniuses of the booth is that it is able to handle unsorted coins and notes, both in and out of circulation, from over 150 currencies. In fact, they also accept pre-euro currencies (see below for the breakdown). The booth makes donating the money as simple as getting money back. Fourex enables donations to six pre-selected charities. Fourex, which was founded by South Africans, Oliver Du Toit and Jeff Paterson, and has its factory in Kent, England, won a "Pitch to Rich" contest, with a panel including Richard Branson. Fellow winners included the excellent JustPark startup.
No Hidden Fees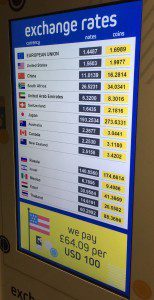 One of the selling points of the booth is that they provide "highly competitive rates" and do not charge commissions or have hidden fees. Around the side, there was a screen complete with up-to-date exchange rates. To say that the rates were highly competitive, however, would be to quote the Fourex company. Exchange rates will vary depending on whether you bring notes or coins. N.B. Coins take about a 30% shaving. And, for currency that is out of circulation, the haircut also seems to be around 30%. Let's say that if there is no commission, the cut is obviously embedded in the rate. Personally, I think it's misleading to say that there is no commission. I certainly know that they need to make money; why not just call a spade a spade, though?
Exchange Rate Transparency
So, exactly what are "highly competitive rates"?
Looking at the rate specifically for the Chinese Yuan (as of this past weekend), the rates were as follows:
On Fourex, 1 Chinese Yuan CNY (note) = 0.104898GBP (rate £1 =¥9.53306) while the announced "trade rate" on XE.com was 1CNY = 0.109678GBP (£1 =¥9.11760). The gap = 13.1%.
For the Polish Zloty, the going rate on XE (1GBP = 5.73394PLN) for 20 Zloty = £3.488. On Fourex, the rate was 1GBP = 6.7513PLN, netting me £2.97. The gap amounts to 51.8 pence, or 14.9% off the 'full' amount.
As for the pre-euro Deutsche Mark, the exchange rate into euros is

fixed

at 1EUR = 1.95583 DEM. On Fourex, you can exchange your old DM at 2.7968, a 30% haircut.
While I don't begrudge Fourex for taking the commission, I would love it if they made it easier to compare more transparently. Ultimately, one of the reasons we all hate to go to the Forex bureaus is that we know we are being scalped. In my non-exhaustive analysis, the "gap" (not to call it a commission) seems to range from 13% to >30%. Might as well know the exact the nature of it, rather than leave us in the lurch, I say.
A User FXperience
So, how did the whole operation go? Maybe we could talk about a new form of user experience: user FXperience? I slid in notes from Poland, Russia, China and Egypt. Other than the Egyptian 50 piastres note (= about 4p), each of my notes was accepted on the first go and I was the happy recipient of a wad of cash and some coins. You don't need to put the money in currency by currency. It just keeps recognizing and adjusting. At the end, having inserted all my notes, there are two buttons (on the screen) asking whether you want cash or to donate. I must say that I almost touched the donate button… I was fearful that it was a one-button-and-you're-out situation. I fully applaud the idea of adding the donation option. Bottom line, I was delivered the GBP (notes and coins) in quick order along with a receipt.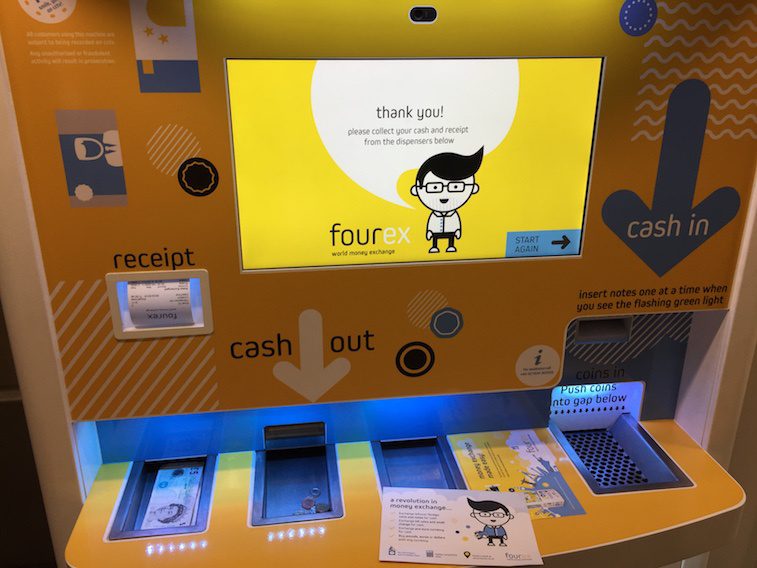 The Receipt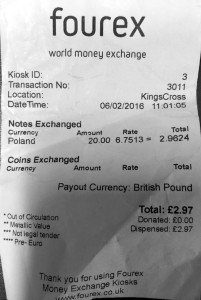 Here's what a receipt looks like (just for a single currency). Among the things I noticed, down in the bottom left, there are four "small print" asterisks. Actually, they are just "in case" options according to the money being exchanged. In my case, no asterisks needed to be applied.
Final Fxperience – Conclusion
Overall, I must say that the experience was seamless and pleasurable. Fourex is planning a nationwide rollout in the UK this year and is apparently looking for franchisees overseas. Not that I am a gambling man, but I do think they have a license to print money!
Your reactions and thoughts are welcome.