Peugeot is promoting an "immersive tennis experience" as part of its showroom and online activation. As you can imagine, it's a rather digital experience. Given my love of tennis and my familial link to Peugeot, I had to check it out. For those of you not familiar, Peugeot has long been a major sponsor of the French Open at Roland Garros (at least since the time of my father,* when he was "mayor" of the Roland Garros tennis village for the two weeks of the tournament). The tennis tradition continues on at the #2 French car company. In Peugeot's flagship showroom on the Champs Elysees in Paris, the window front is plastered with images of tennis and features their sponsored tennis players, including three of the top French players, the Belgian Goffin and a certain Novak Djokovic.

The customer journey
Once inside, you are greeted by a security guard for a cursory bag check. Then, on a big screen to the left, they play, in loop, a 75-second film, entitled Better Sensations, that was published last year. It's quite a cute story, considering Djokovic isn't exactly a Hollywood star. As a fan and player of Real Tennis (aka Jeu de Paume), the scene is mildly reminiscent of the ancestral game of "lawn" tennis. What do you think of this film?
Drive to Tennis?
Sure, you may need a car to drive to your tennis game. The link between the sensations of a car and the feel of a tennis racket seems a bit tenuous. But, I get the idea… Probably a bit abstract if you don't like or play tennis. N.B. The official video published by Peugeot has only been viewed some 2,000 times since being posted in March 2015. Hardly viral, I'd say.
Nothing to sniff at!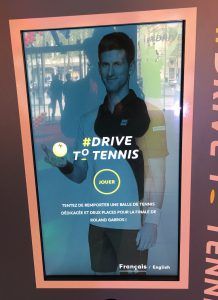 At the back of the showroom is a large display of merchandising and 'legacy' Peugeot products, notably the Peugeot pepper mills. If the selection of pepper mills is intriguing, don't expect some of the more elaborate ones to be functional. When I quizzed the salesperson why some were impossible to open, he said to me (much to my disbelief): "The ones on the floor are designed to be hard to work … so that they just open up too easily." Oh yeah, like that's a real problem for floor samples? BTW, the pepper mills had no pepper in them!
Moving to the right, there is a screen inviting you to win a signed tennis ball (i.e. in order to capture your email address). [See the left image] Surprisingly, I didn't win.
The far right hand of the showroom had an odd space that basically consists in an area with two rather long arc-shaped red benches with a supremely poorly placed screen in the middle of each bench. The terminal could not be turned, making it particularly ineffective and hard to use. Both benches were more or less animated by another big screen. Rather a disjointed space.
Signing off
If I also noticed a car on display, my attention was then taken by a terminal facing inward near the exit. This terminal invited me to "pursue" the experience, including a possibility to do a test drive around Paris. As far as I read it, this was a less than subtle effort to grab my details. I say "less-than-subtle" because the final memento didn't get printed out. In fact, I ended up with a completely blank piece of coated photo paper. Hardly a good sign off. It always strikes me as curious that such terminals and "digitail" activities bug when I start to use them. I noticed that the second terminal uses a AZERTY digital keyboard (even though the text on-screen was in English) while the first one uses QWERTY.
What I noticed about my visit to the Peugeot showroom overall was that, despite trying to show bona fide interest, only two Peugeot-related staff talked to me: (1) the security guard at the beginning (with a "goodbye" at the end) and (2) the salesperson, after I had posed a question. Somehow, the internal brief would seem to go along the lines: let the digital do its own magic; no need to intrude on the visitor; avoid the customer. Hardly capitalizing on the potential of the digital investments Peugeot have thrown at this store. I just can't understand why companies are not guiding their store staff to engage with visitors who are trying out the digital experiences! Somehow, I am ready to place a bet that senior management has not entered into the shoes of a visitor to check out the customer journey!
I note that on their mini-site, Tennis.Peugeot, they propose, among other things, a suite of online games, and at each corner, a rather monotonous desire to capture your identity and email address… I received two emails in the follow-up from Peugeot. One of which had not one, but TWO errors. It read as follows:
Needless to say, this automatic follow-up email didn't capture my imagination… Not exactly going to rush back.
*My father, Victor Dial, was Director of Sales and Marketing, Peugeot Group 1981-1991.