Having attended the Global Editors Network Summit 2016 in Vienna and hosted the 2016 Data Journalism Awards (DJA), I was impressed by how much data journalism is evolving. In this year's DJA competition, there were 471 entries coming from over 50 countries for 12 prizes. Submissions came almost equally from small and large newsrooms; and, most interestingly, we're seeing data journalism move from plain data visualization to more incisive analysis and reporting, including some powerful investigative journalism via coding and data. Presided by Paul Steiger, the Data Journalism Awards featured some exceptional results. Here are some of the highlights that I feel are worth digging into.
Data Journalism Awards
Obviously, the big scoop of the year was the Panama Papers via the International Consortium of Investigative Journalists (ICIJ) – including Süddeutsche Zeitung, The Guardian, Le Monde and more than 100 other media partners, globally. You can read this recap of key links here via GlobalEditorsNetwork.
"Spies in the Skies" from BuzzFeed – One sad element in this report: the FBI doesn't like to work on weekends? There were flights on each day in the week after the attack in San Bernandino — except for Saturday and Sunday.
What would it take to swing an election? by FiveThirtyEight. Play with different levers to see how the US election could swing one way or the other, depending on different swing votes.
Amtrak Derailment – How a derailed Amtrak train sped into deadly crash curve (Al Jazeera America, United States). Ironically, perhaps, good data journalism didn't save ALJ America from having to close down.
Medicamentalia – A journalistic investigation into access to 14 medicines around the world (62 countries). Medicamentalia was produced by the NGO Civio, out of Spain. Their objective is to provide transparency for a stronger democracy.
Open Data Journalism for Change from La Nacion (Argentina). La Nacion continued in 2014-2015 with its effort to use data as new raw material for journalism and to contribute to open data in Argentina while reporting or as a way to activate demand of more public information, in a country still without a FOI Law.
The #breathe project by IndiaSpend, India – India's First Independent, Streaming Air Quality Monitoring Network Built On Low Cost Devices. The innovation came from coupling low-cost sensors with general packet radio service (GPRS)-based transmitters, whereby they can automatically and continuously stream data through a mobile network.
Sisi Wei, investigative journalist at ProPublica, won for her individual portfolio.
Excesses Unpunished – an investigative series developed by Convoca, where you can follow the environmental trace of the extractive industries in Peru.
The Best Data Journalism Website Award was given to FiveThirtyEight (winner).
Quartz got the General Excellence award.
Data Journalism – Public Choice Award
The Public Choice Award went to What if the Syrian Civil War happened in your country? by Public Radio International. Just plug in your country and find out how bad it would be for you. See below.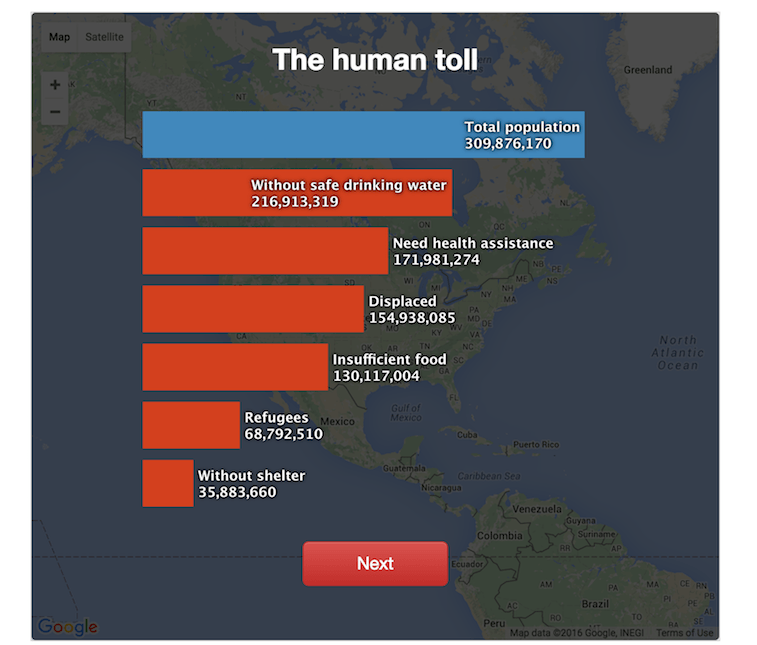 The lasting effect I had from this year's DJA is that we are looking at a method of reporting that is at once evolving, innovative and missionary. Many of these initiatives are uncovering important and often opaque issues. It was impressive to see how many of the awards required a huge amount of collaboration within and without the publishing title's organization. Without doubt, good reporting is happening around the world by small and large newsrooms. The BBC and NYT don't have the monopoly! In terms of takeaways and key words from this year's Data Journalism Awards: transparency, open data and collaboration. Click To Tweet