The Internet of Things (IoT) is the idea of connecting more physical devices to the Internet, or more precisely, connecting physical objects through sensors and actuators to learn more about what's happening in the physical world. The IoT will provide new insights, that will have a huge impact on existing business models, in regards to optimization, but probably more importantly, the IoT will provide a means to disrupt existing businesses and even create new ones.
Examples of disruption in existing businesses:
– Product vendors will gain new insights in where their products are installed: by sending geo-location info, vendors will be able to perform geo-marketing even if they use complex distribution channels.
– Product vendors will be able to ensure correct functioning of their products: by knowing the battery status, configuration, etc., companies will be able to provide better support and maintenance for products such as set-top boxes, fire detectors, defibrillators, fire hydrants, television sets, etc.
– Product-oriented companies will become service oriented: by knowing how their products are used, companies will be able to provide predictive maintenance and provide services related to the products, such as on-demand washing detergent, coffee grains/capsules, air freshener, just-in-time dispenser refills, etc.
– Existing products will finally be democratized and thus enable new volumes and variants: tracking embedded in everyday objects such as schoolbags, bicycles, etc.
All industries will be impacted by the IoT. Companies who take advantage of it now, will gain huge competitive advantages. This could therefore be a huge advantage for those who get it, and a worrying threat for those who don't.
How has Sigfox disrupted by its Blank Canvas approach… ?
The three existing connectivity solutions (GSM, WiFi and Bluetooth) restrict what we can connect. By building a specific connectivity solution for the needs of the IoT sensors and actuators, SIGFOX is able to provide the missing 4th communications protocol, which enables years-to-decades of battery life, extremely low costs, and borderless and provisioning-less simple connectivity management. The invention of this 4th protocol, will enable a gigantic long tail and volume market for the IoT.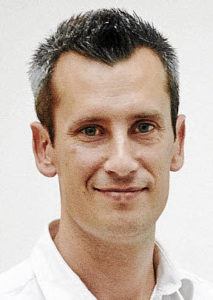 Thomas Nicholls
Executive Vice President Communications at Sigfox | www.sigfox.com
Find Thomas on Twitter @ThomasNicholls