Some of us older folk will recall life with black & white televisions and having no more than 3 channels from which to choose. Today's generation of kids may go through life without ever turning on a television, much less owning one. While I may experience nostalgia about (some parts of) the good 'ole days, I might just as quickly get pegged as a reactionary luddite. YET, in our crowded, noisy VUCA* world, it's not just the old fogies who are rebelling. In the ongoing debate and juxtaposition of technology and humanity, where pessimists and optimists on both side of the aisle struggle to find an entente or an equilibrium, there are some younger beacons who are promoting slow time, slow food, disconnection and… wait for it… black and white.
Constant learning … from the younger generation
It was a bona fide Gen Z young man, sharp as a tack (Cornell undergraduate), who showed me a new trick that I wanted to share with you. This 'trick' came from a very connected, switched-on individual. And it was quite surprising: why and how to go black & white. It's been several weeks since I took his lead and have turned my iphone into black & white mode. What does that mean? See for yourself below! Where does your eye go first?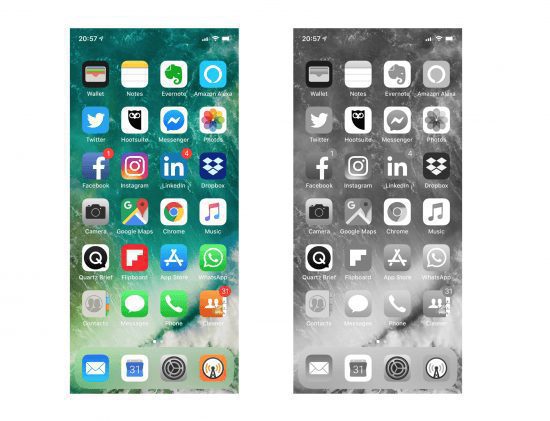 My iPhone X interface is now constantly in monochrome black & white. No more red badges. No more directly clicking on the blue F. No more cozy feeling where you can navigate and recognise the apps with ease. In fact, finding the apps I wanted became a real strain. A lot less pleasurable at first. To wit, my time on screen has dropped off every week since.
Declining Screen Time
According to the handy little Screen Time measurement that iOS has installed, it says that my time on screen across all my iOS devices has now fallen below 3 hours/day. That's considerably lower than the >5 hours/day a few weeks back when I was in colour land. And I feel good about it. Moreover, when I toggle back to the colour screen on occasion (e.g. to watch a video, check an image…), it makes for a stark difference. And if you're one to have the phone by your bed, you might find the black & white a good reason to go back to sleep!
Here's how to toggle back and forward:
Open your Settings in iOS. If you're using iOS 12, here's the path: Go to "General" — "Accessibility" — "Display Accommodations" — "Colour Filters" — "Grayscale" and tick yes. You'll need to have the Colour Filters ticked "on" as well, otherwise, it's colour by default.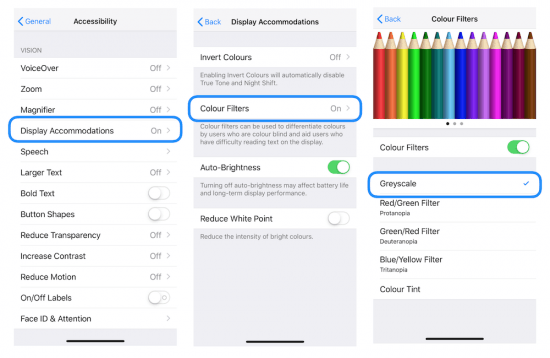 Once you've figured that out, I also propose creating a shortcut to toggle between B&W and colour with the side button. The steps above make it hard to switch in between modes. This little manipulation makes it a piece of cake: Go to "General" — "Accessibility" — "Accessibility Shortcut" (scroll all the way down) — and choose "Colour Filters". This allows you to move between B&W mode and colour using the side button with three clicks. I suggest using the "SLOW" setting, which is a measured 3 clicks. Then you'll be able to toggle easily between the B&W mode and full colour!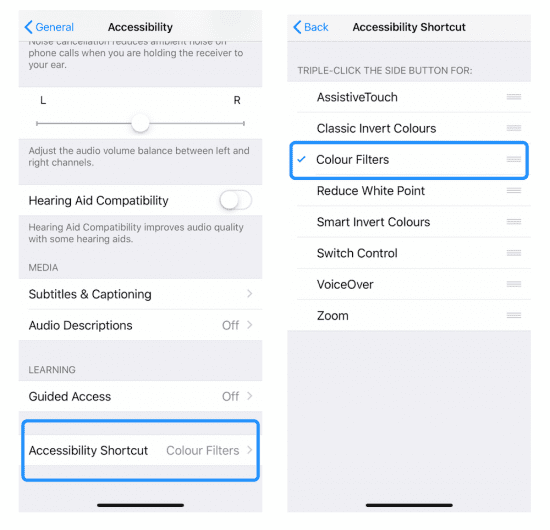 This is my secret trick for gaining two hours every day. Big thanks to Dillon. Try it and let me know how you get on! Tell me how much your screen time goes down?
*VUCA = Volatile, uncertain, complex and ambiguous