Xan (pronounced ch-an) Tafernaberry is a huge fan of padel. And, as a Basque from France, he's also a fan of rugby, which makes two for two with me! He has been an editor in chief at Padel Magazine for 4 years. He also works as a copywriter at Padel USA, whose founding partner is my pal, Sam Loufrani. Physical trainer of several padel players, Xan unearths atypical posts or deals with topical subjects.
Further resources for The Joy of Padel:
The Joy of Padel podcast is brought to you in association with Padel1969, who are proud to create one of the best padel product and service offerings in the world. Padel1969 believes in passion, joy, and integrity. We respect the DNA and roots of Padel – from Acapulco since 1969. To check all their full offer in padel courts, equipment and savoir faire, please go visit the Padel1969 site.
Meanwhile, you can find Minter's other Evergreen podcasts, entitled The Minter Dialogue Show (in English and French) in this podcast tab, on Megaphone or via Apple Podcasts.
Summary of Joy of Padel interview with Xan Tafernaberry (via Otter.ai)
SUMMARY KEYWORDS: padel, played, racket, basque country, Xan, shot, backhand volley, lefty, started, players, minter, bit, game, joy, france, tennis, sports, languages, magazine, teammate
SPEAKERS : Minter Dial, Xan Tafernaberry
Minter Dial  00:12
¡ Buenos días, chicas y chicos ! Hello and welcome, a very warm welcome to the Joy of Padel podcast, spreading and sharing the supreme delight of this wonderful and fast-growing game. I'm your host Minter Dial. And this podcast is brought to you by Padel1969 The largest manufacturer of premium padel courts, one quart for life by Padel 1969. The Joy of Padel is part of the Evergreen Podcast Network. For more information about the network, go and check out evergreenpodcast.com. So, this is the inaugural season of the Joy of Padel podcast. And to start with, we're going to do an episode once every fortnight. Episodes will drop every other Wednesday at 12 noon, London time. Please let us know what you think about the show by putting up a rating and review.
So, this sixth episode of the joy of padel podcast is with Xan Tafernaberry, Xan's a fan of padel but he's also, as a Bosque from France. He's also, a major fan of rugby, like me. He's been an editor in chief at padel magazine for over four years. He's also, working as a copywriter at padel USA whose founding partner is my pal Sam do funny. physical trainer of several padel players Xan under a say typical posts and deals with topical subjects. Varmus with Xan. Xan tough fella baggy. What a name. What a mouthful. Great to have you on my show, in your own words Xan. Who are you? 
Xan Tafernaberry  01:42
Well, very happy to be on your show Minter? Well, who I am? I'm, as my name suggests, I'm a Basque man. I'm from the Basque Country, from the French part from a little village called St-Jean-Pied-de-Port, which is in the Pyrenees. Well, I grew up there and I'm a sports enthusiast. I would say, I have always loved sports. Sports though have not really always loved me because I have never managed to be very good in any sports. But I think I loved playing a lot of different sports. I started playing basketball when I was a child I also, played I'm going to talk about this later, but I also, played what we call Basque Pelota, which is racket sports that we play in that area. And also, did a lot of things I played rugby, I did some kickboxing load at some point a lot of weightlifting also, I love the fitness and also, played and I'll still play a little bit of padel.
Minter Dial  03:11
That silly game! So, I'm guessing you also, like your good food down in that part of the country?
Xan Tafernaberry  03:20
Yeah, of course. Good food. Especially in my case: meat. Yeah, a lot of good foods. From time to time, some good alcohols. We have in the Basque Country Pacharan, which is quite famous. We also have in the south of France, cognac, Armagnac and well some good red wine. So, a lot of things to enjoy!
Minter Dial  03:51
So a lot things in life to enjoy. So, outside of the fact that you love rugby as I do, I paid 18 years and this little game and why go there battle you your last name a hard to pronounce first name. My wife's last name is Arazola, so, we have a Basque connection as well. Xan, tell us about your trip… how you got into padel. I mean obviously you're just talking about your Pelota Basque. Was that how you got eventually got taste of padel Where were you? How did this start?
Xan Tafernaberry  04:24
Well, when I was a child, So, being from the Basque Country, I would sometimes from times to times, go with my mom to St Sebastian and Irun, where we would go for shopping sometimes and I will always see the little racket that behind you that Leon follow racket and I always liked that racket. He never had the chance to play. Zero was 27 I think, but I always liked that racket and when we would drive on the rode from where we lived to Iran, for example, we would see some, some federal courts. And I thought it looked very good. So, I played a bit of prolog, Basque also, played with friends, some squash and also, a little bit of tennis when I was very young. So, I've never been very good at racquet sports, but I always thought it was cool. And that bounce sports that was me, for example, in tennis, what I liked was watching players doing some pretty volleys like Pete Sampras, like Pat Rafter. So, all this was when I saw that, the, this little floor with all those with all those little stuff, the fence and the net, I was thinking this look is very good. And the racket also, I loved it. And one day I was in Bordeaux. And it happens that one of my friends who I played rugby with, was working for a brand. I don't know if I have the right to name this, of course, is head. So, he was working with head and one day I went to his house for dinner. And when I arrived, I saw some padel rackets brand new padel rackets on the table. And I said, Wow, that's the rackets I saw. And I was a child. And when I went to Spain, and he said, Yeah, of course its power is the new sports. But at the moment, it was probably in 2016, I think or 2015. Almost nobody played better in Bordeaux. And we didn't really know it. And he said, Well, tomorrow I'm playing a tournament in Bordeaux. If you want, you can come and see us play. So, I went to see that game. And I thought it was very cool. And I was with other friends. And we said whoa, let's try. So, we found on Groupon. Some, some bargain, like you can play one hour in the house with the four rackets included and the balls for I don't know how much it was like 20 euros and said, Wow, let's go. So, we started playing one time, then, of course we start like we started betting or there'll be it like, we beat you this time. Next time we're going to do the revenge and stuff. So, we were played once, twice, three times. And then I started what I mean, I wanted to play every day. And I think that's the thing with spider is that once you start getting into it, you really become very fast, padel addict.
Minter Dial  07:44
No doubt about that. So, you have to be I mean, I'm gonna guess you are the only person who came to padel through Groupon. How about that! That's definitely a new kind of fame. And you came to rather late at some level since it's been around, but a lead in your life and you still have come to a level nine out of 10 which is a very decent rating and you got to be top 100 albeit in a small country, but top 300 Sorry, top third 100 300 In France, So, congratulations for that. So, now you've been playing for nearly six years. I guess. You got this good level. What sort of style of a player Do you consider yourself? I'd like to ask the question. What sort of animal are you? I mean, I don't think you're a strong one.
 Xan Tafernaberry  08:32
Well, well I'm 190 centimeters tall. I'm not going to say how much I weigh, but above 100 kilos for sure. So, naturally, I was kind of the guy who was not trying to construct the points or to spend a lot of time playing. I was much like a striker so, very soon I started playing on the left side and then yeah, at the beginning I was always trying to win the point. Every time I would touch the ball, well then I realized that people were a little bit annoyed because they were not having so, much fun because I was trying to do too much. So, after this I started taking some classes and slowing the pace and trying not to use as much my strength, but more my brain. But yeah, what was difficult for me is because I never played well tennis, I played probably one year but tennis is very difficult. You need a very good technique, a lot of patience and when I was a child, patience was not my first quality. So, I never really enjoyed playing tennis. So, yeah, I had to force myself to play slowly to get to become more calm, and I think that in that extra aspect padel even helped me in my in my life in general because I had to force myself to become more patient.
Minter Dial  10:14
I love that and what sort of animal do you think of yourself as now, if you had to look at your game as you're playing this week or recently. How do you describe the style of play you've come into now?
Xan Tafernaberry  10:27
Now I still have the tiger spirit that I want to bite the net every time; but I've become let's say an older tiger that is a little bit slow now. So, it has to calm down a little bit
Minter Dial  10:48
Wait for the right moment to catch the prey.
Xan Tafernaberry  10:50
That's it. Exactly.
 Minter Dial  10:54
Love it. And what about what are your what's your favorite shot? You play on the left? You're obviously very tall, nearly two meters. What would you say is your favorite shot?
 Xan Tafernaberry  11:01
My favorite shot is the backhand volley.
 Minter Dial  11:06
Wow, nice.
 Xan Tafernaberry  11:08
Yeah, cause I think that when you've never played tennis you hold the racket at the beginning you're limited like a pan you're not like that convenient way of holding the racket; it's quite hard. And so, with the way I have to hold the racket, well the backhand volley was the shot since the beginning that was easier for me to perform. And now I've tried to do to change up in my grave and to look a bit more like a polo player less than a rugby player who is catching a better racket but still, I still have the old habits have not left me so, still the backhand volley is still my best shot.
 Minter Dial  12:05
The go to shot! And what about the shot that you need to improve on the most?
 Xan Tafernaberry  12:10
The shot I need to improve the most would be the backhand in direct (i.e. groundstroke) like when the players play on my backhand and I don't have the ball that is not going to touch the walls or I don't have the time to let it touch the walls, where I think that this is very difficult like and it is why when you've been playing poker for three years and the good tennis player arrives and he's been playing for 10 days and he's already better all these shots even though if at the beginning, tennis players don't know how to play with the walls, well they have so much talent, so much quality, with all those shots especially the backhand like this in the for me that what is the most difficult when you don't have really a good level in tennis is playing all those balls that you're not in the way but you can't let them touch the wall.
 Minter Dial  13:11
Now the groundstrokes we say. The direct shots, the drives as well. They it's amazing. You can just watch the pros with a Sir the roll the wrist over the not hitting it hard, but they just there's the timing to it seems so natural. Talking of pros. Xan, who are your favorite pros?
 Xan Tafernaberry  13:32
Well, actually, my favorite pro is quite easy right now since he's the number one in the world padel tour is Arturo Coello.  When I started working at Padel Magazine, I went to Portugal, and I saw tournament where Arturo was playing in the pre-qualification tournament. He was playing with a player Guga Vazquez, and he was already around 40th by the time. And Arturo Coello was maybe around 16. And it was crazy. It was indoor and the ceiling was quite low. So, every time there would be a lob, Arturo Coello would win the point with a smash. It was crazy. And I even took a video and I sent him to my friend, which will always play by play padel in France. And I told him: Look at that guy. He's 16 years old. Look how he plays. And then he said wow, it's crazy. And now he is number one in the world. So, I don't know I'm quite happy to see that young guy who was 16, not talking a lot. His parents were always there to watch him play. And he was already very, very, very good. And then also I like other young players like Javi Leal, who is very, very powerful. I like the way he plays. I also like Yanguas. He's tall but he plays on the right. I think the all those young players have so many qualities and they are bringing the padel to another level.
Minter Dial  15:28
What about on the women's side? Or on the women's side?
Xan Tafernaberry  15:30
You'll think I only like lefties! Maybe a little bit sad that I'm not a lefty because when you're a lefty, everybody calls you to play because, yeah, a lot of right-handed players want to play on the left side. Yeah, so, they are always happy to have a lefty with them. So, on the girls' side, I really like Paula Jose Maria. I think she's not very tall, but she has the ability to be everywhere at the same moment. She has an incredible timing on the smash. So, even though she's quite short, she's able to win a lot of points with her smash. So, I think she's an amazing player. And, as a journalist, she's very kind to the journalist, she's always willing to talk and that's also, why I like her so much.
 Minter Dial  16:22
Let's talk about your magazine, which you began also, I think, roughly six years ago. It's a wonderful magazine. It's available in six languages. Padel Magazine, right? Yeah. Tell us tell us how you came to start that? As I didn't hear you saying I'm a journalist in my background.
 Xan Tafernaberry  16:43
Well, no, it's true. It's true. I didn't finish we started talking about food. And then when we thought about food.
 Minter Dial  16:51
Oh, good food and drink. On the Joy of Padel — that's allowed.
 Xan Tafernaberry  16:55
Yeah. Wow. That's it. That's also, part of the product, a good game, and then a good drink and a good dinner with friends. It's also, part of the activity. So, yeah. What I'm doing right now on Padel Magazine. So, I'm, I'm an editor in chief with, with the boss of the of the website, who is Frank Binisti, who is very famous in France. He was the first to launch padel media around 10 years ago, when not so many people were playing padel. So, it was very bold, I think to try this. And he contributed a lot to the development of padel in France, of course. So, yeah, I started playing padel with some friends, and then one of my best friends who also, played rugby, and was also, from the Basque Country. So, we also played some pelota Basque when he was younger. We were both a little bit injured. And during six months or something, we were not playing rugby. And we said, oh, we missed all the competition. So, we said, let's start doing some padel tournaments. So, we started playing a little level; back then there were not so many tournaments. So, in the southwest, we would move a bit, go from Pau to Toulouse to Bordeaux. And also, St Jean de Luz in the Basque country, which was one of the first clubs in France. And that way I met Mr. Frank Binisti and since padel is always very social activity, we started talking and one day while I had done the same — like writing articles and things like this for a rugby website, French rugby website — and so we started talking about just that worth doing articles the website and then he told me why, you know, if you want I need some people to write some articles. So, if you want we can start like this. So, I started writing two articles a day, then more than more. And well now here I am.
 Minter Dial  19:34
And so, what's interesting for me Xan is that you have it in six languages. It started in French presumably, and then tell it tell us how you've evolved to have it in six languages.
 Xan Tafernaberry  19:48
Well evolved is it is not evolved that much is just a it's a Google translation like that,
Minter Dial  20:00
So, automatically translating all the French?
Xan Tafernaberry  19:58
Yes, automatically translated. Sometimes, I also, think that the translation is getting better and better with all those IA tools. But yeah, it's not that good. So, sometimes you have to change ourselves like we can edit a version of an article in another language and change the things that really don't fit. So, I would do it for the English and Spanish and Spanish versions. Then for the other versions, it's a bit more complicated for example, with Japanese. So, basically, they have to find a way into the article to see what it really means. I don't know I've never talked to a Japanese reader but yeah, maybe that would be something interesting to see. How do they do they see the magazine because sometimes with the English and Spanish version, you have some big mistakes!
 Minter Dial  21:04
For sure. So, generally speaking everything's in French. That's the main language.
 Xan Tafernaberry  21:09
Yeah, we write only in French. Right.
 Minter Dial  21:14
So, let's just finish off Xan with just a couple of other questions. And since this is the joy of padel, what is the funniest thing you've either seen reported on or played in yourself when it comes to padel?
 Xan Tafernaberry  21:29
For myself, this has been rough for the guys we played against that one! I was with my teammate who is called Vincent. So, we played a tournament it was I don't know. In France, we have P2000 which is the best, then P1000 and P500. This was probably a P500 and we played against some guys who from tennis and they probably played better than we did or actually are in terms of technique of course far better. And they want the first set quite easily the second set we started like we knew that they were better than we were, but we started playing like trying to annoy them a little bit and then we found our way, and they started screaming they were not so happy. Then we found our way into the game and arrived the tie-break of the third set and they had during the game I don't know how many but maybe 10 matchpoints, and every time something would happen and we would win the point.
 Minter Dial  22:51
By the skin of your teeth. Yeah.
 Xan Tafernaberry  22:56
So, lucky. We were leaving our soul on the floor and yeah, in the end they missed all those match points and we had one and the first one I had quite an easy smash that I missed completely but I still touched the ball and the ball did like a drop shot …
 Minter Dial  23:25
That goes up in the air with the big spin, off the top of the racket?
 Xan Tafernaberry  23:28
And then it came back into our side. So, the guy couldn't even touch the ball and it was awful because they had played 100 times better than we did. They had some points and they missed all the time and we had a lot of luck during the entire game and even the our only match points well was like the luckiest point I've ever seen. So, we were so happy. Well but we even felt sorry about these guys were like feeling that everything was against us.
 Minter Dial  24:08
But you made it! Well love it. It reminds me of a match we saw not so, long ago with Delphi and Bea they are playing against Paula Jose Maria and they had four match points in a row and then Paula had one easy smash, you know, that she's never gonna miss and it went out.
 Xan Tafernaberry  24:31
I was thinking about of course is not the same level at all. But I was feeling a little bit the same like our thinking wow, those powerful Samaria in our ascension world they probably felt like those guys were in front of us that day. Well, thankfully nobody was watching the game or a game So, nobody saw that loss against…
 Minter Dial  24:56
With that particular shot and it happens to others. Even Paquito or whomever! They can miss the easiest shots as well, which means they're human. And I always feel it makes us a little bit you know, less worried about ourselves, you know when we miss those shots!
 Xan Tafernaberry  25:15
Sometimes you see, I saw last time something very funny it's Paquito who's doing a serve and the ball goes like very close to the wall of the backcourt and he raises his hand and he says but how is it possible like even Paquito during the serve which is very easy shot in padel, while he misses completely. So, yeah, sometimes you can say okay, and you can tell that to your teammate. This is something you have to tell your teammate even Paquito means is, so, I can miss
 Minter Dial  25:56
So, with your teammate occasionally, what I like to do is when there's a an easy shot for my teammate, I say CON TODO – go with it. Just go for it and I tell them before : "Listen this is your license to screw it up as well because when I want you to go for it and make the winner you've got to be brave and sometimes you're going to screw it up." Inshallah This is what happens.
 Xan Tafernaberry  26:19
Yeah, if you don't try you can fail. Hey,
 Minter Dial  26:23
Xan, thanks for coming on the joy of padel had tell us how can anybody go figure out see your magazine, presumably in their language, but where it was the website and any links you'd like people to come and follow you on?
 Xan Tafernaberry  26:37
Well, padelmagazine.fr if you want to see the original version, and when you arrive on the website, on the right on the corner while you can select the language, where you have all the languages. And then if you want to see my articles where you put a slash Xan Tafernaberry, which is my name, but it it's not very likely that you'll end up seeing my articles because it's quite complicated to write my name correctly.
 Minter Dial  27:13
Well, I'll put up a link to the website. This will make that tougher now Xan! Thank you very much! Gracias muchisimas ! Vamos Xan!
 Xan Tafernaberry  27:27
Mucho gracias.
 Minter Dial  27:29
So, I hope you've enjoyed this Joy of Padel episode. Please don't forget to subscribe to be the first in queue for the next episode. And if you like what you hear, please do share it around with other padel aficionados. This is a sport that deserves to be played by absolutely everyone. And if you've got a story that you'd like to share, please send me an email or a better yet a voice note at NMinterDial@gmail.com With that, thanks for listening. And see you on the next episode of the Joy of Padel podcast. ¡ Vamos !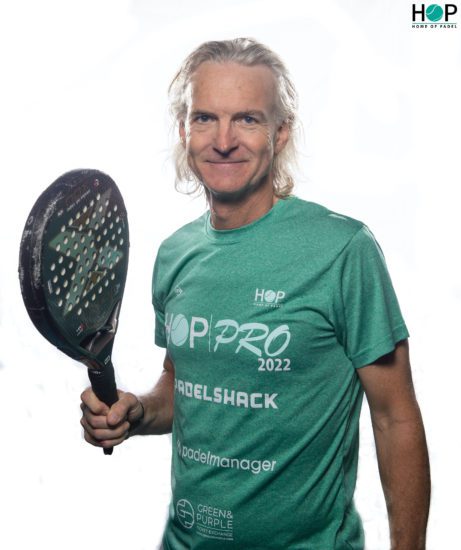 About the host: Minter Dial
Minter Dial is an international professional speaker, author & consultant on Leadership, Branding and Transformation. His involvement in sports has been a lifetime passion. Besides playing 18 years of rugby, captaining athletics teams, coaching tennis and playing squash for his university, he's been a lifelong player of padel tennis, starting at the age of 10, from the time of its very first public courts at the Marbella Club in 1974.
Then, after a successful international career at L'Oréal, Minter Dial returned to his entrepreneurial roots and has spent the last twelve years helping senior management teams and Boards to adapt to the new exigencies of the digitally enhanced marketplace. He has worked with world-class organisations to help activate their brand strategies, and figure out how best to integrate new technologies, digital tools, devices and platforms. Above all, Minter works to catalyse a change in mindset and dial up transformation. Minter received his BA in Trilingual Literature from Yale University (1987) and gained his MBA at INSEAD, Fontainebleau (1993). He's author of four award-winning books, including Heartificial Empathy 2nd edition (2023), You Lead (Kogan Page 2021), co-author of Futureproof (Pearson 2017); and author of The Last Ring Home (Myndset Press 2016), a book and documentary film, both of which have won awards and critical acclaim.
It's easy to inquire about booking Minter Dial here.
View all posts on padel tennis by Minter Dial