Sortant de L'Oreal, j'ai fondé la société The Myndset Company, et depuis ai fondé Digitalproof Consultancy Ltd. Je suis un speaker professionnel (« conférencier ») trilingue (anglais, français et espagnol), sur 3 sujets principaux:
les marques de demain et le nouveau marketing
le monde de l'Internet et les tendances des nouvelles technologies
le leadership et l'importance de l'intelligence émotionnelle (la communication efficace et l'inspiration) dans les entreprises.
Le blog, minterdial.fr, est écrit exclusivement en français sur des sujets divers concernant la France, surtout autour des marques et l'internet.On y lira aussi des billets sur la politique, le développement durable et la culture générale. Entre 2010-2016, j'ai enregistré quelque 200 émissions radio téléchargeables (« podcasts ») en français du show Le Minter Dialogue.
Gagnant du Prix 2018: Futureproof – Préparez-vous pour la Disruption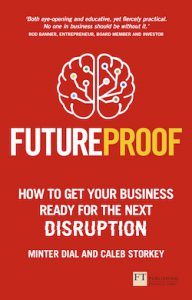 Autrement, en anglais, j'ai co-écrit avec Caleb Storkey le livre, Futureproof aux éditions Pearson – Financial Times, sorti en sept 2017. Il s'agit d'un guide sur les nouvelles technologies et comment s'y prendre pour mener à bien votre transformation digitale. Futureproof a été décerné le prix de Business Book Award 2018 dans la catégorie de Embracing Change (Accueillir le changement avec enthousiasme). Press Release. Le livre est également nommé pour le prix du prix McKinsey Meilleur Business Book 2018. Futureproof a été #1 sur Amazon aux Etats-Unis et en France.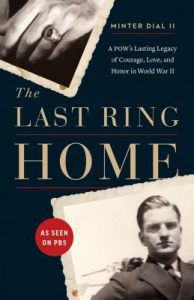 En 2016, j'ai publié le livré, The Last Ring Home (La Bague de l'Eternel Retour) et ai produit le film du même nom. Le film a été primé plusieurs fois, ayant été accepté à 7 festivals. Voir la bande annonce ici — mettre le CC en langue française. Le film est désormais disponible en ligne sur iTunes.
Minter Dial dans la Presse (francophone)